Andover Audio Songbird Hi-Res Music Streamer – First Look
Best Budget Streamer Going!
By Jeff Dorgay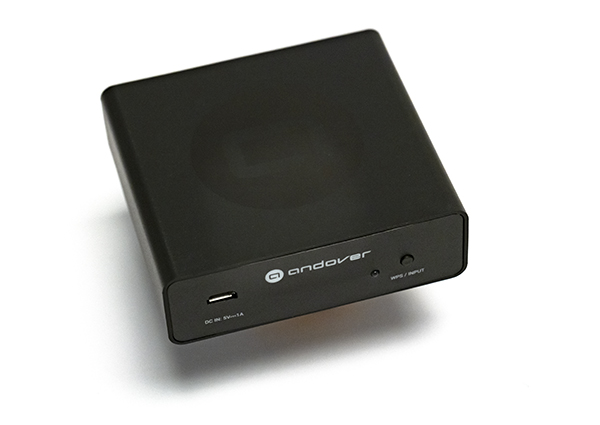 Life is good. I've got my head under the hood of my car, changing radiator hoses, and I'm streaming my favorite tunes (in this case about 4 hours of XTC, spanning the entire catalog) on my old Marantz 2220B receiver on top of my tool box. I'm in my happy place, thanks to the Andover Audio Songbird hi-res streamer.
If you happen to own the Andover Model-One music system for your house, you've probably realized the only thing missing is a way to stream digital music to it. Now, with the release of the Songbird streamer, you can – and it's outstanding. And, it's only $129.
Digital purists will snipe that the Songbird only has 24/192 maximum resolution, and complain about all the stuff it doesn't have. As the Blues Brothers once said, "What do you want, Rubber Biscuit?" Seriously, think of all the exciting audio products you can buy for $129. Not a lot, eh? What the Andover Songbird does is sound great, and plug in to just about any device you might have, with zero fuss.
Thanks to an optical input, and an Ethernet port, you can use the Songbird as a straight up DAC, Ethernet renderer, or a streamer via Bluetooth or WiFi. Depending on what your streaming with. While it is not a Roon endpoint (yet) you can work around this by using it as an AirPlay device, if you just want the sheer functionality that your Roon infrastructure offers. This proves the way to rock in my garage system. Elbows deep in an engine rebuild isn't exactly the sweet spot anyway.
The obvious hookup for the Songbird is to attach it to the Andover Model-One in the living room, now under review. The match is perfect, and for anyone with a Model-One, aching for digital/streaming playback, this is the way to roll. Thanks to the Songbird being about the size of a 2000 grit 3M sanding block, it fits anywhere. Power it up, locate it on your network, and go. It shouldn't take you more than about 60 seconds to be playing music.
Using the Songbird with a couple of budget integrated amplifiers, and a few powered speakers lacking internal DACs, all provide excellent results. It's amazing that digital can sound this good for $129. Getting all audiophile-y for a few minutes, I did a quick head to head comparison between some 16/44 files streamed through the Songbird and the vintage SONY ES disc player I used to have in the garage. Keep in mind that years ago, this was a $1,000 dollar (maybe a little more expensive) player.
Especially with the cymbals on Steppenwolf's "Born to be Wild," the Songbird offers a distinct advantage in its lack of high frequency graininess that's there in spades with the Sony player. Even with my head under the hood, I could hear the reverb trailing off more smoothly on Tommy James and the Shondells "Crimson and Clover." I couldn't be sure, but a long set of Porcupine Tree tunes sound damn good too.
Great of a match as the Songbird is with the Andover Model-One, it really stole my heart in the context of a vintage system. So many of my friends have second or third systems, mostly vintage (or at least centering around a vintage receiver or amplifier) who aren't going to drop money on a DAC, or a streamer. Wanna be a great friend? Send your favorite vintage hifi lover a Songbird as a gift.
There's not much else I can say about a $129 DAC/streamer. It sounds fantastic, easily better than what we were paying a few hundred to nearly a thousand bucks for 20 years ago. It's easy to set up and install. And if you own the Andover Model-One, it's the icing on the cake.
We'll be announcing our products of the year in November, so I'm going to let the cat out of the bag now – this is our 2020 budget component of the year. This is the best sounding, highest value component I've ever heard for $129. And you thought we were snooty audiophiles that only liked six figure components. Ha!
NOTE: The Songbird is available for pre-order right now, and will be shipping sometime soon. Probably too late for trick or treaters, but plenty of time for holiday gift season!
Please click here to go to the Andover site…