Editor Bob Gendron's new blog…
January 9, 2012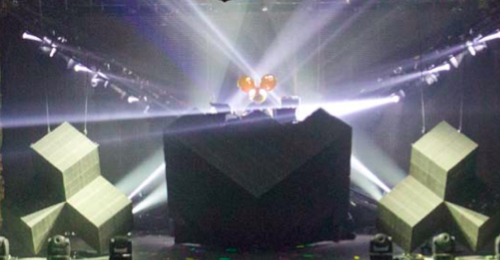 It's All One Song
By Bob Gendron
January is traditionally a slow time for live shows. Yet soon enough, announcements for spring dates, the excitement associated with South By Southwest, and the unveiling of lineups for destination festivals will put everyone back into a virtual club—or, in the case of Lollapalooza, a virtual lakefront park). Such anticipation prompts reflection on the year that just was.
In addition to reporting for the Chicago Tribune on the three-day fests otherwise known as Lollapalooza, Pitchfork Music Festival, and the Dave Matthews Caravan, and taking in the Montreal International Jazz Festival for TONE Audio, I had the privilege of witnessing more than 60 standalone concerts in 2011. Of the more than 250 artists I saw onstage, here are my ten favorite performances.
1. Deadmau5 at Lollapalooza (August 7, Chicago)
Starting his headlining performance almost exactly at the moment a pounding rainstorm commenced, the Toronto electronic maestro turned Grant Park into the world's biggest and liveliest mud pit with a scorching light show and nonstop dance beats.
2. Drive-By Truckers at Vic Theatre (February 25, Chicago)
Playing with tremendous purpose and intensity, the always-reliable Truckers delivered a career-spanning set that made a case for the Alabama ensemble being the best live rock band on any given night.
3. Janelle Monae at Aragon Ballroom (May 27, Chicago)
Drawing on everything from golden-era silent films to science-fiction themes, the R&B phenomenon sang, danced, and painted her way through a breathtaking affair teeming with fervent energy and bold vision.
4. Guns N' Roses at Allstate Arena (November 15, Chicago)
Fans that waited nearly two decades for Axl Rose to channel his old self were rewarded with a marathon extravaganza that, while falling short of the excellence displayed in 1991-92, eclipsed the original band's 1993 trek. Don't believe it? Cue up "Estranged" here: http://www.youtube.com/watch?v=aOzrtr3IsBc.
5. (TIE) Prince at Metropolis; Brad Mehldau and Joshua Redman at Theatre Maisonneuve (June 25, Montreal)
On one night, pianist Mehldau and longtime collaborator Redman gave a clinic in pointillistic jazz while, hours later, the Purple One took over a small club with unrivaled showmanship, astounding instrumental acumen, and an enviable way with song.
6. Twilight Singers at Metro (May 17, Chicago)
On his best showing since the Afghan Whigs disbanded, Greg Dulli led his enthusiastic band through an unforgettably soulful show that renews one's faith in music and prompts them to binge on the performer's catalog for weeks.
7. Titus Andronicus at Lollapalooza (August 8, Chicago)
Setting a new standard that all Lollapalooza openers should follow, Titus Andronicus blazed through underdog-themed anthems tailor-made for a society mired in economic disparity and social unease.
8. Rihanna at United Center (June 15, Chicago)
No mainstream pop star better understands the secrets to an engaging arena spectacle than Rihanna, who buffeted a balanced blend of costume changes, visual props, and dance routines with a constant stream of contagious hits.
9. Elvis Costello at Chicago Theatre (May 15, Chicago)
The return of the Spectacular Spinning Songbook concept found Costello recharged, tearing through five opening songs in less than 16 minutes and accenting older material with avant-garde solos plucked from Thurston Moore's playbook.
10. Brandi Carlile at Park West (December 1, Chicago)
Blowing away anything she's put on record, the Seattle-based singer-songwriter went it alone and charmed with a disarming voice and independent streak that suggested Adele-like fame could be in her future if she makes a solo record absent a backing band.