Sonus Faber Aida World Premier!
December 15, 2011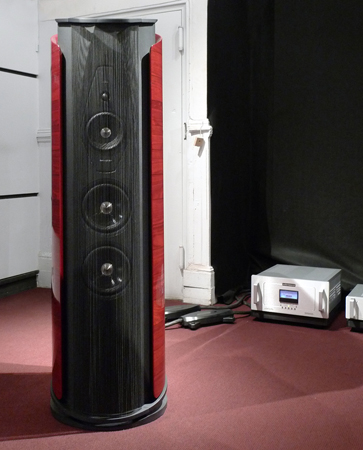 The New York audio press was treated to the world premiere of Sonus Faber's latest triumph, the Aida, on Tuesday night (an open-to-audiophiles affair was on Wednesday night). When I arrived for the auspicious event at Stereo Exchange's NYC showrooms the speakers were cloaked in cloth wrappers. The Aida's statuesque 68 inch tall presence and imposing 363 pound weight left no doubt: this speaker is a no holds barred effort.
Sonus Faber importer John Hunter hosted the proceedings, and introduced Fine Sounds' CEO Mauro Grange. Hunter then played a wide range of music over the Aidas, everything from solo acoustic guitar, funky jazz, large orchestral works, before turning up the heat with Yello's thumpin' beats.
The Aida uses an "Arrow Point" Damped Apex Dome tweeter, a proprietary cellulose pulp/kapok/kenaf and other natural fibers midrange driver, high-tech syntactic foam core and cellulose pulp sandwich woofers, and a nanocarbon/honeycomb infra woofer. The cabinet is an elaborate "Lyra-shape," multi-chambered design, outfitted with numerous resonance control measures. The drop-dead gorgeous finish, even by Sonus Faber standards, was simply stunning. Aida was being played with Audio Research electronics, including a Reference 5 preamp, Ref CD8 CD player, and the speakers were biamped with Reference 250 and DS450 amps.
I wasn't in the sweet spot for most of the auditions, but the sound was big, bold and juicy. I was in the ideal position for Yello, and the Aidas not only threw a massive soundstage, the out-of-phase elements of the mix were projected well out in front of the speakers. The effect was as close to surround sound as I've heard from a pair of speakers.
The Aida will retail for $120,000 per pair.
— Steve Guttenberg