A Great Day at Meridian Audio
July 22, 2009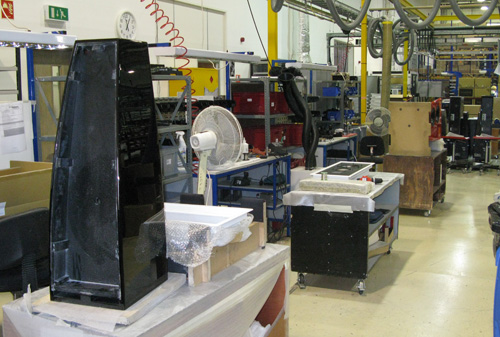 Had a fantastic time at the Meridian factory in Cambridgeshire yesterday with Bob Stuart and his crew.
The full factory tour included every aspect of the company, including their extensive R&D facility along with their anechoic chamber where everything is measured.  Having  just been at the BBC the day before, I probably won't ever visit two anechoic chambers in the same week again!
I was blown away by the size and scope of the facility as well as the attention to every phase of the construction of Meridian products.
The day ended with a visit to their home theatre room, featuring the outstanding 10k Meridian projector that some of you may have seen at this year's CES show.  Thanks to new calibration techniques, they've taken this system to new heights of performance, and it is by far the most impressive video display system I've ever seen.
And, I got to see the Sooloos Music Servers being built and meet everyone involved with Sooloos design and programming.  Watch for some exciting Sooloos news in our next issue.