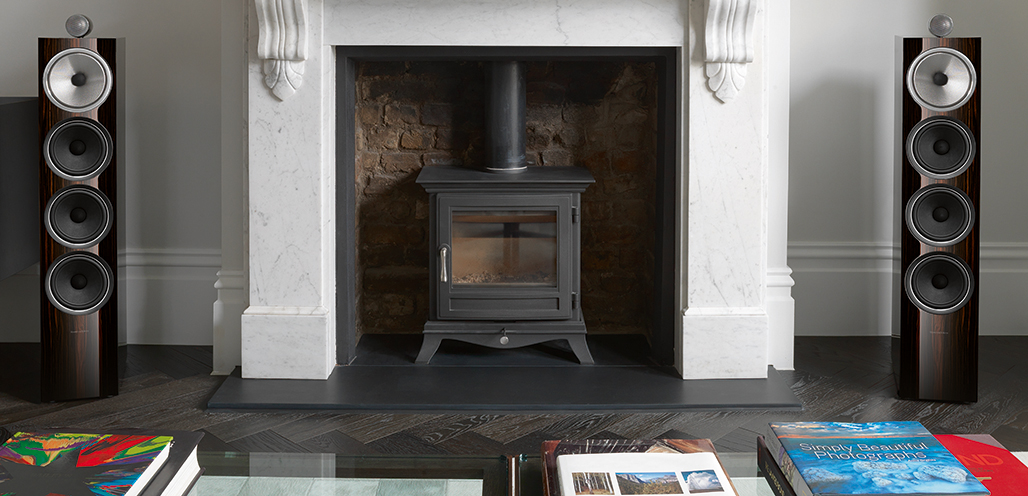 Rocking out with some Slayer, it's clear that Bowers & Wilkins has produced a winner here. To be honest, I've been punishing these speakers for about a solid week now, and it's clear they have major dynamic ability.
Life isn't all metal though, (though for some it is) and after seriously breaking these speakers in, an expanded palette of music was in order. Grooving on some Black Devil Disco Club, it's easy to see that the 702 Signatures have plenty of low frequency ability too.
Bowers & Wilkins has always been a company driven by engineering excellence. I've owned a number of B&W speakers since 1980, and they've always made fantastic products. Having visited their UK factory a few times now, the level that they implement their engineering vision is second to none. Being a car guy at heart, I've always enjoyed the paint shop and the level of finish they are able to achieve. On both of my recent tours to the UK factory in Worthing, my tour guides have always made it a point to say that the B&W factory in China is a mirror image of the UK factory, though it concentrates on the 600 and 700 Series product. 800 Series Diamond product is made in Worthing. These are both huge facilities.
Even a cursory look at the Signature speakers proves that they've left nothing on the table, in terms of quality here. Where B&W has somewhat simplified the 700 Series is in the cabinet itself, with a more traditional box shape, instead of the complex, curvy shape of the 800 Series Diamond.
Unpack and setup
If you're planning on buying a pair of Bowers & Wilkins 702s (Signature or not) read the infographic on the top of the box before you remove your speakers from their packaging. The 702 tweeter is housed in a bullet shaped aluminum enclosure that will be instantly damaged if you just put the box upside down once you've opened it. Get a friend to help you unpack your 702s because even though they are not terribly heavy, they are tightly packed and close to impossible to unpack by yourself because their slippery, smooth cabinets are hard to get a grip on. Save the little white rubber thing (that looks a lot like those rubber things they use in a nail salon to keep your toes apart) under the tweeter pod in case you move or ever have to ship your speakers. Trust me on this.
Once unboxed, you'll also notice a pair of plinths that have been included for safety reasons in certain countries. If you don't absolutely have to use them, I suggest leaving them in the shipping cartons, as they distract from the sleekness of the 702 Signatures, and B&W says the plinths do not improve the sound.
The last style decision to make is whether to affix the grilles or not. If you have kids, dogs, or a lot of guests, you'll probably need them, but if you don't, admiring the 702 Signature sans grilles is quite lovely. High technology doesn't always look as good as it sounds, but in this case, the 702 Signature succeeds brilliantly. The three woofers, with their subtle chrome rings are just beneath the midrange driver with the big, silver Continuum™ cone, and the tweeter pod at the very top.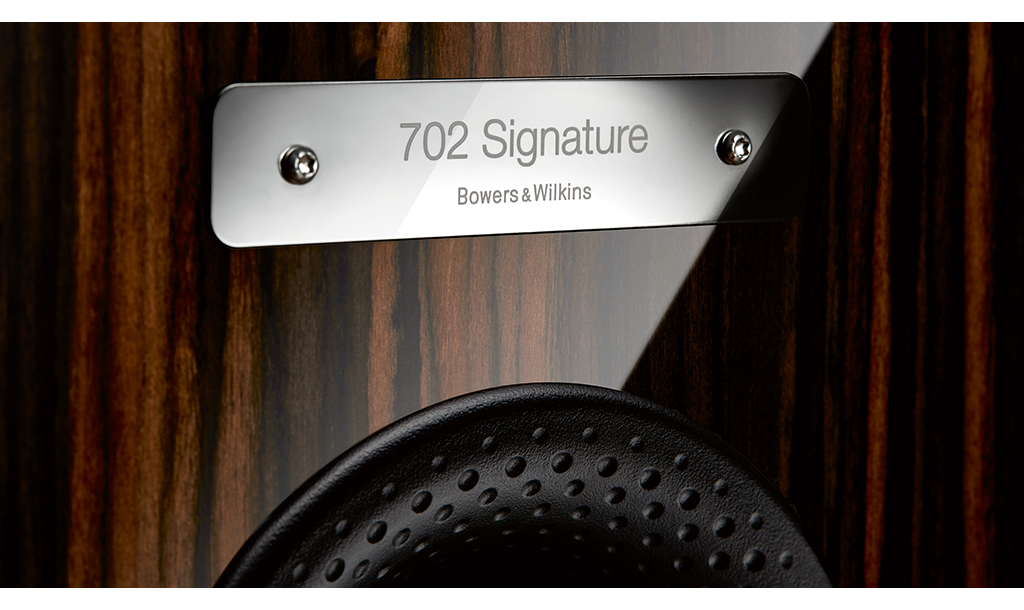 And, ooh those cabinets. From the outside, those stepping up to the $6,500/pair Signature series models over the standard $5,000/pair models you get a cool Datuk Gloss finish. I have to say, as a Sonus faber owner, Bowers & Wilkins is right there at the top of the mountain in cabinet finish, offering a level of quality that I'd expect to come from Italy. These speakers are absolutely beautiful to behold. The depth, and smoothness of the finish is outstanding. I'd step up to the Signatures just for the finish.
The Signature models are not just a cosmetic/finish update. Though the spec sheets between the standard 702 S2 and 702 Signature reveal the same numbers – this is the perfect example of specs not telling the whole tale. Thanks to upgraded bypass capacitors in the crossover, the Signatures deliver a more grain free presentation through the mids to the highest highs. The only downside here, albeit temporary, is those upgraded components in the crossovers take a bit more time to be all they can be. Expect a slight edge on top, and a bit of haze and fog through the midband for the first couple hundred hours of use.
To observe this process in action, play the same track every day at the beginning of the day. Make it a track you know intimately. In this case it was Robert Plant's "Sixes and Sevens," but I'm sure you have a couple of favorites that you'll be able to notice the slightest differences. It's almost as if the 702 Signatures get bigger and smoother sounding as you put hours on the clock.
Sticking with Robert Plant as my go to, shifting forward in time to "All the King's Horses," from his Mighty Rearranger album, the backing vocals started out somewhat buried in the mix, yet as the hours went by, I could hear the separation between Plant and the backing vocals much easier and more distinctively.
In our 13 x 18 foot living room, final speaker position ended up with the speakers being about five feet from the rear wall and about two feet away from the side walls. Only a few degrees of toe-in was used, but this and whether to slightly angle the speakers back will depend on seat height and personal listening preferences. Suffice to say that the 702 Signatures were easy to set up and get satisfying sound from quickly. Those needing to place their speakers close to the room walls or corners may want to take advantage of the foam plugs to insert in the rear mounted speaker port.
Other choices
With a sensitivity rating of 90dB/1-watt, the 702 Signatures don't need a ton of power to be musically involving. Using everything here from the 30 watt per channel PrimaLuna EVO 100 to the mighty Pass Labs XA200.8s, proved a good match. Being that person preferring a more mellow approach, I gravitated more to the combination of the 702 Signatures with the Luxman L-550 Class A (solid state) integrated, the Pass INT25 (also solid state Class A) and our reference VAC Sigma 170i (tubes), but your final sound preferences will determine what you'll pick. Bottom line, these speakers do not need a ton of power to sound great.
We also made it a point to try the 702 Signatures with a few different sets of speaker cable, from WireWorld, Nordost, Tellurium-Q, and Cardas. Again, all excellent results, how you want to achieve final voicing on your system will determine where you go here. The Cardas Clear cable in our reference system (a touch warm) was more to our taste, but the other three turned in great performances, but are slightly more forward and revealing. My living room is very lightly treated, so this contributes heavily to my leaning more towards a slightly mellow tonal balance.
One small tip, for those purchasing a pair of 702 Signatures: invest in a high-quality pair of jumpers, if you aren't bi-wiring your speakers. Swapping a pair of Tellurium-Q jumpers in place of the factory issued, flat metal jumpers brought yet another level of clarity in the mid and upper registers.
What's not to like?
Pretty much nothing really. Your decision will probably be B&W or the other choices, or between the Signature and standard models. However, in terms of what's available in the $5,000 – $7,000 range that we've had the pleasure to audition, the Bowers & Wilkins 702 Signature is a solid player in terms of sound quality, engineering prowess, and aesthetic appeal. Not to mention, as one of the world's largest speaker manufacturers, you can be sure of a great sales, service, and support network to go with your purchase.
The Bowers & Wilkins 702 Signature
MSRP: $6,500/pair
Please click here to be taken to the Bowers & Wilkins website.