Gemme Audio Tonic G5 Loudspeaker
By Jerold O'Brien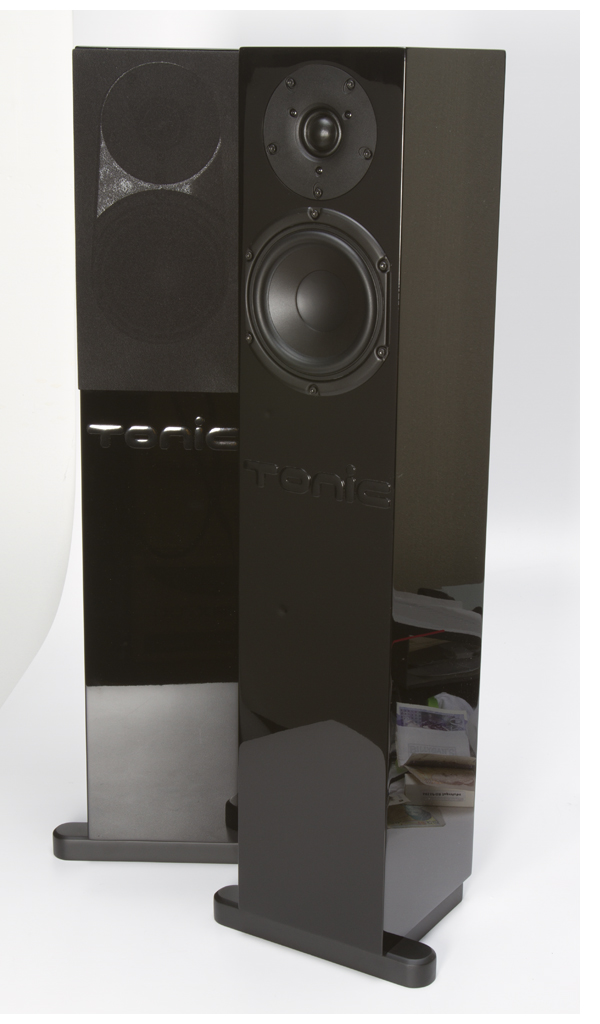 The name of Gemme Audio's Tonic G5 loudspeaker is perfect. In jazz, the phrase "minor tonic" refers to the home chord containing a minor third along with a major sixth and seventh for compositions in a minor key. And seeing that the model is more modest than the Canadian company's Katana and TantoKarbon offerings—yet shares the same high-gloss black finish and cabinet construction—the compact speaker riffs on the musical concept of making the most out of minor scales.
Sharing technology from Gemme's highly successful Vflex line, the $699 G5 sports a smaller 5.5-inch doped paper woofer crossed over to a 1-inch soft dome tweeter at about 3.2khz, all via a single-order network. While it claims a somewhat low sensitivity of 86db, the G5 is easy to drive with relatively low output. Gemme states the in-room LF response goes down to 45hz, a mark that I had no trouble verifying when playing test tones. It's yields impressive performance for such a diminutive box, helped in part by Gemme's "Pressure Reflex" design, which restricts the airflow in the port and creates a venturi effect. Designer Robert Gaboury mentions that doing so "makes for a nice, fast bass boost."
Painless Break-In and Setup
The G5s proved extremely room friendly. After running them for 50 hours and experimenting with positioning in my 15×20-foot room, I placed them three feet from the sidewalls and about 2.5 feet from the back walls, each 7 feet apart from one another. A matching black plinth on the bottom of the speaker makes it easy to use the supplied black chrome spikes. I achieved optimum imaging balance between both axis with the speakers toed in at about 5 degrees. This isn't a tough speaker to setup and, much like my Vandersteen 1Cs (also a 2-way, single-order speaker), provided engaging sound when not aligned just so.
I experienced no problems with a variety of amplifiers—tube and solid-state, large and small—but the G5s really grooved with the PrimaLuna DiaLogue 7 monoblocks, especially in triode mode. While the latter generates less power than pentode mode (40 watts per channel vs. 70), it played to the G5s' strength and added to their large presentation, especially when they were moved to a smaller room, where the extra 30 watts weren't a big deal.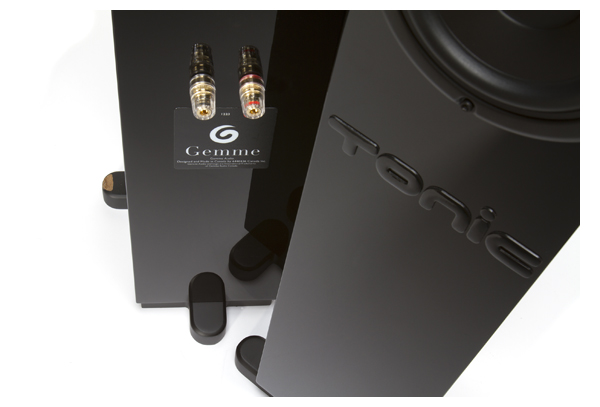 Listening
I couldn't resist starting my serious listening with Medeski, Martin & Wood's Tonic. The primarily acoustic live album challenges most speakers in terms of resolving a sense of the live space. Thanks to their excellent soundstaging abilities, the G5s were up to the task, especially on "Buster Rides Again." On the song, Medeski's piano is front and center, Wood's acoustic bass is off to the left, and Martin's drums figure prominently to the right of center stage. At least, that's how everything should be.
Moreover, this recording sounds artificially big; many comparably priced small speakers lose the recording's spaciousness, making the trio sound like they are in a closet. Not so the G5s. Their speed and dynamics captured the occasional rap of the drum sticks against the drum kit, nailed the cowbell, and offered a lifelike reproduction of audience participation, adding to the illusion of reality.
To determine whether the G5 could deliver with rock, I cued up Porcupine Tree's "The Start Of Something Beautiful" from DeadWing, listening for bass compression at high level. Again, I came away impressed with how much air the little woofers could move before breaking up. A similar effect happened when playing "Immune" from Godsmack's self-titled album; I just ran these little speakers out of gas. Turning the volume down slightly on the disc's "Voodoo" yielded better results, as vocalist Sully Erna was placed dead center in a haunting manner that suited the album's mood. Less bone crushing than a large pair of floorstanders, these speakers possessed quite a bit more punch than the Magnepan MMGs reviewed in this issue.
The G5s won't win any awards when it comes to reproducing a full classical orchestra, but what small speaker does? However, on small-scale recordings like Telemann's "Sonata #2" from Jerry McCoy's Dialogues With Double Bass, the musicians were spread across the soundstage in proper scale with generous room ambiance. Kudos to the Gemme's superb tweeter; the higher-register string sounds came across naturally, with no indication of breakup or edginess. Such smoothness was evident regardless of music type and represented one of the speakers' greatest strengths. Whether it was the bite of slide guitar or the crash of a cymbal, the G5's tweeter always stayed on the path of musical accuracy rather than veering off and artificially ringing.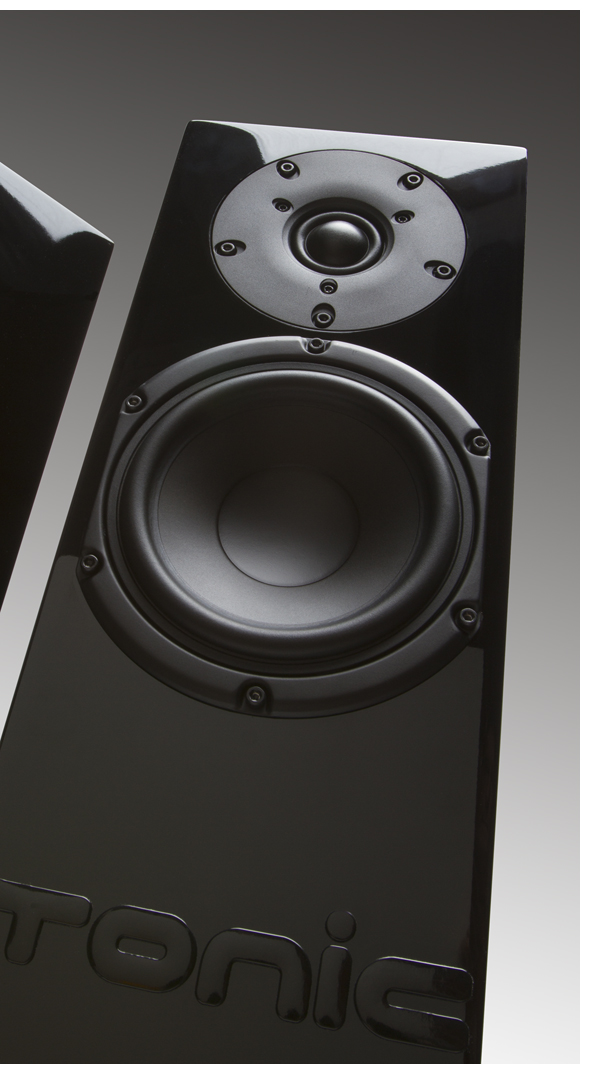 A Gem
The G5's compact stature may require an adjustment to your listening position, as the tweeter is only about 30 inches off the floor. The sweet spot in a first-order system is usually more critical than those in speakers that use more traditional crossovers. It's easy to get too much HF bleed through in the woofer, which leaves the speaker sounding muddy and muffled. So choose your listening chair accordingly. I ended up liking the sound presented when sitting on my floor.
A compact floorstander always presents challenges to speaker designers, and at $699, there are always tradeoffs to be made. In the case of the G5, all of the important boxes on the build list were confidently checked. These speakers offer a top-notch finish and faithful musical qualities as well as a beautifully rendered midband with a smooth upper treble and sense of space—and enough bass extension for most small-to mid-sized rooms. Combine such positives with above-average dynamics and a speaker that works well with modest-power solid-state or tube amplification, and you can see why Gemme Audio's latest creation should be on your short list – this is a lot of speaker for $699.
Gemme Audio Tonic G5 Loudspeaker
MSRP: $699
Peripherals
| | |
| --- | --- |
| Analog Source | Rega P5 with Sumko Blackbird |
| Digital Source | Mac Mini with Rega DAC |
| Preamplifier | Audio Research LS3 |
| Power Amplifier | PrimaLuna DiaLogue 7 monoblocks |
| Cable | Audience Au24 (speaker and IC) |
| Power Conditioning | Running Springs Elgar |