Paradigm Reference Signature S8 Loudspeaker
A Compact Canadian Masterpiece
By Jeff Dorgay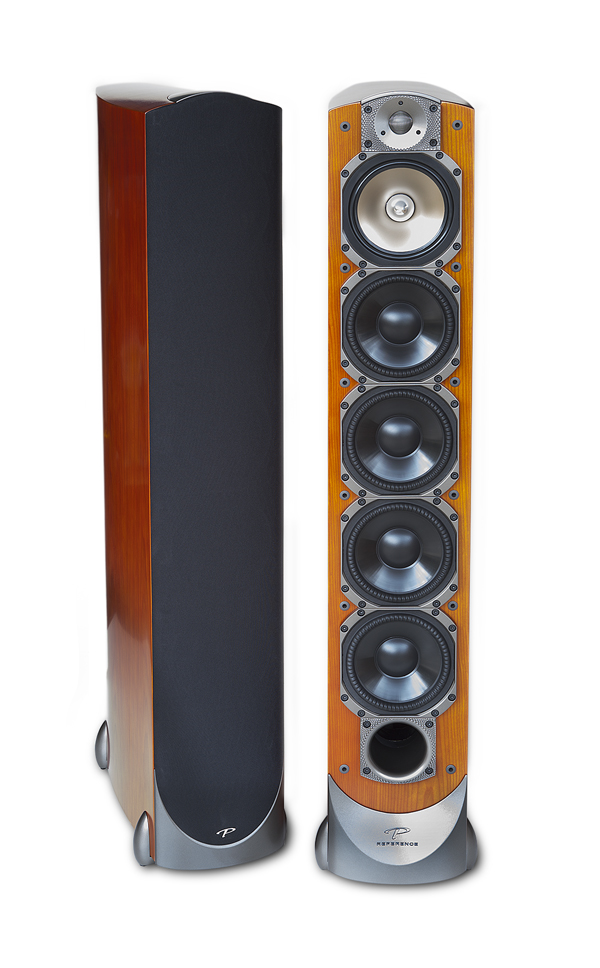 Spoiler alert:  The Paradigm Reference Signature S8s are amazing speakers that don't cost a small fortune.  They offer performance way beyond what you'd expect for $8,998 a pair.  Many of us know the Canadian company for its smaller speakers and great home-theater systems, but the Signature S8s have major audiophile cred.
Eddie Jobson's Theme of Secrets paints an enormous sonic landscape in all directions, with low-level detail and spatial cues galore.  It's a fantastic yet obscure audiophile freak-out record that, in a great system, feels like a surround-sound mix from two channels, which is a test that the Ref Sig.S8s pass handily.  The beryllium tweeter and line-array-type configuration give the speakers a high degree of coherence, which is a major contributor to their ability to reproduce vocals—male or female—with such lifelike ease.
The '80s club classic "Sex (I'm a…)" from Berlin encourages twisting the volume control.  The Ref Sig.S8s keep the driving disco beat firmly anchored without losing track of the seductive lead vocals, while also keeping all of the backup vocals sorted, as they pop in from all over the soundscape, mildly suggesting what our lead vocalist might be.  The cranky, out-of-phase lead vocals in Sheep on Drugs' version of "Waiting for the Man" takes a similar turn, with a great mix of vocal layers and spacey electronic effects zooming all over the listening room—further showcasing the fact that these speakers possess extraordinary imaging abilities.
Those with more traditional tastes, take notice:  The Paradigms perform equally well rendering the delicate shadings of Anne Bisson's "Dragonfly" or Annie Lenox's strong lead vocals in "No More I Love You's."  Tracks like these reveal that the integration of the tweeter and midrange driver directly below it is fantastic.
Thanks to their 92-dB sensitivity, the speakers barely budge the power meters of the 200-watt-per-channel D'Agostino Momentum stereo amplifier that I'm currently enjoying.  The Momentum really grips the Ref Sig.S8s' four 7-inch woofers, proving that you won't likely need to pair these speakers with one of Paradigm's massive subwoofers.  Justin Timberlake's "Let the Groove Get In" is the only track with which I can actually push the multiple woofers to their boundaries, with the Momentum's needles moving in earnest to the song's opening bass riff.
Taking further advantage of the powerful low-frequency abilities of the Ref Sig.S8s, I demo some Aphex Twin—and there's loads of low-end rumble, but everything else is smooth sailing.  If you really need to rattle the foundation of your house, or love your movies loud, ­by all means peruse the Paradigm catalog.  However, most of us will be thrilled with the bass response that these speakers deliver.
Best of all, the high sensitivity of these speakers allows a wide range of compatible amplification, making them a fantastic anchor for your system.  We can continue the tired chicken/egg argument of whether one should prioritize the speakers or source components—but I suggest building around a pair of speakers that you love, because they ultimately require more effort to interface with your environment, visually and audibly.  And what's not to love here?

Quality is Key
The Ref Sig.S8s may have a relatively small footprint—about 4 feet tall, with a base measuring 8.5 inches by 20.5 inches—but they are massive on quality.  Paradigm creates such high-value speakers by designing and building all of its drivers in house at its factory near Toronto in Canada.  Unlike many lesser speaker companies, which are often forced to work with off-the-shelf drive units—and sometimes make up for a driver's inadequacies by tweaking the crossover network, and thus produce a substandard result—Paradigm builds it all from the ground up.
Visiting Paradigm last year revealed what a large proportion of its factory is devoted to research and design.  Paradigm is one of a very small group of speaker companies that not only builds their own drivers, but also only builds drivers specifically to meet the needs of a speaker, once that speaker's objectives are finalized.  And because the company has such a large operation—the factory is almost 260,000 square feet—there are tremendous economies of scale in terms of the raw materials they can purchase.
Even Paradigm's tiniest Atom mini-monitors ($398 per pair) feature these same levels of design and engineering excellence and attention to construction detail.  I'm sure that a company outsourcing all of these components would have to charge twice as much for a similar speaker—and many do.
The Cradle Will Rock
Near the end of this review, HDtracks announced the release of the first six Van Halen albums on 24-bit/192-kHz download.  What better way to evaluate the performance limits of the Ref Sig.S8s than to crank Van Halen for an afternoon?
I start slow, with David Lee Roth on "Ice Cream Man," and the speakers illuminate the delicate vocal stylings of this track, which is full of echo and reverb, with S8s reproducing Eddie Van Halen's acoustic guitar flawlessly.  Midway through the track, as the rest of the band chimes in, the Ref Sig.S8s have no problem accommodating the driving bass line and the drums.  The amount of clean, undistorted sound these speakers produce is as impressive as the finesse with which they deliver it.
These are far from just being rock-and-roll, brain-damage speakers.  They do finesse as well as they do loud, making them a fit for whatever music you enjoy.  Bill Bruford's The Sound of Surprise, for example, is an album that bridges classic jazz patterns with some great prog rock riffs.  On the track "Half Life," piano floats amidst Bruford's slower interludes, but the Ref Sig.S8s can instantly accelerate when the program material dictates.  Playing acoustic fare also underlines the speakers' worthiness of great amplification.  The beryllium tweeter strikes a perfect balance of resolution, clarity and timbre that benefits from being fed thusly.  These speakers easily reveal the subtle differences between the megabucks power amplifiers we had in for issue 53.
Having used these speakers with a wide range of amplification, I'd suggest going the tube route if you have to compromise your amplifier budget.  The slight softness of a modestly powered tube amplifier will provide a more musical result overall than an inexpensive solid-state amplifier.  For those of you closed to the idea of a metal-domed speaker, I submit that it was probably the amplification used that ruined the experience for you, not the speaker.
The Rega Brio-R integrated amplifier proves an excellent low-price, high-performance partner for the Ref Sig.S8s, as does the PrimaLuna ProLogue Premium integrated tube amp.  And it just gets better as you go up the food chain.  The new 200-watts-per-channel Plinius Hautonga integrated amplifier that we are currently auditioning is a brilliant combination with these speakers, offering wonderfully lifelike sound and limitless dynamics.  With these speakers, those with amplification in the $5,000-to-$10,000 range might even be scratching their heads, wondering why their more well-heeled audio buddies bothered spending more.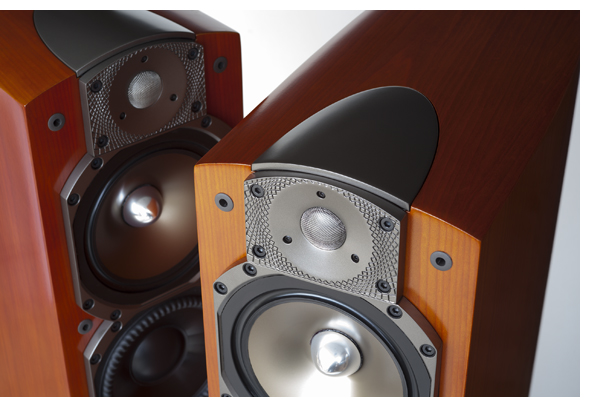 Under the Hood
Beneath the veneered cabinets, which are available in beautifully finished cherry or gloss black, lurks the best technology that Paradigm has to offer (though the company has just released a 30th anniversary model that looks very intriguing…).  The 1-inch pure-beryllium dome tweeter of the Ref Sig.S8 is coupled to a 7-inch cobalt-infused aluminum midrange, which utilizes a dual-layer voice coil and an enormous die-cast basket that acts as a heat sink—critical for a driver that takes the bulk of the bandwidth in this three-way speaker system.
Four 7-inch woofers round out the package, with an on-axis spec of −2 dB at 39 Hz, and a typical −3 dB at 24 Hz in an average room.  Our trusty Stereophile Test CD confirms that the speakers can deliver on a strong 30-Hz track, with a dip at 25 Hz and then quickly fading off after this point, even with the massive Pass Xs 300s driving them.  This is very impressive performance for a pair of $8,998 speakers.
Don't let the compact footprint fool you:  These slim speakers weigh 100 pounds each, so unless you turn green when someone makes you mad, get some help to unpack and move them into place.  The Ref Sig.S8s come with small rubber feet, and a full set of spikes.
Paradigm suggests that you use the speakers with grilles on, as this is the way they were voiced.  Always one to follow directions, I go this route and concur that this is a slightly smoother sound, though it makes the high-frequency response slightly more pronounced if you remove them, especially when using a tube amp.  Plus, there's so much craftsmanship here that it just seems a pity to hide it all beneath those grilles!
Setup is straightforward, beginning with the speakers about 9 feet apart on the 15-foot short wall of my main listening room, with a slight toe-in to make the listening position about 10 feet back.  As with any speaker, I like to key in on the bass response first—going for the best combination of power and locking them into the room, and then making slight adjustments for imaging later.  The Ref Sig.S8s are not terribly fussy speakers to work with, thanks to their great power response and wide dispersion, so even those with modest skills will be happy with the results.  But, if you're so inclined, 30 minutes of serious geeking out will reward you with a more three-dimensional soundstage.
If you're looking for a pair of speakers that offers serious five-figure performance without a five-figure pricetag, consider the Paradigm Reference Signature S8s.  In the scheme of today's wacky audio world, where $100k speakers are no longer rare, these are refreshingly great—and we are happy to give them one of our Exceptional Value Awards for 2013.
The Paradigm Reference S8 Signature Speakers
MSRP: $8,998 per pair (available in cherry or piano black)
Peripherals
| | |
| --- | --- |
| Analog Source | AVID Volvere SP turntable    SME V tonearm    Koetsu Urushi Vermillion cartridge |
| Digital Source | Light Harmonic DAC    Sooloos Control 15 server |
| Preamplifier | ARC REF 5 SE |
| Amplifier | ARC REF 150    D'Agostino Momentum stereo    Rega Brio-R integrated   PrimaLuna ProLogue Premium integrated    Plinius Hautonga integrated |
| Cable | Cardas Clear |