Coffman Labs G1-A Preamplifier
The Work of a True Artisan
By Jeff Dorgay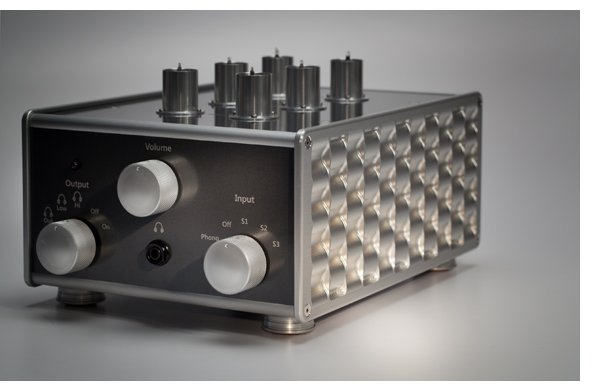 With the renaissance that vacuum tubes have been undergoing for the last decade or so, it's more challenging than ever to create a tube preamp that stands out from the pack.
So when engineer, musician, physicist and Portland local Damon Coffman told me he designed a new preamp that's "amazing," I was a bit skeptical.  But when I saw Coffman's creation, the G-1A, upon a recent trip to local gear shop Echo Audio, it was like catnip.  The unique casework caught my eye instantly, where fledgling manufacturers usually fall short—think steampunk meets art deco, fused with some mid-century modern.  The shop's wry owner, Kurt Doslu, who is usually the one curbing my enthusiasm, showed me the nifty little preamp.
"Kurt, what's this?" I asked. "Oh, it's this new preamp that we're going to be distributing," he replied. "It's pretty good, want to take it home and give it a listen?"  And so the adventure began.
The G-1A has an MSRP of $5,495 and, at present, is only available through Echo Audio in Portland.  There will be a total production run of just 500 units and the first 25 have already been pre-sold—impressive for a new product.
A two-box design, with an outboard, tube-rectified power supply, the G-1A is a full-function preamplifier.  It has a phonostage, with moving-coil (via step up transformer) and moving-magnet inputs and a headphone amplifier built in, which is a lot of capability for that price point.  The G-1A features a single-ended design throughout, with premium RCA connectors for the four high-level inputs and two phono inputs, along with two fixed high-level outputs and a tape out, which makes life easier for this tape enthusiast.
Circuit Basics
The G-1A uses six vacuum tubes in the main circuit: two 12AX7s, two 12AU7s and two 5687s, with a 5AR4 in the rectifier position.  The preamp  ships with standard-issue, current-day production tubes, leaving things wide open for tube rolling—but the G-1A was so enjoyable as delivered, I'll leave tube rolling for a future blog post.
Coffman says that much of the impetus for the design of the G-1A came from revisiting classic tube designs from the 1920s, when "the original concepts in tube audio" were born.  As a result, his preamplifier is a masterpiece of simplicity, even down to the number of screws holding its case together.  Inside, we see a mix of new and classic parts.  Coffman sourced a number of oil and paper capacitors ("NOS KGB items") and an input selector switch from the aerospace industry.  He also went so far as to hand-select and measure every single component for sound quality and durability.  Yet, even with this bespoke approach, Coffman's training in the medical-instrumentation field drove him to streamline the manufacturing approach to assure consistency from unit to unit.
A concert violinist with a master's degree in physics, Coffman made his mark in the medical electronics industry by producing digital stethoscopes.  A hi-fi guy since his early teens, he admits that building this preamplifier was, in many ways, even tougher than building his stethoscopes.  And most importantly, Coffman is a music guy through and through; his wife, daughter and parents are also musicians. So he is constantly asking himself if the sound is natural.  With the G-1A, a result of two years and countless prototypes, Coffman has finally answered that burning question in the affirmative.
Stunning Musicality
Wanda Jackson's 2011 release The Party Ain't Over is a dense recording and, as the first album on my long listening list, established that the G-1A has a timbral clarity that is unmistakable.  The upright bass at the beginning of "Rum and Coca Cola" has a loose, resonant, almost unturned quality such that you can actually hear the bass rattle—and the G-1A brings all this detail front and center, capturing every bit of texture available.
Zooming through some audiophile standards proves equally rewarding.  Listening to the Doors and the Grateful Dead in 24/96 was a spectacular experience with this preamp.  The soundstage that the G-1A presents is enveloping, dishing up the magic you usually have to spend five figures to achieve.  This preamplifier produces a stereo image that extends well beyond speaker boundaries on all axis—of course, the better the source material, the better the result.
The true triumph of the G-1A is its effortless reproduction of acoustic instruments.  Acoustic playback is a must considering Coffman's background.  The tonal accuracy of piano, violin and drums must be experienced to be believed.   The gentle tap of Phil Collins' drumstick on the snare frame in the title track of Brand X's album Unorthodox Behaviour was scarily real. That extra dollop of texture the G-1A provides seems to come from nowhere and yet still makes itself known.
The sparse drumming and percussion in this record, with its almost Zappa-like triangle taps and bells at the far corners of the soundstage, show off the immediacy that the G-1A delivers.  No matter how complex the musical passage, there's always enough headroom to accommodate another instrument in the mix.  This level of dynamic competence at both ends of the scale is rarely found without spending a lot more money.
Not Terribly Tubey
While you won't mistake the G-1A for a solid-state preamplifier, much like my Audio Research REF5 SE, the Coffman preamp is highly accurate, with that extra bit of airiness suggesting vacuum tubes under the hood (or, in this case, poking out of the top of the hood)—and nothing more.  Where a few of my favorite tube preamplifiers of old injected their share of warmth and often coloration, the G-1A plays it clean all the way.  It is worth noting, however, that this one really needs a good hour to warm up.  At initial power-up, it does sound a bit thinner than some of the other tube preamplifiers we've experienced.  But to complement the highly resolving nature of the G-1A, it is equally well represented in the lowest octave.
Because the G-1A offers such a great balance, I did not spend any time tolling tubes in search of a different "tuning."  I'm sure it would be fun to swap the phonostage tubes, because the 12AX7 allows so many different variations on the theme, but we'll leave that for another day.  Plus, the tall, spun-aluminum towers that ensconce each of the tubes do not make for easy tube swaps, and perhaps it's for the best.
At this point, we could call the G-1A a "best buy" without the phonostage and headphone amplifier.  As both of these segments practically warrant full reviews on their own, I will go into greater depth on our Analogaholic and Macro sites.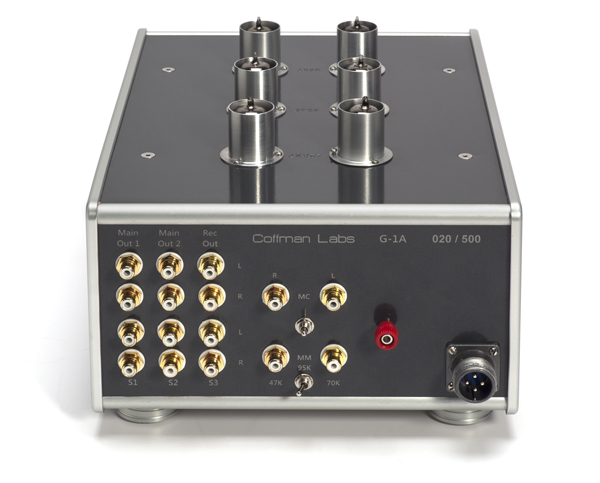 Full Function Phono and Phones
The G-1A includes inputs for MM and MC cartridges.  While everything in the preamp is so carefully thought out, this vinyl junkie would love to see that as a function addressable from the front panel.  Coffman does thoughtfully include a loading switch for the MM input, giving 47K, 70K and 90K ohms, allowing most of my favorite cartridges to shine.  The Shure and some of the Ortofon MM range have a much more open sound when loaded to 70k than at 47k, so this is a nice touch.
The phonostage is excellent, easily on par with anything I've heard in the $2,500 range, including the outstanding Manley Chinook, and the G-1A is head and shoulders above the EAR 834P, which is fairly colored in comparison.  Most impressive is the sheer dynamic drive that the G-1A provides, with the same tonality as the linestage.
Soundstage width and depth are enormous, making the freshly rebuilt Quad 57s in my second listening sound like a pair of stacked Quads.  Spinning the recent MoFi remaster of Dead Can Dance's Into The Labyrinth, the level of detail revealed was no less than stunning.  With a diverse combination of acoustic and electronic elements, featuring male and female vocals, this record gives a quick and accurate read on a component's spatial abilities.
Sampling a wide range of cartridges, including the Denon DL-103R (and the Zu Audio variation), Ortofon Cadenza Bronze, Ortofon SPU and Clearaudio da Vinci all proved excellent matches with the G-1A.  Unfortunately, the Lyra family of cartridges was not as exciting.  The Atlas, Titan i and Kleos all offered the same result: slightly slow and rolled off, which is likely the result of an obvious impedance mismatch.  There are still a few more on the audition list, so stay tuned for a follow-up on the Analogaholic site.
As this was the first sample from the production line, the headphone stage was not complete at this time, so for now we are concentrating on linestage and phono performance.  A full review of the G-1A's headphone stage will occur on our website very soon as a follow-up review.
The lack of a remote control proved not to be an issue, especially when moving the G-1A into room two, where the listening chair is directly in front of the main rack, so volume adjustment is easily handled.  Coffman assured me that the output stage of this preamplifier would drive "anything" and, after mixing it up with about eight different power amplifiers and driving 20-foot interconnects, I concur.  Driving a few of my test power amplifiers with one-meter and seven-meter lengths of ALO Audio's newest premium interconnects reveals no change in sound quality or high-frequency rolloff.
So What Makes This Thing Awesome?
The Coffman G-1A has a unique and striking look and it's built by a man with a plan.  Some might be surprised by the $5,495 price, but consider this: In the best old-school tradition, the G-1A includes an onboard phonostage (MM and MC) and an onboard headphone amplifier—remember when you could buy a full-function preamplifier with all of this under the hood?
With vinyl still growing in popularity and headphones a full-fledged sub-genre of audio, a preamplifier incorporating these two elements is exciting.  Considering that you won't have to purchase an outboard phonostage, headphone amplifier or a pair of power cords, the G-1A is fantastic if you value sound quality above everything else. The design is so pure it even lacks a remote control.
Judged strictly as a linestage for $5,495, the Coffman G-1A is at the top of its class.  The fact that it includes an excellent phonostage and headphone amplifier makes it the bargain of the year.  All of the tubes are easily found and those predisposed to tube rolling can tune and tweak until Election Day.   Coffman has plans to expand the lineup, possibly making the phonostage and linestage separate boxes. When I asked him if there might be a companion power amplifier in the works, he smiled that evasive smile that usually means "yes, but I don't want to talk about it now."
So with that in mind, we award the Coffman Labs G-1A one of our Exceptional Value Awards for 2012 and look forward to the company's future offerings.  Coffman is certainly off to a brilliant start.  I have purchased the review sample, so that it can become an anchor component in room two, and so that we can do a long-term report when a year has passed.

The Coffman Labs G-1A Preamplifier

MSRP: $5,495
Peripherals
Analog Source               AVID Volvere SP turntable/SME V, various cartridges
Digital Source                dCS Paganini stack, Sooloos Control 15, Aurender C10
Power Amplifier             Conrad Johnson MV-50C1
Speakers                       Quad 57
Cable                            ALO Audio, Cardas
Power                           Audience AR-6TS