Totem Acoustic Mani-2 Signature Speakers
Let the Spirit Move You
By Lawrence Devoe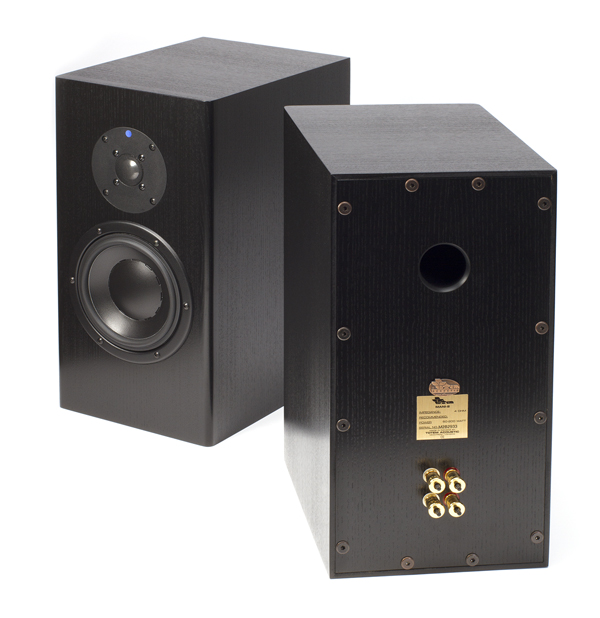 If you believe that it's possible for good things to come in small packages, then mini-monitors are right up your alley.  These little fellas warm the hearts and ears of space-constrained audiophiles everywhere.  Besides having room-friendly sizes, mini-monitors simply disappear once you toss in decent amplifiers, cables and stands.  Montreal's Totem Acoustics has been building great compact loudspeakers for two decades.  CEO Vince Bruzzese seems to have applied Native American spirits, or some such supernatural force, to his speakers, which should not come as a surprise to the Totem true believers who have always known that Bruzzese and company were on to something.  I bought my first-edition Mani-2s in 1996 and they have graced my smaller listening room ever since.  More than a decade later, Totem has completely rethought this speaker, with the new Signature version.
House Spirits
The exteriors of the Sigs resemble those of their predecessors, but these speakers are all new on the inside, from internal bracing to crossovers and drivers.  There are two new distinctive aesthetic features: a little blue dot above the tweeter and a plaque on the rear.  Similar to the original Mani-2s, these are 4-ohm speakers that measure 16.4 inches tall, 8.5 inches wide and 12 inches deep, and they weigh 23 pounds apiece.
Each speaker features a 1-inch aluminum tweeter and two 6.5-inch woofers in an Isobarik formation—meaning that one driver faces into the cabinet and the other faces the outside world.  Each rear panel is ported and has two sets of terminals for bi-wiring.  Totem offers an optional grille, but the company openly prefers that you listen to the Sigs in their birthday suits.
After easing the Blu Tack off of my Mani-2 originals, I place the new speakers on the same lead-filled Target stands.  My room dimensions being on the small side (15 by 10 by 8 feet), I locate the speakers 3 feet from the short wall and 2 feet from the sidewalls, with 5 feet of space between each speaker.  My listening distance was 8 feet.  As the sensitivity of the Sigs is relatively low (85 dB), Totem recommends amplifiers for them that can crank out at least 40 watts per channel.  Advice notwithstanding, I have zero trouble driving them to satisfactorily clean listening levels with two different integrated amps, rated at 30 and 35 watts.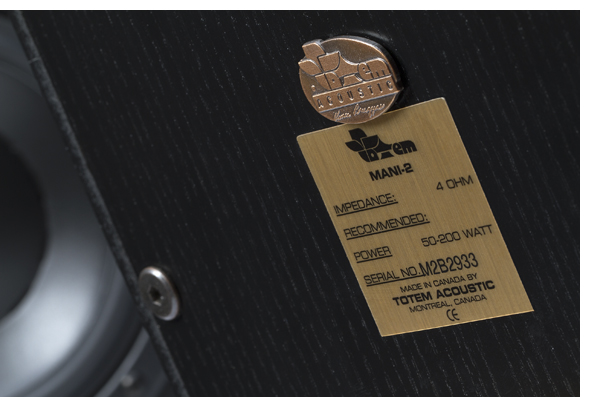 Man, Oh Mani-2
Totem suggests a minimum 200-hour break-in period and I willingly comply.  Two relatively low-powered integrated amplifiers, the PrimaLuna Premium Prologue (35 wpc) and the Pass Labs INT-30A (30 wpc) provide the juice.  A PS Audio PerfectWave Transport with MKII DAC and a Logitech Squeezebox Touch, armed with a USB drive, serve up the music.  Since extended low bass was an original Mani-2 "calling card," I go straight to Patricia Barber's "Constantinople" from Modern Cool (Premonition Records).  Midway through this jam session, Michael Arnopol cuts loose on his acoustic bass in jazzy yet articulate fashion.  The Sigs give a true-to-form account of this solo, right down to the resonances of the bass's soundboard.  Continuing the low-frequency session, I go to the Pipes Rhode Island CD (Riago) for Stephen Martorella's masterful handling of the Widor Adagio.  The low pedals on this piece prove little problem for the Sigs, whose little woofers move considerable air in my listening room.
From my perspective, voice reproduction separates loudspeaker contenders from pretenders, so I toss the Sigs Tony Bennett, in an XRCD2 remastering of The Tony Bennett Bill Evans Album (JVC).  Bennett's slightly raspy voice has a remarkable way of drawing you into each song.  One listen to "Some Other Time" reassures me that the Sigs can really do vocals.  To add more fuel to this fire, I play Isaac Freeman and the Blueblood's "Beautiful Stars" (Lost Highway Records).  Freeman's deep-bass vocals resonate like the voice of God, a quality captured by the Sigs, minus the mid-range coloration often found from small speakers.
Ultimately, speakers get their cardio workouts from large-scale orchestral works.  I administer this last treadmill test with a 24-bit/96-kHz download of Stravinsky's Firebird Suite turned in by Japanese conductor Eiji Oue and the Minnesota Orchestra (Reference Recordings).  This piece's no-holds-barred finale has all the forces wailing away at fortissimo levels.  The next best thing to the players actually leading a frontal assault into my room is having the Sigs give me a good wallop, and they do so without a hint of strain.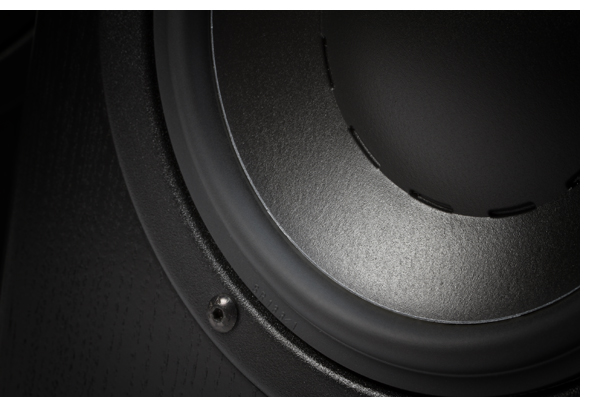 The Ancestral Voices Have Spoken
In the past decade and a half following the arrival of my original pair of Mani-2s, there have been three Washington administrations, two foreign wars, and, in case you missed it, a massive market tanking.  Surprisingly, the high-end audio industry has managed to rock on.  Some companies, like Totem Acoustic, have actually flourished and expanded their loudspeaker lines.  Each generation of Totem speakers has drawn from the wisdom of its ancestors.  This makes the company's decision to issue a second Mani-2 generation an interesting one, since many of the newer Totem speakers have been larger floorstanders.
Comparing the Sigs to their forebears shows how much the Totem design team has invested in product reinvention.  The sonic strengths of the originals, such as good imaging and bass extension, have been further improved.  The soundstage is noticeably broader, deeper and taller.  The bass is better articulated, while highs sound more natural, courtesy of the new tweeter.  Most importantly, midrange clarity, not a strength of the original Mani-2s, is dramatically better.
Midway through my review, I noted that Totem offers an accessory that, for obvious visual reasons, is called the "Beak."  This is a custom-milled 2-inch-high aluminum cone with "micro-ribs."  According to the product literature, Beaks are meant to "control parasitic vibrations that occur on top of a speaker cabinet."  Totem further suggests that Beaks help produce better imaging and high-frequency performance.  They can be placed atop each enclosure, either singly or in pairs.
While I am not a big-time tweaker, I did experiment with these curious devices.  Having the Beaks on and diagonally aligned from front to back produced smoother highs and a more coherent soundstage—maybe not to a shattering degree, since the Sigs are already so good, but the result was certainly noticeable and could be reproduced on repeated listenings.
Conclusions: Is the Mani-2 for you?
So what does $5,295 (plus an additional $300 to $400 for high-quality speaker stands) get you?  It won't get you the huge soundstage of large panels or the subterranean bass of a separate subwoofer.  It will get you compact speakers that fit easily into most listening rooms.  It will get you intensely musical sound from all the sources at your disposal.  As a bonus, you will not need monster amps to drive these guys.  In a modest-sized listening room with two integrated amps, each rated at less than 40 watts per side, I got great sound aplenty from the Sigs, although their bass response seemed slightly plumper with the Pass than the PrimaLuna.
The jungle of $5,000-plus speakers is the natural habitat for many species of widely differing designs.  Most speakers in this price range will provide pleasurable listening if mated with proper electronics, cables and, most critically, a room with the appropriate dimensions.  When it comes to getting the most sound in a modest-sized room, the Mani-2 Sigs will give you just about as much as you can hope for in terms of imaging, smooth highs, clear mids and extended bass that has to be heard to be believed.  If this is not enough to sell you, you should note that my 15-year-old Mani-2s, while clearly bettered by the Sigs, still sound pretty darn good (i.e. I'm not throwing them away), which is a testimony to the build quality of Totem speakers.
Totem Acoustic Mani-2 Signature Speaker
MSRP: $5,295 (USD)
Peripherals
| | |
| --- | --- |
| Digital Source | Logitech Squeezebox Touch    PS Audio PerfectWave Transport and DAC MKII |
| Integrated Amplifier | Pass Labs INT-30A    PrimaLuna Prologue Premium |
| Power Conditioner | Running Springs Audio Elgar\ |
| Cables | Nordost Valhalla and Frey |
| Power Cords | Nordost Valhalla, Brahma and Vishnu |