The Sonoma Model One Headphone System
Simply the Best
By Jeff Dorgay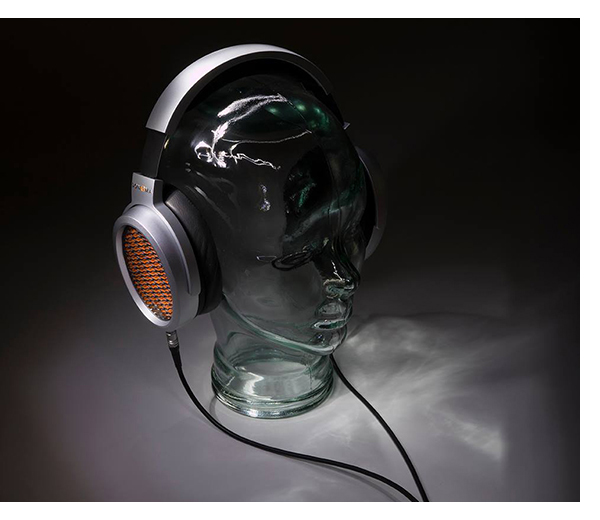 It only takes about 8 seconds of listening to the delicacy of the violins on the The Jung Trio's self titled SACD to realize that the Sonoma Model One headphone system is one of the most incredible personal listening experiences going.
Maybe the most, but we'll leave that argument for the internet pundits. The level of texture, detail and sheer tonal correctness is well above anything we have yet experienced.
The sheer clarity and lack of distortion presented by the Model One might have you looking for the volume control, (to turn them up) but proceed with caution, this newfound level of sonic purity will fool you. So, don't take your first test drive with Metallica. Ease your way into the Sonoma Model Ones until you get used to the feel. But be warned, you can't un-hear this once you have.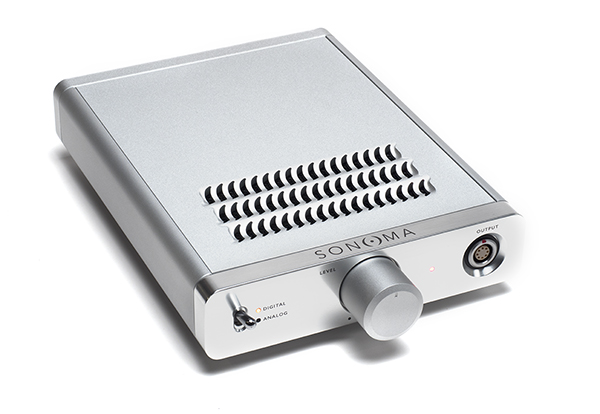 Instant attitude adjustment
We pulled out all the stops to revisit well-worn test tracks, with the best sources we could muster. The dCS Rossini Player was used as a transport, via the coaxial digital input and our Aurender server, via the USB input for digital files (standard and high resolution) along with streaming Tidal selections. The analog combination of the Brinkmann Bardo turntable, featuring a $10,000 Koetsu Jade Platinum cartridge and the Pass Labs XS Phono made a great conduit for the analog bits. And, because the jack was there, an iPhone 7+ was called into duty, just to see how that would work. Spoiler: while not as good as the dCS or Bardo, with uncompressed files, the iPhone never sounded better!
Regardless of music selected, the key words to describe the Model One are effortless and natural. Incredibly natural. Often headphones and speakers can pick up a sound, a coloration, based upon the materials used in cabinets, crossovers and drivers. Not here. While the Model One's do a splendid job with dynamics, thanks to the lightening sharp rise time of the electrostatic driver, the amount of fine detail they reveal will almost frighten you, especially with familiar recordings you thought you knew intimately.
The epic spatial presentation in Sigur Ros' Valtari slowly envelopes you with sound, and as the music swells, the phones seem to disappear into thin air. The grumbly bass lines present are well fleshed out and full of detail – the only thing missing is the sheer sock factor from listening to a pair of dynamic speakers in a room. Your favorite pop, rock, rock and electronic selections will be portrayed in a way you've never experienced, yet the ease by which acoustic instruments are reproduced is an outright luxury. A fair amount of time spent with the Model One might even have you rethinking your primary speaker choice.
Road trip
My journey with electrostatic speakers goes back to the early 70s. The first real hifi system I experienced was a friends McIntosh setup, paired to a pair of Jantzen Electrostatic speakers. I didn't even know what "transparency" or "imaging" was, but grooving on Robin Trower's Bridge of Sighs proved captivating via his Dad's Thorens TD124. Senior year in high school, when nearly everyone had a pair of Koss Pro 4AA's, I had already traded up to ESP 9s, so the audiophile virus had already taken hold.
In the years that followed, I always had the good fortune to have a large enough room to keep those ESP 9s on the shelf most of the time, along with a pair of Stax that have been handed down to a good friend, but I keep coming back to that sound, or better, lack of sound that an ESL driver in headphones or speakers offer. I still own Acoustat, MartinLogan and Quad speakers as references.
Like premium phono cartridges, premium headphones have brought a dimension to personal listening not thought possible even five years ago. Planar headphones from Audeze, HiFiMan, OPPO and a few others have joined the field and their offerings are very good, but there's still something special about electrostatic headphones – enter the Sonoma Model One System.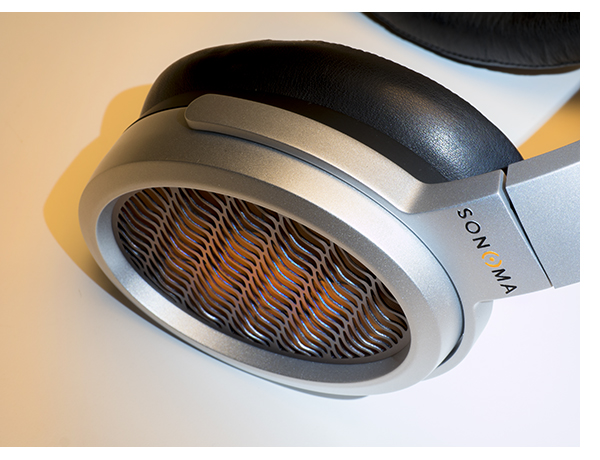 Previous electrostatic phones have worked like tiny ESL speakers in an ear cup, in the sense that they use a very light weight diaphragm energized between two grids carrying high voltage that pushes and pulls the diaphragm in and out to move the air. Sonoma takes advantage of a new transducer that they call a high precision electrostatic laminate (HPEL) design. You can read the full story on the Sonoma website here (https://www.sonomaacoustics.com/technology/) but to make a long story short, the Sonoma driver eliminates the grid, replacing it with an extremely thin membrane. Then, the driver surface is divided up into seven separate areas, tuned to different frequencies to eliminate resonance, which you can see from the transparent back of the drivers, yet maintains full range performance for cohesiveness.
Though the headband and ear cushions look fairly bulky, the cups are made from magnesium and the hand sewn pads are produced from Cabretta sheepskin leather. Knowing precious little about leather, this type of leather is made from the skins of sheep that grow hair rather than wool. This results in a smoother, lighter and more resilient leather that is typically reserved for gloves. Long listening sessions prove effortless with the Model One and where other, bulkier phones beg to be put down after an hour or so, the Model Ones can be listened to, without drawing attention to themselves for the better part of a day.
The result is a fairly massive looking set of headphones that doesn't feel it. Design geeks in the crowd will flip over the careful attention to fine detail, right down to the high level of fit and finish present thanks to high precision stainless fasteners. Finally, Sonoma collaborated with Straight Wire to design a custom cable from the ground up to transmit the maximum amount of audio information. The cable alone looks like something you'd buy in the aftermarket for $500 – $1,000. Who wants to buy a $5,000 pair of phones, only to have to upgrade the cable?
There are more than a few mega headphones out there, crossing the $5k mark, but none of them come with an amplifier and a full function, high res DAC. In case you forgot or aren't familiar, the team at Sonoma invented the DSD workstations, used to record many of today's digital recordings, so to say they know great sound is an understatement. Either way, their passion for sound is such a great place to start when designing a complete playback system like the Model One.
The latest DAC chipset from ESS, the Sabre Reference is used here, along with the AKM premium ADC chips, capable of operating up to 32bit/384khz. The ADC is required to allow the use of a 64-bit digital signal processor to optimize the frequency response of the Sonoma Model One.
This extra step is what gives the Model One the advantage over its competition, your music is fully optimized to the output capabilities of the driver, eliminating any frequency response anomalies along the way.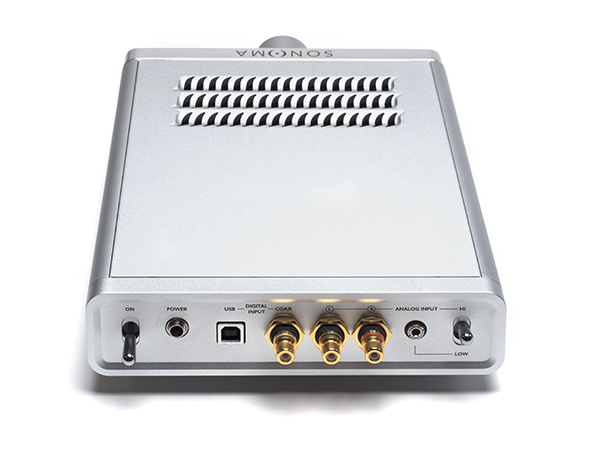 Technology that serves the sound
Combining the best build quality, with the coolest technology doesn't blow you away without results, and the Sonoma Model One delivers. After listening to hundreds of other headphone/amplifier combinations, the Model One is our top choice. Not only have we awarded it our Product of the Year in the personal listening category, we are purchasing a Model One system to use as the standard by which we judge all other phones, so you will be hearing a lot more about the Model One system in the future. Wrapping it up, the Model One is exquisitely packaged as well – certainly a nice touch when you've made an investment like this in your listening future.
Remember, you aren't buying a $5,000 pair of headphones, your getting an amp, DAC, DSP processor and top line cable for the asking price.
The value proposition
You can get a pair of earbuds at Best Buy for $19 and plug them into your laptop to enjoy music, so by that definition, you don't need a $5,000 pair of headphones. But, if you'd like to have a level of sound quality that would probably take six figures to achieve in a room with amplifiers, speakers and cables, The Model One might just be the best value in high end audio today. Even those with mega systems will be amazed at what this system can do, revealing nuance and detail that can often be masked by the best of rooms.
Don't say we didn't warn you. Once you hear them, you will find a way to make them yours. And you'll be glad you did.
The Sonoma Acoustics Model One Headphone System
$4,995