The Pro-Ject T1 Phono SB
Ready For Action!
By Jeff Dorgay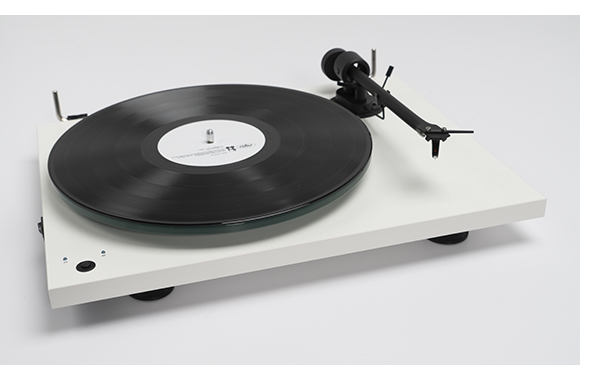 With vinyl showing no indication of slowing down whatsoever, more and more people are looking for a place to dip their toe in the pool.
While many seasoned vinylistas might stick their noses in the air at a four-hundred dollar turntable with a built-in phono stage, it's a damn good deal.
Let's be honest, there's a lot of junk out there for $400. Thanks to their level of vertical manufacturing, Pro-Ject is making a decent turntable at this price, and are giving you the option of a built in phono stage. And, unlike nearly every other belt drive turntable at this price, you can switch between 33 and 45 r.p.m. from the plinth, without having to remove the platter or touch the drive belt. Some tables costing considerably more still make you do this. Not a great idea in the middle of a party, when your hands could contain food residue. Not good for the belt.
Putting it all in perspective, those $99 dollar turntables from Pioneer, Dual, Garrard and a few others back in the late 70s would be about $450 in today's money. None of those included a cartridge or phono preamplifier handily built in either. Value proposition, check.
60 second setup
After carefully removing the T1 from its box, you need merely attach the drive belt between the pulley and the sub platter (the bigger black pulley), gently lower the platter onto the subplatter, and connect the cable to the output jacks on the rear. Plug in the 15V wall wart power supply and job done.
Because the T1 has a built in phono preamplifier, you can connect it to an aux or line input on your amplifier, receiver, or powered speakers. Should your device have a moving magnet (MM) phono input, order the less expensive model without onboard phono, and take that extra $50 to grab lunch, or some records!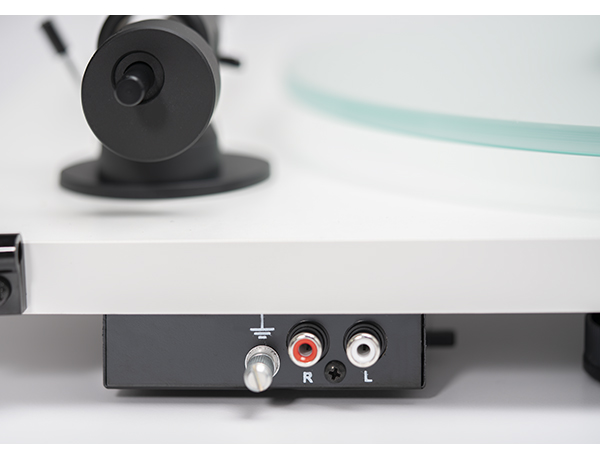 The tracking force is already preset from the factory, and the Ortofon OM-5MM cartridge is already set up properly. A cursory check with our tools confirms that the cartridge was installed with care and the tracking force where it needed to be, right at 1.9 grams. Any tools precise enough to squeak 5% more performance out of the T1 will cost more than the table, so leave well enough alone and enjoy your T1.
The T1 has enough output to drive any line level you've got. We used it with a PrimaLuna EVO 100 vacuum tube integrated, and a Cambridge solid state integrated, driving a pair of Paradigm Atom SE speakers, making it the centerpiece of a nice $1,000 – $1,500 system. A perfect spot for this table.
The four hundred dollar question
Going for broke, listening begins with a MoFi one-step version of Simon and Garfunkel's Bridge Over Troubled Water. The T1 presents a solid musical foundation on this stellar pressing. That Ortofon OM-5 is a real sleeper and one of the best low key values in audio. Should you want just a bit more performance out of your T1, when the removable stylus needs replacing, you can put the stylus from an OM10 or OM20, it plugs right in.
Tracking through the crate full of classic rock LPs that are in the "party bin" in my living room, the T1 continues to impress. While digital audio converters (especially the ones in the $350-$1,000 range) have improved tremendously, there's still a level of warmth and continuity to the sound that you won't get with something like an AudioQuest Dragonfly. Granted, streaming 24/192 via Qobuz might offer a little more ultimate resolution, but the Pro-Ject wins hands down in the organic way it assembles the sound molecules from a vinyl LP. And Vinyl is all about the tactile experience.
An impromptu gathering of a few neighbors, has everyone joining in, playing a few records and marveling at how easy the T1 is to use. While the T1 makes a great start to your vinyl journey, I highly suggest that even seasoned audiophiles have one, for casual listening. And starting out your friends with one of these means that their records won't get damaged either. Nearly everyone buying those cheapie tables is not doing their records a favor.
Ticks all the boxes
In a world full of $5,000 tonearm cables, a $399 turntable, cartridge and phono preamplifier combo is a pretty refreshing thing. Legacy audiophiles forget that we all started somewhere, and most likely it wasn't with a megabucks system. I can't think of a combination that is more user friendly, with such a high level of sound and build quality than the Project T1. Another thing often overlooked, is that an entry level has to deliver compelling enough sound for the user to stay interested. Again, the T1 is a major triumph in this regard.
In addition to the semi matte white finish you see here, it is also available in black and simulated wood finishes, so it should fit in easily anywhere (I personally like the white).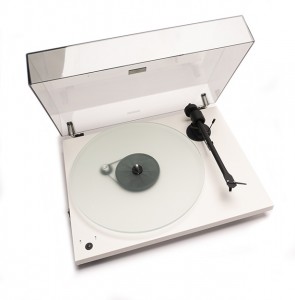 In the end, as easy and fun as vinyl gets, from a name you know and trust.