The Mytek Liberty DAC
Startling Revelations
By Michael Laurance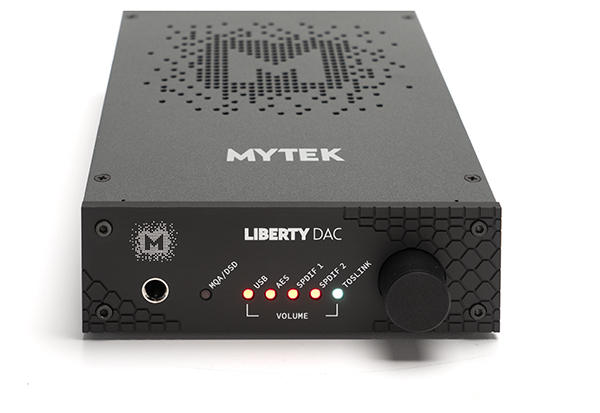 It's the week of Halloween here in the Midwest, which mean a few things – crisp air, beautiful colors, falling leaves, and warmer clothes, but it also means the usual plethora of haunted houses. They pop up everywhere, and inevitably, someone tries to goat me into joining them on their adventure to one.
Each time, I politely decline. Seemingly without fail, the other party presses me about it, saying something like, "What's the matter, don't you like to be scared?" My reply is always the same, that people in costumes jumping out at you is not the definition of scared, it's being startled. I am not interested in paying for the experience of being repeatedly startled.
However, in putting the Mytek Liberty DAC into my main listening system this week, I was just that- startled, but in a very good way.
Unboxing
The Liberty is conveniently one third the size of the Manhattan or Brooklyn Bridge from Mytek, making it a great fit into many systems. One control adorns the front panel, handling all source and gain duties. The black and gray finish sets off a sleek look, complimented by patterned vent holes in the top. Solid and well constructed, the Liberty is a featherweight component at only three pounds.
Listening
The disc I began my evaluation with (Jon Batiste's Hollywood Africans)sounds even better now that the Liberty has a few hours on the clock. Using the Pioneer Elite DV79-AVi's coaxial output into the first S/PIDF input of the Liberty- In particular, skipping to track 4, "Saint James Infirmary Blues." I can hear Batiste's lips part just before he sings. The reverb in this recording makes my room sound like an old New Orleans church. Voices come from the rafters, and the sax comes right out of the wall. It's the piano, though, that pushes me back. Never has piano sounded this natural in my system or my room. I have always found it the hardest instrument to reproduce accurately. The Liberty gives it breath and life.
Spinning the classic track from Guy Clark's album Texas Cookin', "Anyhow, I Love You," is where I got startled. I had listened to the song before having the Liberty in place, but now with it in the system, there was a striking new detail. Just before the female voices come into join Guy, I can now distinctly hear them inhaling in the left channel. To make sure I wasn't losing my mind on this, I took the disc, and played on another system in my house, and that breath was not noticeable. Now, playing it once again through the Mytek Liberty, it is there, clear as day. When I first heard this, my head went right towards that speaker, thinking my wife was standing there, about to say something to me, but it was buried deep inside a 1976 recording. It made my heart race a little.
It also makes me crave a live recording, since this level of realism is getting so enthralling. On the Mobile Fidelity Sound Lab's gold release of Peter Frampton's Frampton Comes Alive!,"Penny for Your Thoughts" rings in this room with striking clarity. Solo guitar with a crowd that I feel part of. Since the electric guitar is my other vice, I can't help but indulge in the anthemic bliss of "Do You Feel Like We Do." Everyone has that overplayed FM staple that never got old for them, and this is mine. There are a lot of huge dynamics in this song, lost if you only ever heard it on the radio. The peaks, which need to be played at concert volume, are large and full, with Frampton's Les Paul Custom grinding big and fat out of both channels. The valleys get low, with a subtle ride cymbal, and then a pulsing high-hat, while the audience reacts. I've heard this song thousands of times, but the Liberty is giving me much more clarity from Frampton's amps. I can hear more of the individual audience members. The iconic talk box solo sings with more soul. It's a more elevated live listening experience, overall.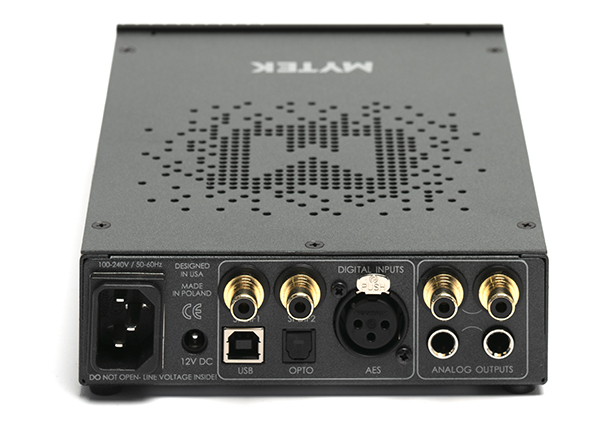 Just Ones and Zeros?
I've been doing the majority of my listening with the Pioneer Elite, but I did make use of all four digital inputs on the Liberty. With S/PDIF 2, I connected mt Sony ES changer, and utilized the Toslink input for my TEAC CD recorder. While the Mytek does a splendid job with all three of them, it will very quickly demonstrate that all transports are not the same. There are clear, audible differences between all three units, with the more expensive Pioneer Elite outshining it's more economical cousins in my system.
Upon receiving the Liberty, I quickly made the decision that I wanted to utilize the USB input with my 6th generation iPod touch. I purchased a Lightning to USB and plugged in to find that there was no response. A quick call to the very friendly and very helpful people at Mytek provided a solution. Since the Liberty does not supply any power from the USB, a specific adapter needs to be used. With the procurement of an Apple USB 3 Camera adapter, suddenly, I was in business!
Here again, this is a fantastic experience. Playing the iPod digitally through the Mytek Liberty yields a remarkably satisfying, rich, event that I've never had from my little device before. My playlists are now suddenly far more useful and enjoyable, and not just for the car anymore.
Use of the Liberty
As a DAC, the Mytek Liberty is wonderfully straight-forward. The single knob to the right, when pressed, switches between the four input sources. When turned, it increases or decreases the output level. The LED display shows either your source or volume level. I am using the unbalanced RCA outputs, but ¼' balanced outputs are provided as well. There is a built-in MQA hi-res decoder. Conversion is up to 384K, 32 bit PCM. Native DSD up to DSD256.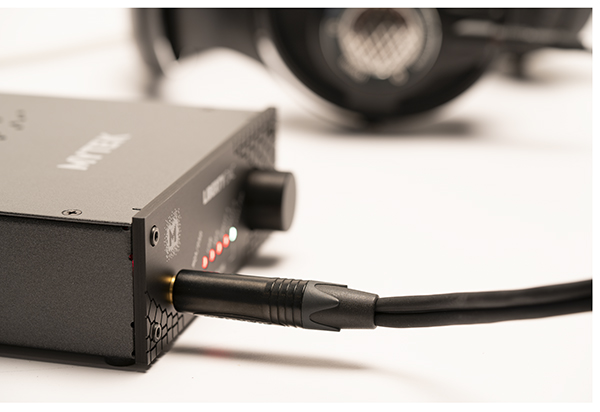 Getting into My Head
Besides being a stellar DAC, the Mytek Liberty is also a serious headphone amplifier, so it's time to switch off these speakers, and cozy up to the system. Grabbing my Sennheisers and a copy of Blind Faith, I plug in. Here is where the multi-purpose control becomes very handy, as this is now the volume control. On "Presence of the Lord," the Liberty instantly shows that it is right at home with the great Mytek products I've been hearing for years, including its big brother, the Manhattan. The Liberty presents a large soundstage in the headphones and loses me in this disc, rather than sounding like a couple of cans on my ears. Detail is just as sharp and striking coming out of the front of the Liberty as from the rear outputs.
Wrapping it Up
Mytek packs an incredible amount of sound and technology into a very small package with the Liberty DAC, and at a fantastic price. To get a DAC with this much striking detail, plus a formidable headphone amplifier, all in a 1/3 rack space is just amazing. I don't like to be scared, but I might be changing my tune on being startled.