The McIntosh C52 Preamplifier
Big Deal!
By Greg Petan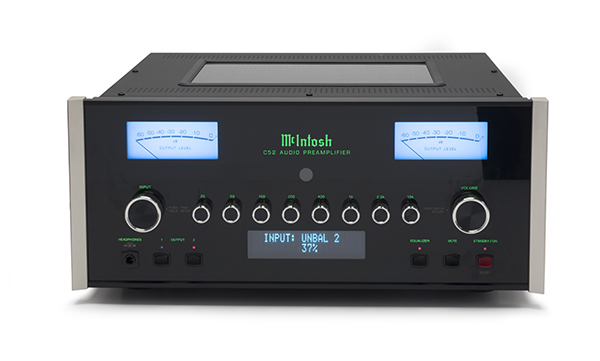 McIntosh has been in the audio game since 1949. You read that right-1949. It would be fair to say they have forgotten more about running an audio manufacturing business than most companies will ever know, yet over the past few decades, McIntosh had seemed to fall out of favor with hardcore audiophiles, and for a while, they were no longer considered the darlings of the audio press that they were in the 1960s. Mac was looked at by many as your father and grandfathers first choice in audio gear.
About a decade ago as Charlie Randall took over as CEO, the products quietly, all became much better regarding performance and consistency, keeping them in front of enthusiastic music lovers the world over. Today, they have returned to favor among many audiophiles, and are now a go-to brand with custom installers across the globe.
Sitting by the pool
You need to look no further than my backyard in New York's SOHO neighborhood, where the World of McIntosh Townhouse is located. With five floors of stunning décor featuring McIntosh, Audio Research, Sumiko, Sonus faber and Wadia products, music, comfort, and style integrate perfectly at every turn. Even the indoor pool (one of only 18 private indoor pools in NYC) has an over the top, dedicated Mac system to entertain clients and guests.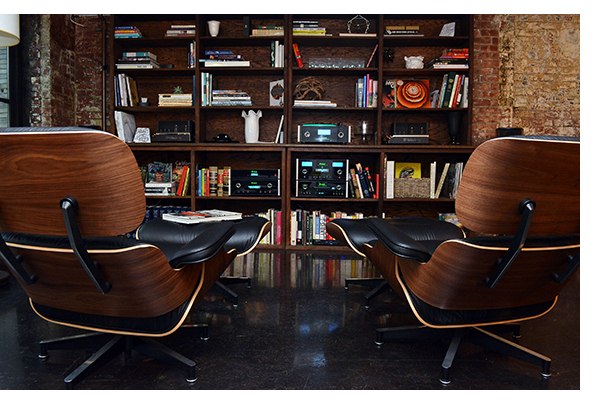 When given the tour of the townhouse by long time Mac consultant Kenneth Zelin, my first impression was,"This is the way to do it! It's the way to immerse someone into the high-end experience". The domestic setting is disarming and relaxing, allowing the listener to relax and get lost in the music. Alternatively, the WOM townhouse is a unique event space available to rent for large corporate parties and activities. Despite its broader commercial aspirations, WOM shows a huge commitment to its brands, a grand gesture that shoulders its featured lines to the head of the pack. Based on what I hear with the MC301 Quad Balanced mono amps And C52 preamp in for review, the commitment is more than skin deep or some show of bravura. The MC301 and C52 are terrific products, not just for the money but for the music and customer they serve.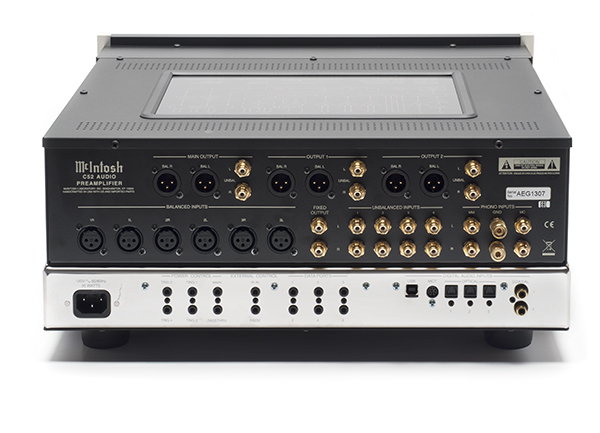 Roundabout
The C52 preamp offers four single ended and three balanced inputs, with three sets of balanced and singled ended outputs, offering outstanding flexibility. There is also a highly capable MC /MM phono preamp, more on that later. The 8-band equalizer spread across the front fascia, offering 12 dB of gain or cut from 25hz to 10khz is anti-audiophile but music friendly. With this capability, there is not a poor recording out there that can stump the C52. I settled on a couple of dB cut at 2.5 kHz and a slight boost at 100 Hz.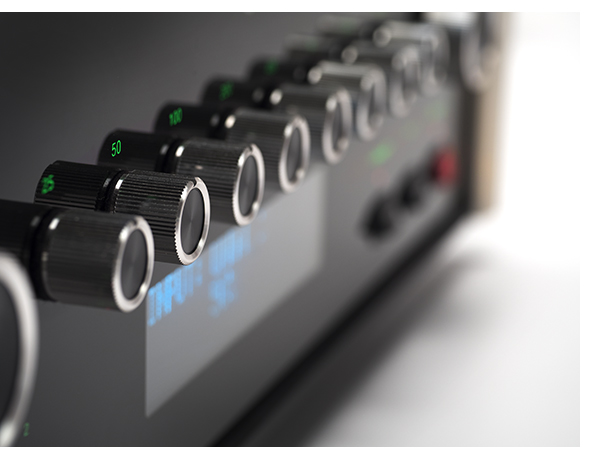 The MC301 mono amplifiers included for the review are housed in a lower profile chassis compared to the standard McIntosh chassis yet produce 300 watts each into 2, 4, or 8 ohms. Build quality and fit and finish are first rate, as you would expect from McIntosh and delivered flawless service throughout the review period. The amps feature a soft clipping circuit allowing maximum volume without damaging the amplifier while offering the speaker a fighting chance at survival. Another example of McIntosh human engineering. The abuse that products endure during the review process can be a bit brutal. Plugging and unplugging interconnects and power cords while left un-muted can test a components mettle, despite my ham-fisted approach to these things.
Outside looking in
Having reviewed many amplifiers and preamplifiers over the years, a macro view of tonal balance is always my starting point; is the presentation warm or cool in tone? Does it welcome you in or put you at arm's length? This tonality is the greatest strength of the McIntosh trio; they are equal to a shot of audio narcotic. So warm and inviting, the balance is the antithesis of cold, hard or biting sounding. The C52/MC 301 combo wraps its cozy little arms around you and welcomes you into the musical experience. Smooth? You bet. Realistic timbre? Check. Instruments and voices sound staggeringly realistic with no edge or glare whatsoever? Got it. These are traits that many music lovers adore. Music can be enjoyed endlessly with no aggravating edge, grit or grain.
This trio is not lacking in transparency, and this improvement is precisely where McIntosh has made tremendous strides in the last ten years. Disparate instruments and musical lines are exceptionally well rendered populating a broad soundstage. Perhaps not the widest I have had in my room, yet its way with depth is uncanny, particularly with analog is enticing. Background vocals and spatial definition are outstanding as well, allowing the front wall of my listening room to vanish completely. Listening to Sarah Vaughn "Just Friends" from Send in the Clowns is sublime. Front to back, left to right, the musical picture is stable and unwavering. Bringing up the volume a bit helps widen the stage while fleshing out images. The M301 and C52 are so smooth and distortion free, cranking the volume always feels right!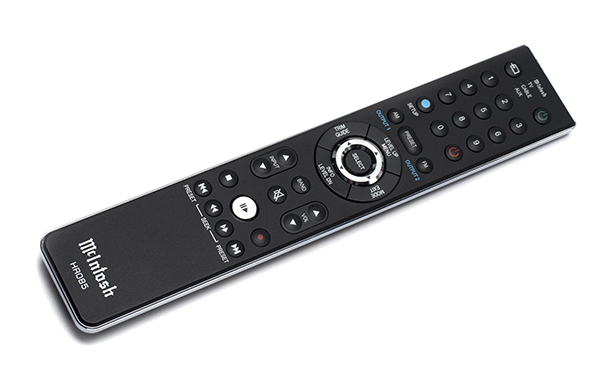 Detail retrieval is splendid but the focus on truth in timbre, instrumental color, and separation of instrumental lines is an even stronger trait. Like great tube gear, today's finest solid state has gotten very close to getting the tube thing down. The tube heritage of McIntosh is not at all lost on the trio as they get to the heart of the signal and they reveal music with more bloom rather than rigid outlines and flat images. You might not be overwhelmed with a ton of information in the way the Pass Labs XA200.5 monoblocks and XP-20 preamp offers, but at 1/2 the price the McIntosh trio provides a ton of musical satisfaction.
Where the Pass gear paints a somewhat larger picture with wider dynamic swings, and both the Pass and D'Agostino amplifiers produce slightly more prodigious, deep bass, the MC301s are no slouch. After listening to the great pace and drive presented tracking through Led Zeppelin's "Rock and Roll," I remain breathless.
I am a bass freak. I played bass in a band for ten years, and to this day, I listen to the bass line first on any new song auditioned. Over the last couple decades, I have learned the difference between boomy distorted bass and fundamental, clean extended low frequencies. Once presented with accurate, clean bass, there is no going back. It is amazing how many varying shapes and textures different bass recordings can render. The MC301 and C52 offer texture, color, and lack of any boxiness or excessive thickening in the lower registers.
The lack of distortion leaves just straight pure tone. Stand-up bass sounds spot on "Dolphin Dance" from Brian Bromberg's Wood. The song has it all; depth, control, beautiful tonal colors, and transient snap with a big in-the-room presence. Electric bass such as that from Joe Satriani's' "Summer Song" sounds clean and clear through the MC301s, making it easy to follow each note throughout the track. Despite the articulation and resolution, the slight lack of slam does detract a bit from the ultimate live experience.
Segregation
To this point, we've been listening to a trio. Evaluating the C52 on its own merit, the aforementioned Pass XA200.5 amplifiers were substituted for the McIntosh components to get a handle on things and to perform an apples to apples comparison in my reference system. As a solo performer, the C52 preamplifier is resplendent through the solid state Pass amplifiers. This is a preamplifier with real musical soul.
The presentation is liquid with a wide open and detailed mid band that kept my ears peeled. The sound stayed open and defined through the upper mid-range, with no added glare or edge when broader dynamic swings dominate. Listening to the title track from Spyro Gyra's Morning Dance on vinyl, as I have with every other component I've owned, the sax through the C52 has never sounded so glare and blare free. This track is a torture test too many components fail miserably.
The MC phono preamp in the C52 is not just good; it is amazing. Organized, rhythmic, dynamic, super quiet and colorful, I could live with this sound forever. "Funeral For A Friend" from Elton John's masterpiece, Goodbye Yellow Brick Road naturally blossoms with air and nuance allowing the background vocals and synth parts to open up. The value added with this phono stage makes the $7K asking price for the C52 seems like a flat out steal. Kudos on not skimping on the phono stage McIntosh.
Adding further to the value is the onboard headphone amplifier. I am by no means a headphone guru but my Pryma (a Sonus faber design) headphones in carbon fiber sound nothing short of thrilling through the C52.
I am really pleased with the level of authenticity McIntosh products bring to the musical experience. With the M301 amp and C52 preamp, the sound is never less than engaging and immersive. Isolating the preamp proves just how deep the musical heritage goes in the engineering and performance of McIntosh products. Add the eight- band equalizer, stunning MC/MM phono stage, DAC, and headphone amplifier to the mix and $7K gets you a preamplifier you may never have to upgrade. The McIntosh C52 offers a significant helping of high-end audio experience, earning one of our Exceptional Value Awards for 2016.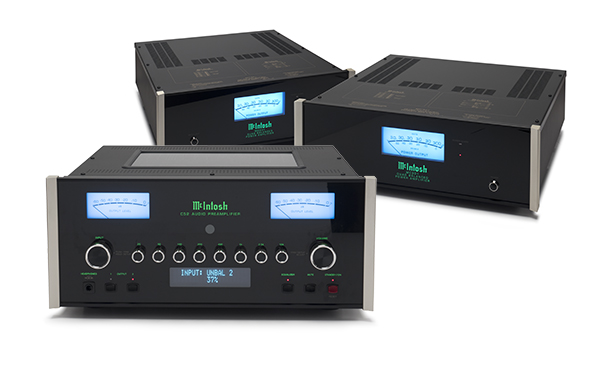 The McIntosh C52 Preamplifier
MSRP: $7,000   (MC301 monoblocks, $5,000 ea)