The Manley Mahi Monoblocks
A Quick Re-visit
By Jeff Dorgay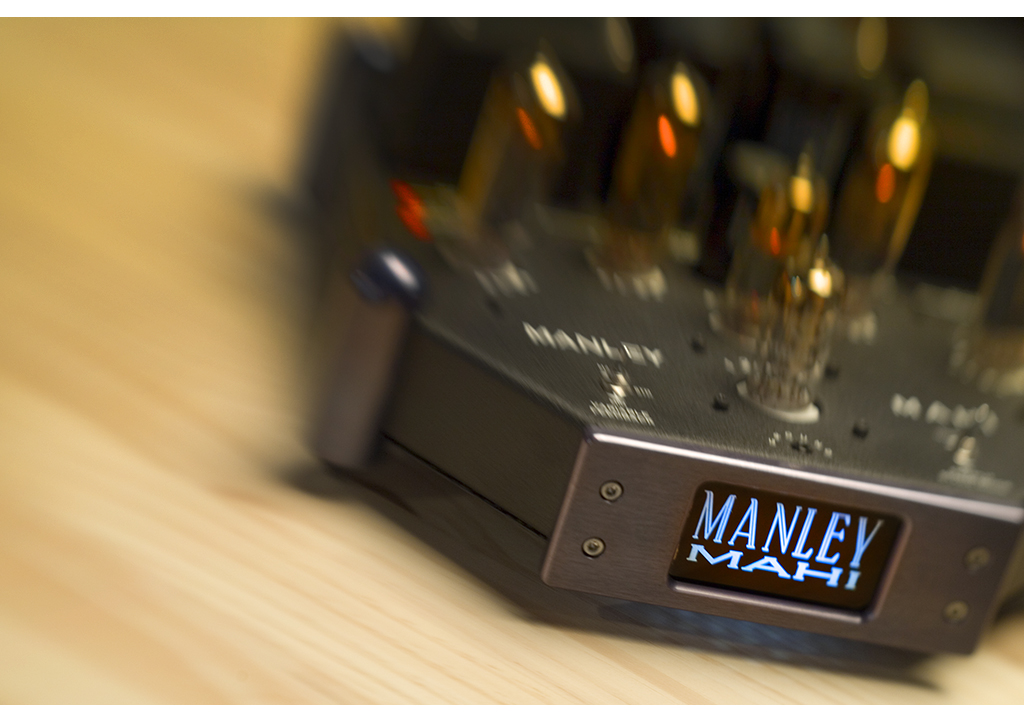 Manley has not changed the circuit of their smallest monoblocks, the Mahi's, but since this review came out in 2007, manufacturing costs and a crazy world economy has brought the price to nearly double what they were in 2006 when we first wrote this review. Still, at $5,399 a pair, these are still one of the best bargains in hand crafted tube amplifiers going and after revisiting a pair of a friend's Mahi's, I stand behind everything written here. –Jeff Dorgay, Publisher
Often, good sound in the audiophile world means big: big amplifiers, lots of big tubes, big heatsinks with a lot of power transistors. And of course, we need a big power supply too. That is the conventional wisdom, and it works well, but every now and then you get surprised.
The Mahis are one of those surprises.
When I first saw the Mahis, I really wanted to get my hands on them, just because they look so cool. I'm a major fan of Manley stuff from an industrial design point of view, and now years later, the sound as well. Only about 10 x 11 x 5-inches, the Mahis are small but substantial, weighing 18 pounds each. The chassis are black, but the front panel and spiked feet are a dark, metallic blue, and the front panels have the Manley Mahi logo on them that light up from behind when you turn the power on.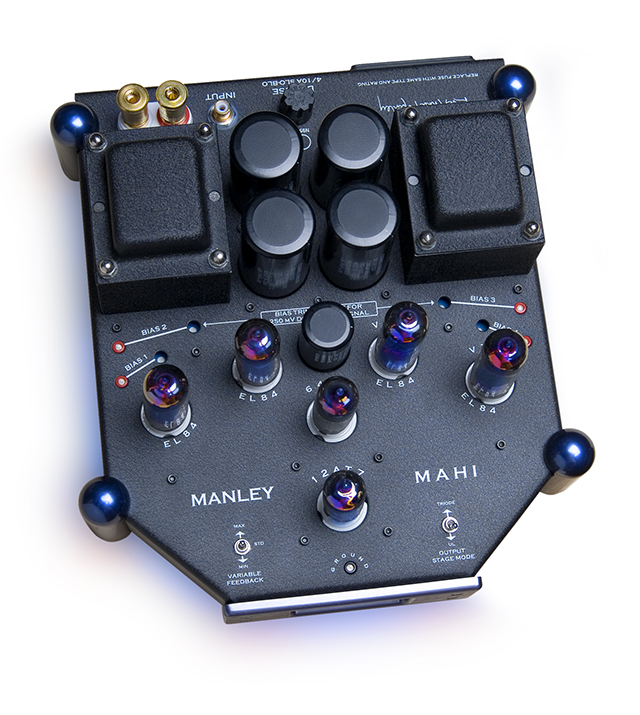 The Mahis are compact but substantial – like taking a teaspoon of matter from Pluto substantial. There is an IEC socket on the back, so you can use the power cord of your choice, and speakers connect via a pair of WBT binding posts, though there are no options for different impedance. I tried the Mahis with a number of different speakers, and this isn't a problem.
Unlike a lot of tube amplifiers in this price range, the Mahis use a pair of EL-84 output tubes per channel, instead of the more common EL-34. This amplifier began its life about 15 years ago as VTL's "Tiny Triode" amplifier, making quite a name for itself. They then became Manley 35-watt monoblocks, later morphing into their 50-watt monoblock amplifier. The 9-pin EL-84 looks a lot like a preamp tube at first glance, but it delivers the goods! Guitar geeks in the audience will recognize this tube as the one that contributes to the sweet sound of the old VOX amplifiers the Beatles (and the Knaack) used.
A pair of Mahis now cost $5,399, and are stoutly built at the Manley facility in Chino, Calif. These are monoblock versions of the popular Stingray, without input switching and volume controls, so they are perfect for those of you who already have a linestage you are fond of.
Initial Set-up
For the first part of the test and break in, I used the Mahis in a system consisting of the ACI Sapphire XLs along with the ModWright 9.0 SWL SE linestage. Digital came from an Ah! Tjoeb 4000, partnered with the Benchmark DAC-1. Vinyl playback was provided by my hotrodded Rega P25 with a Sumiko Blackbird and the Hagerman Trumpet phono stage, so I felt we had these amplifiers in a system representative of like-priced gear. Those of you wanting to stay all Manley would do well to consider their Shrimp preamplifier.
These amplifiers broke in very quickly, only requiring about 50 hours to be all they can be. For the duration of my listening sessions a pair of Tetra 506s, along with BAT VK-42SE linestage and VK-P5 phono preamplifier rounded out the system. A ModWright Denon 3910 (things have come a long way since 2006!!) provided digital playback and the LP-12 with Shelter 90x handled analog playback.
The fairly sensitive Tetra 506 speakers (92db/1-watt) prove a great match. The Mahis produce just over 40 watts in ultralinear mode, so this is more than enough juice to make plenty of noise. Triode lovers only get 20 watts per channel, but it's a bit warmer sound.
Adjustability Equals Fun
The Mahis give you two different ways to tailor the sound to your liking. Not only can you switch between ultralinear and triode mode, there are three settings for feedback as well. The standard setting (middle position) offers about 6 db of feedback, with the low setting has 3 db and the high setting, 10 db. You may question all of this, but it really comes in handy to dial in the sound you want. In a perfect world, if all records were perfectly mastered, you wouldn't need this, but we all know that's not the case.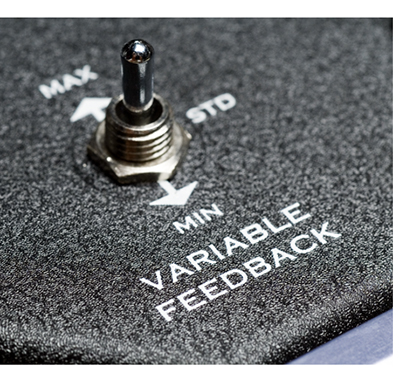 If you are new to the tube scene, the standard ultralinear mode is more powerful, offering slightly more control over the lower frequencies, while being just a bit more extended on the high end. Using the EL-84s in triode mode costs you a bit of extension and control, but the midrange is more liquid.
Quad 57 owners, this is your amplifier. Since this review was written initially, I've borrowed Echo Audio's demo pair of Mahis, and they are beyond lovely with the classic Quad 57s and the current 28xx series Quads. I'll stick my neck out and say the Manley Mahis offer the most musically engaging presentation I've heard with the original Quads.
While many of you might leave everything in the center position and forget it, I found this feature to be really handy as a tone control. Got a CD with way too much sizzle? Crank up the feedback. Granted, you will lose a little bit of ultimate detail and resolution, but the smooth sound will be a lot easier on your ears. Listening to female vocals late at night over a glass of wine or two, crank up the feedback and go to triode mode as well. This combination is as romantic as it gets. If you are playing Led Zeppelin and need that extra push over the cliff, switch back to ultralinear mode and turn the feedback all the way down.
For some of you, this will be too much to handle, so if you are like a friend of mine that keeps VTA settings for all of his favorite records on an Excel file, forget about the Mahis, they will probably drive you nuts. You need a power amplifier with a power switch and that's it. However, if having a few options sounds like a good time, grab a pair of Mahis and live it up!
A Different Kind of Fun
If you have never experienced an amplifier using EL-84 tubes, you are definitely in for a treat. Though the 6550 and KT-88 tubes are more common because of their higher power capacity, this configuration is very interesting. Conventional wisdom states that the EL-34 tubes have a more romantic sound, while the 6550s have more extension and punch.
However, the EL-84 in many ways is the best of both worlds, having great bass, top end extension, yet a liquid midrange. The only drawback is that these little tubes are only good for about 40 watts per channel, so to take advantage of the magic these amplifiers have to offer, you need a small room, efficient speakers, or both.
The more time I spent listening to the Mahis, the clearer picture I got of their character. The Mahis are very nimble tube amplifiers that have a lot of control in the lower registers. I tried several of my favorite bass-heavy discs from Kruder & Dorfmeister, Mickey Hart, and even dusted off my oldest Run DMC LP's. The bass response of the Mahis is satisfying on all occasions. There are a few tube amplifiers in this price range that have more power, but the Mahis have more finesse, so if that's your hot button, you will dig these amplifiers.
Again, the key is system matching. Get a pair of 92-96 db speakers and you may never need a bigger amplifier, because the Mahis are so enjoyable.Hook 'em up to a pair of 86 db speakers and you might not get the same picture I got unless you are in a small room. Thanks to the great tonality of these amplifiers, you female vocal fans will worship the Mahi sound.
It's all about detail with the Mahis. You can't beat the laws of physics with any pair of 40-watt amplifiers, but the Mahis do such a great job with detail, you may not find yourself wanting to turn it up quite so loud. One final detail: the Mahis are very sensitive only requiring about 300 mv to produce full power. If you take a pair for a test drive, turn your preamp way down before starting to listen.
The Verdict
Fifteen years and price increases later, the Manley Mahis are still one of the most enjoyable pairs of tube amps going. I think I need a pair. (I should have bought em in 2006!)