Klipsch Image ONE Headphones:
The perfect step up from earbuds...
By Jeff Dorgay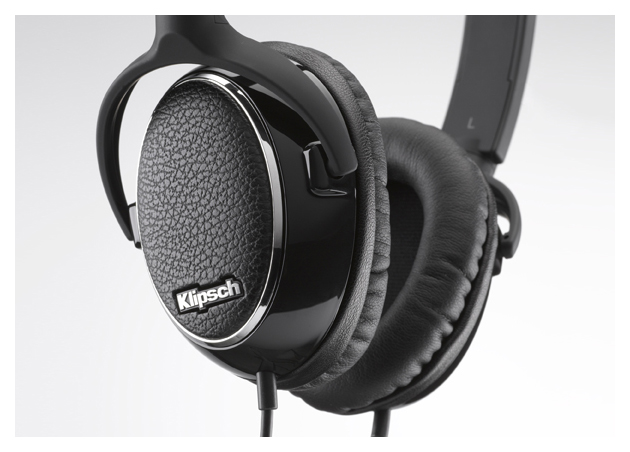 If you're as sick as I am of the earbuds that were packaged with your iPod but don't really want to become a full fledged headphone addict, here's a great pair of phones that will server you well – The Image ONE by Klipsch.  Yeah, the speaker company.  After a quick listen at this years Consumer Electronics Show, I wouldn't let the Image ONE's go – I forced them to let me take em home!  Here was a reasonably priced pair of headphones ($149.95) that felt as if they should have been much more expensive, yet were still compact enough to easily pack in a piece of carry on luggage.  The perfect accessory for the music lover on the go.  This modest price tag also includes a semi-hard shell case that zips up and includes a tiny pocket that could carry cable adapters or perhaps a few memory cards with more music.
Tipping the scale at just 138 grams (under 5 ounces) the Image ONE phones are extremely comfortable on a long trip.  On a recent trip to London, I put them to the test watching almost all three seasons of Dethklok at one sitting, proving immediately that these phones can really rock while not causing listener fatigue.  My return flight was somewhat calmer, with a mixture of iTunes music and a few episodes of House, which actually put the Image ONE's to the test again.  House features a great sound mix with a lot of deep bass present, which these phones reproduced effortlessly.
Sound To Share
The Image ONE phones incorporate a 40mm driver in each earcup and have an impedance of 32 ohms.  They use a standard 1/8 – inch stereo mini plug (perfect for your favorite pad, pod or phone) and include a 1/4 – inch adapter so that you can use them with your favorite old school receiver at home.  The low impedance proved easy to drive with my iPad, offering up more than enough volume, even when sitting in a relatively noisy seat.  Indeed, these were a major upgrade from the standard Apple earbuds.  However, if you'd really like to see what the Image ONE's can do, I suggest an outboard headphone amplifier – specifically my favorite portable headphone amplifier from ALO Audio:  the Rx Mk.2 pictured here. (click here for more info) As you can see, this will not take up much space, and while you might think it madness to add a $450 headphone amp to the mix, the Image ONE phones were up to the task.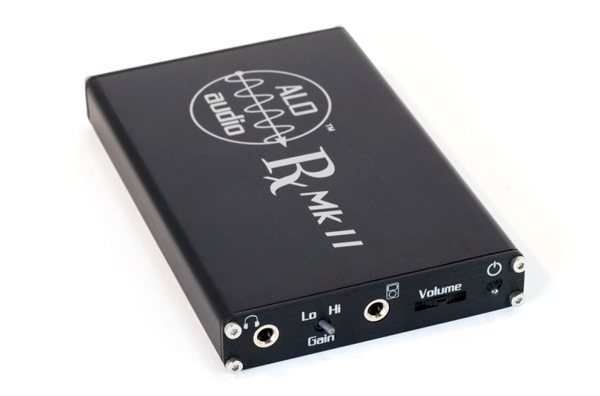 The sound quality increased dramatically, listening to the current remaster of Traffic's John Barleycorn Must Die was fantastic.   The soundstage opened up and I had music floating all around my head. Of course this was too much fun to keep to myself, so I had to share them with the passengers seated next to me.  I know by the time I got home from London, I had convinced a few people that a high performance headphone setup was the way to go.
Often a weakness of less expensive phones, the Image ONE's had clear and deep bass response.  Laurie Anderson's "Only an Expert Can Deal With a Problem" from her latest CD, Homeland has some incredibly low frequency bass riffs, as does Orgones Cali Fever.  The Klipsch phones had very convincing output even at the lowest of frequencies.  The high frequency response was much more refined than I expected from a $150 pair of phones, which made classical music that much more enjoyable.  Best of all, the solid ear seal made it easy to enjoy the ping-pong stereo effects from my favorite Beatles and Pink Floyd tracks.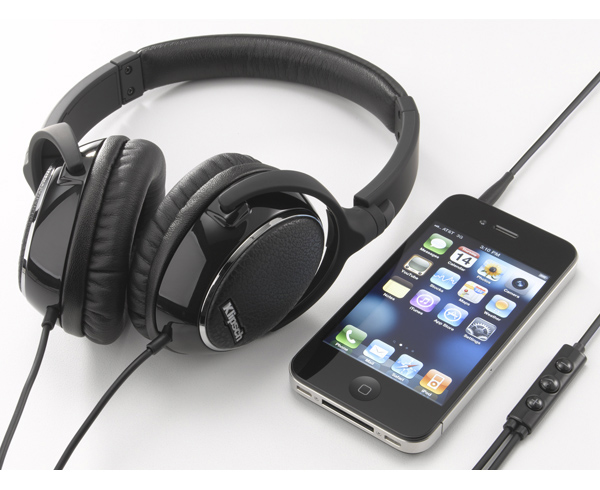 Taking my quest even further, I couldn't resist plugging the Image ONE's into the $4,000 Woo Audio SET headphone amplifier when I got back to the office.  These small but mighty phones were finally out of their league, but still gave a good showing.  Regardless of your setup, these headphones will put a smile on your face.  Perhaps the most handy feature with the microphone and remote control built into the cord, that is compatible with the iPhone.  My daughter really enjoyed this when she was lounging about listening; she could stay plugged in and not have to remove the phones when friends called.  Perfect for the world traveler or your favorite antisocial teenager!
Conclusion
While not quite as quiet as a full blown, active noise-cancelling phones, the Klipsch Image ONE's don't have the high pricetag either.  They are still a significant order of magnitude quieter than in-ear phones costing much more and thanks to the over ear design, offer up much more solid bass response.  Their light weight, great sound (and build) quality make these my first choice when on the go.  I'm purchasing the review pair and keeping them in my briefcase ready to go on the next trip.  Highly recommended.
The Klipsch Image ONE headphones
MSRP:  $149.95