REVIEW: The Sonus faber Sonetto V Speakers
Compact Classics - True to the breed
By Jeff Dorgay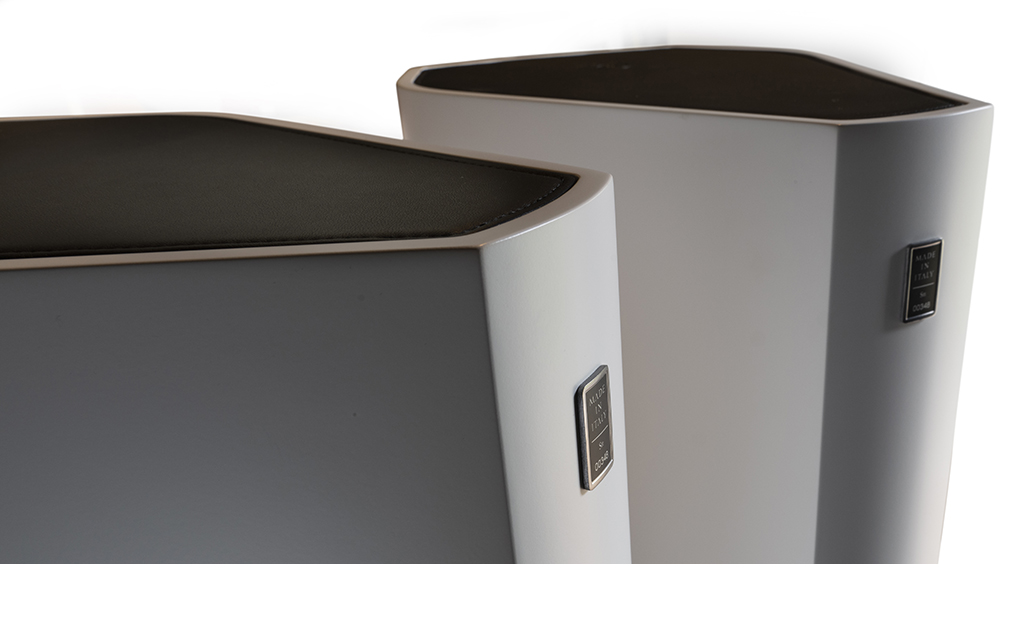 Thomas Dolby's "May the Cube be With You" turns out to be the track used to put about 100 hours on the Sonus faber Sonetto V speakers before serious listening begins.
The deep synth bass line in this track works wonders at breaking in woofer cones, and the spacy production vibe and multiple layers in this tune make it easy to hear the Sonettos change character over a weeks' time of continuous play. Like nearly all high-performance speakers, they are a little closed in when first unpacked.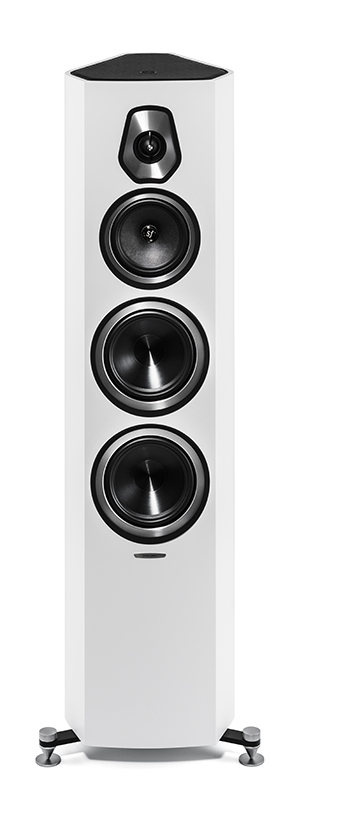 The Sonetto Vs need at least 100 hours to deliver everything they are capable of, and you will need to spend some time optimizing them in your room for the best result. This is not a speaker you can just drop in the room anywhere and expect great results. However, if you can take the time to properly place them, you will be rewarded with outstanding results. It's like setting the desmodromic valve train on a Ducati – you need patience to get it right, but when it's right, it's really right.
I betcha didn't know that
The three-way design of the Sonetto V uses a pair of 180mm (7-inch) woofers and a 150mm (5.9 inch) midrange coupled to a Sonus faber DAD soft dome tweeter. The woofers utilize an aluminum cone and the midrange a pulp fiber cone, that will be familiar to long time SF owners. The cabinet shape is also familiar, the rounded side, lute shape that has made Sonus faber famous. A pair of dual binding posts lurk around the back, in case you prefer bi-amplification, though with a sensitivity rating of 90db/1watt, you probably won't need more than one amplifier to drive them.
However, we suggest and amplifier with a fair amount of drive to get the best result. A budget integrated or surround receiver will not provide the necessary control, and may leave you disappointed. If that's your starting point, don't shy away from a pair of Sonettos, but know there will be more performance at your disposal when you are able to upgrade. As we've been reviewing integrated amplifiers this issue, we tried the Sonetto V with everything from the 30 watt per channel PrimaLuna EVO100, all the way up to the $17k Thrax ENYO ampflifier – all with excellent result. The Sonettos even spent some time with our reference MC275 amplifier – an incredible match for these speakers.
That's the way I like it
Just the thought of a Sonus faber speaker one person can lift alone is intriguing. Though you can also get the Sonetto V speakers in a wood finish, but the matte white with leather top surfaces are postitively stunning. Sonus faber is known around the world for the high-quality finish adorning their speakers, with a lacquered finish that will put the world's finest automobiles to shame, but the matte white is very fashion forward. White speakers just disappear in the room visually, making it even easier for the speakers to disappear sonically.
Not only are the Sonetto Vs easy on your eyes and back, they are easy on your wallet. $4,995 buys you a pair of genuine Sonus faber speakers, hand made in Italy, by the same craftspeople that make the Aidas and all the other speakers in the homage collection.
Finally, the Sonetto Vs are part of an entire range. It consists of larger and smaller speakers, along with a wall mounted speaker and center channel that all share the same voicing, so expanding your Sonetto Vs to a full-blown theater setup in the future is as easy as calling your Sonus faber dealer and getting more stuff.
Shake your booty
When setting up the Sonetto, you need to optimize them in room for the best low frequency coupling. Setting up the speakers around the left speaker first to get the best combination of bass extension and mid bass to midrange coherency will take a little while. Nail that and move onto the right speaker. Once you get there, the fine tuning can begin, adjusting toe in and speaker rake angle until the speakers completely disappear in the room.
I used the tried, and battle worn Jennifer Warnes' "Ballad of the Runaway Horse" to get this right. Everyone who's ever worked for Sonus faber or their former importer Sumiko will all exhale and laugh right now, but for the rest of you, this is a great track to optimize speaker parameters, and you've probably got your own, but I've used this track so many times, it's easy.
Properly set up in your room, the Sonetto Vs will deliver convincing bass response, and a mid/treble that is highly pleasing. Sonus faber speakers from the last 8 years or so definitely have a more modern sound than the early SF speakers, which had always been known for their delectable midrange. The Sonetto Vs do not betray their heritage, yet they have a more extended high end and along with solid LF response too.
A direct comparison to my Sonus faber Stradiveri's (which are a little bit old school in the SF lineup) proves the Sonettos more forward, much like moving up about 10 rows in the auditorium. But both are lovely in their own way. However, this does prove that the Sonettos can work in a 24 x 16 foot room without a problem. That being said, most listening was done in a 13 x 18-foot room with excellent result. If your room is somewhere from 12 x 14 or larger, you'll be just fine.
Get down tonight
Stuck in the late 80s and early 90s while breaking in the Sonetto Vs, a long playlist of Thomas Dolby, Level 42, and Paul Young tunes just feel right with these speakers, powered by the glow of the MC275.
A bonus for our apartment dwelling readers, the Sonetto Vs can definitely power the party, but they play great at low volume levels too. Not every speaker can get this critical job done, and even when playing at low levels, these speakers create a large, dimensional sound field that won't have your neighbors pounding on the walls. What's the point of having great speakers if you put your headphones on all the time, right?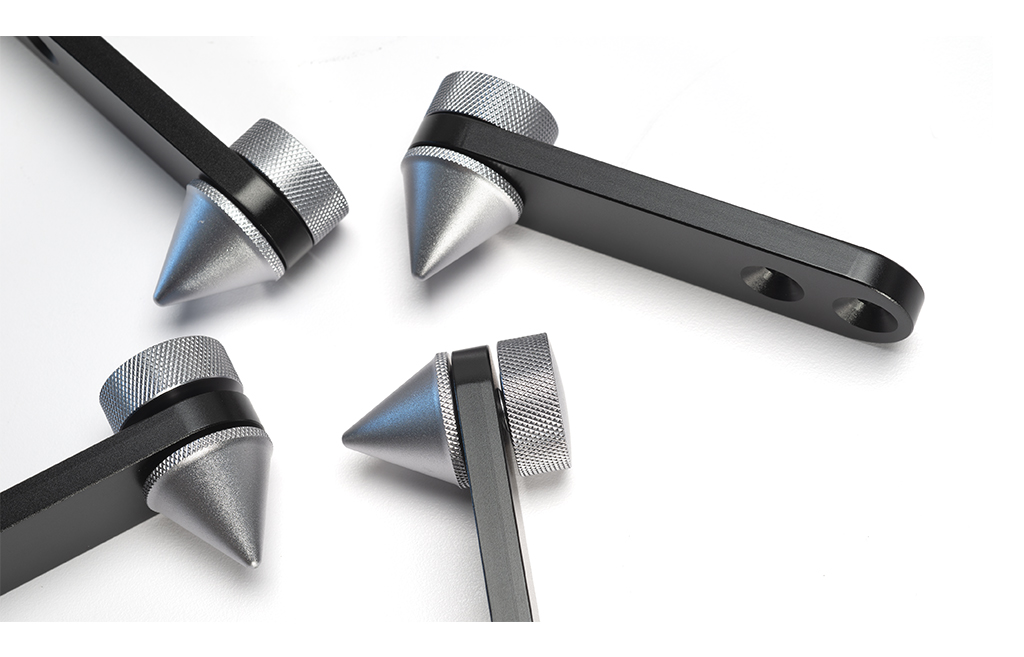 To be fair to the Sonettos, I left the past behind, making my way back to the current day, musically speaking. Bottom line, there was nothing I threw at the Sonettos that I felt they couldn't do justice too. Getting in a party mood with "Oppa is Just My Style," the Sonettos prove they can play loud when the need arises. Even at eviction notice levels, these speakers did not distort, bottom the woofer cones, or exhibit soundstage collapse. Staying at party SPLs, the deep bass line in Girls Day's "Look at Me" had a few people looking for the subwoofer. And just before you think I've gone way too KPop on you, the new AC/DC single "Shot in the Dark" was just released, so a final infusion of heavy guitars (at high volume, of course) ticks the last box. This is a great pair of speakers that can play whatever you enjoy without excuse.
I'm a pushover
Being a Sonus faber owner, I have to admit a bit of built-in bias towards the brand. You won't mistake the Sonettos for a pair of something else – they have a sound of their own. Like famous painters, everyone has a style that they truly love. If you are looking for a pair of truly beautiful speakers that offer up a dynamic, tonally rich presentation, take the Sonetto Vs for a spin.