Pure Audio Project – Trio 15 Horn
Redefining Expectations
By Jeff Dorgay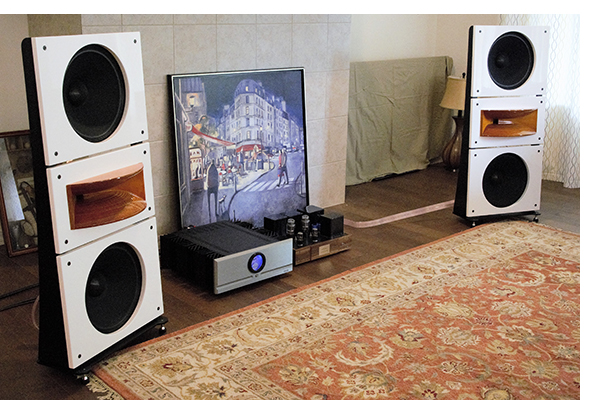 A new discovery is exciting, even after hundreds of reviews – when you think you've heard nearly everything. Open baffle speakers have always been that little blinking light in the corner of my eye at various audio shows, but our paths always crossed, until recently.
If you remember reading our review on the Whammerdyne Truth 2A3 amplfier (link here), their designer Pat Hickman is a huge fan of the Pure Audio Project speakers. When you've only got a couple of watts you have to make great use of them, and Hickman uses the PAP speakers at his place, where I've been able to give them more than one good listen.
I've always liked the purity of low powered amplifiers, whether solid-state or tube. Other than a few exceptions, like the massive Boulder 3000 series amplifiers, simpler circuits have the potential for a clearer window to the music. The big dilemma with amplifiers under 20 watts per channel is the meager selection of high sensitivity, high quality speakers suitable to match up with them.
Crazy good choices
The PureAudioProject Trio15 is the solution to the high efficiency/high quality situation. But be aware, there are multiple choices – and they are all great. PAP Principle Ze'ev Schlik has not only built a speaker that sounds incredible, it gets my personal thumbs-up for being the most fun speaker I've ever had the pleasure to use. Even though the review samples were poorly packed by the last reviewer and nocked up a bit (though still working perfectly), it only took a few hours of listening to move the Trios from the want column to the need/system reference column in that big Excel spreadsheet that is my life.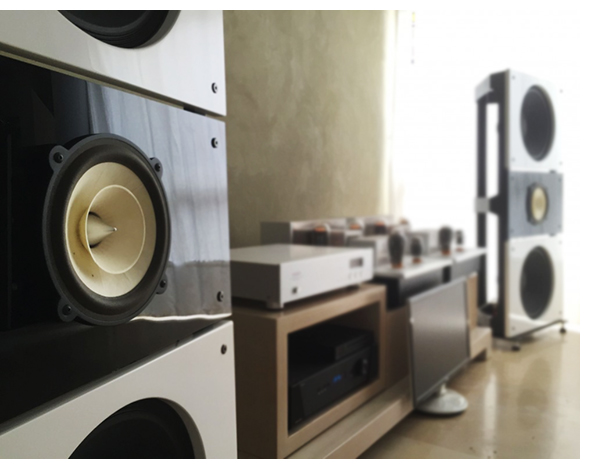 A pair of 15-inch woofers made by Eminence to PAP specs (and upgradable to four woofers should you so desire) and a compression driver with a beautiful wood horn is merely the starting point. Thanks to multiple crossover taps, the ability to easily swap crossover components, and a choice of five different HF drivers (Horn, Voxative, ESS AMT, Beyma, TB-W808) you can fine tune the Trios to your room, amplifier and ultimately, personal taste.
Should you be disposed to ADD, the Trios might not be for you. All of these great choices could drive you crazy. Or maybe just buy all five combinations and switch them out. Thanks to the super reasonable $7,490/pair price of the Trio/horns, you could probably investigate all five options and still be under $15k/pair. Much as I love the horns, in the pursuit of knowledge, I will be picking up a set of Voxatives in the near future, as well as investigating an active crossover.
Did I forget to mention that Nelson Pass makes a custom active crossover for these? When have you ever had this much fun with your speakers? It's like buying a BMW M car with the turbo six, but being able to bring it back to the dealer whenever you want and have the high strung 333hp normally aspirated six dropped in, or the 400+hp V8. And just drive away with a totally different car. I can dream.
Because of the gentle crossover slope and 2 way design, the urge to try substitute a vintage Audio Research EC-2 electronic crossover proves irresistible. As Schlik suggests a 550hz crossover point, and the EC-2 only offers a 500 hz setting, I proceed with caution and keep the levels down. This nearly 50 year old component has potential, allowing the ability to mix and match amplifiers, but it definitely adds a syrupy, slow, vintage sound to the overall presentation. Perhaps a trip to Mr. Hinkman and a call to Mr. Pass will have some more options available.
Finally, there are multiple options for connecting the drivers. Our review sample came with the upgraded Reference Audio Foils ($690/pair) but with nothing to compare them to but some basic Monster Wire hanging around, they are certainly worth the asking price. The foils offer a much higher level of resolution and clarity over standard wire. Samples from Cardas and Tellurium Q are in the works, so count on another article here as well.
Drive with ease
Only needing 2-5 watts per channel to have party central opens up a world of amplifier choices. I easily auditioned a dozen things and will be looking at more in the future. Much like my original Quad 57s, the Trios work "pretty well" with everything, but I did find a couple of standout combinations. My original PrimaLuna ProLogue One, with only about 25 watts per channel is not a bad entry level integrated, if you can find a used one. The Dynaco Stereo 70 also was warm and inviting, though lacking detail.
Of course being a big Pass fan, we tried them with the mighty XA200.8s (way overkill), the INT-60, the XA25 and the First Watt SIT-2. The INT-60 is lovely, but the XA25 mated to the Koda K-10 solid state amplifier proved mind bending, as did the Audio Research D-79. These two combinations offered the deepest bass response as well as the deepest soundstage. The Nagra 300P came in a very close second. Bottom line, you will have an amazing journey finding the "perfect" amplifier for these speakers – they reveal so much musical information, it might take you a while to find your slice of heaven.
Stop fiddling and listen
Tough as the thought of exploring all of these choices is, our main purpose is to listen to music. Once you find a combination that you love, settle in and listen. The Trio's ability to simultaneously capture the dynamic power and delicacy of the opening cymbal shots in Brand X' "Nightmare Patrol," is riveting. Great as these speakers sounded at Hikman's house, I was still expecting that pinched horn sound. None is present in the Trios – zero.
Having just spent a fair amount of time with vintage and current Klipsch speakers, the effortless dynamics offered by a horn/semi-horn/high efficiency speaker is compelling. Headroom and dynamics are just as important to me in terms of what we might all call fidelity. Tonal accuracy is wonderful, but experiencing lifelike dynamics is equally compelling.
The PAP website lists the Trio's sensitivity at "94-96db/1 watt," but they feel more efficient than that. The Nagra 300P amplifier that produces 20 watts per channel, and offers power output meters barely ever moved past the .5 watt mark. And that's not a misprint. When using the Audio Research D-79, which is very conservatively rated at 75 watts/channel, it was nearly impossible to get the power output meters to budge from their rest stops, no matter how loud we played the music.
Hours pass by and on many occasions, what begins as an afternoon listening session, lingers far into the night hours – even with daylight saving time in full effect. A wide range of music proves highly engaging and exposes no flaws in the Trios. They play everything you can imagine with ease.
Much like the way a big pair of Magnepans or the MartinLogan CLS reproduce bass, the open baffle design has a similar level of detail, texture and definition, yet with more dynamic punch in the Trios thanks to the cone woofers. Because these woofers have such little excursion, there is no cone breakup either. Just as an automotive engine requires either displacement or more rpm to make power, woofers either need sheer size or excursion to move more air.
PAP lists a LF spec as somewhere between 29-32hz, and they work well in both of our listening rooms large (15 x 26 feet) and small (13 x 15 feet). Even in the smaller room, where they are staying, bass down to 30hz is easily achieved. For those of you raising your nose at "only going down to 30hz," the LF detail will get you. Especially if you listen to a lot of acoustic music. The sheer texture on tap, listening to a cello or standup bass is exciting. The Trios are by no means a "1-note bass" speaker, and for some, it may take getting used to the lower register detail.
The Trios wide dynamic range makes it easy to achieve high SPLs with minimal power, but it also makes for engaging low level listening. These are one of the most exciting speakers I've had the pleasure of listening to at low volume levels, making them perfect for someone living in a condo or apartment situation.
Defying definition
Enjoyable as these speakers are, you need to hear them. Their clear, dynamic sound reminds me of so many aspects of other speakers that I truly love. They disappear in the room and provide pinpoint imaging when required like a great mini monitor, yet, they paint a vast, diffuse landscape like my Magnepan Tympanis, all the while, having the sheer sonic punch of the Klipsch LaScalas.
Those wanting a more traditional box speaker may not be able to work with the ultra modern aesthetic of the Trios, but as someone who loves the modern thing, I love them. There are so many variations on color and finish, and when you're sitting in the listening chair, you don't notice the lack of cabinet anyway.
The high resolution of the Trios puts a world of source components at your disposal, but because you don't need a ton of amplifier power, I'm guessing you can build an amazing system around the Trios on a reasonable budget, yet should you get the urge to upgrade, these speakers will keep revealing more music, even with 5-figure amplification and source components.
The highest compliment I can pay the PureAudioProject speakers is that I purchased the review pair and will be using them as a permanent reference speaker in room two. I've never had this much sheer fun with a pair of speakers. In addition to being a great reviewing tool, they are going to be the vehicle for a number of audio journeys I'm planning, so count on hearing more about them in the months to come. It's easy to award them one of our Exceptional Value Awards for 2018. Again, I can't suggest checking a pair of these out for yourself, should you be attending an audio show this year.
Finally, I'm doing the final edits on this review at the Munich HiEnd Show, so we only have the single picture at the top for now. The PAP Trio 15s will be featured in issue 88 of TONEAudio, due out in about a week, so please stop back and see some more exciting photos of these beautiful speakers.
The Pure Audio Project Trio 15 Horn
$7,490/pair
Peripherals
Preamplifier        PrimaLuna DiaLogue, Pass XS Pre, Robert Koda K-10
Power amplifiers    Audio Research D-79(restored), Audio Research REF 75SE, Pass Labs XA25, First Watt SIT-2, Nagra 300P
Digital Source        Gryphon Kalliope w/dCS Bridge
Analog Source        Avid Volvere SP/TriPlanar/Lyra Etna, Conrad Johnson TEA-1
Cable             Cardas Clear
PureAudioProject Reference Audio Foils, and Crossover Cable Upgrades, made by Verastarr.