PrimaLuna ProLogue Premium Stereo Power Amplifier
By Jerold O'Brien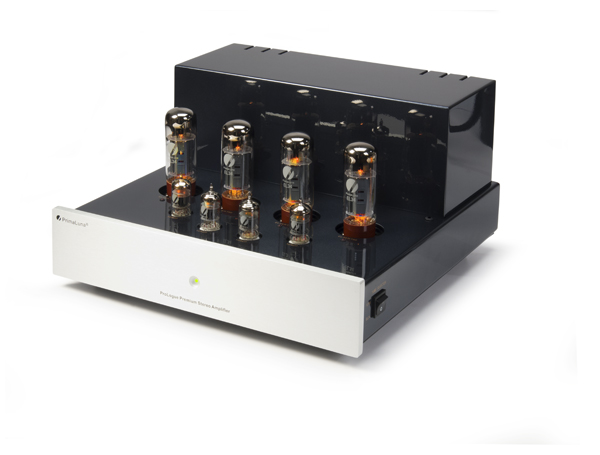 So what exactly makes this a premium PrimaLuna product?  Like all products from the Dutch brand, the ProLogue Premium Premium Stereo Power Amplifier has a certain aesthetic appeal: a gunmetal-colored finish, which wouldn't be out of place on an AMG Mercedes, set off by an anodized-aluminum faceplate (available in silver or black).  Also like the rest of the company's lineup, the ProLogue Premium stereo amp offers serious levels of performance—this is where the amp's premium designate becomes apparent.
Popping off the bottom cover reveals ceramic tube sockets and Nichicon and Solen capacitors flanked by premium resistors, along with newly designed output and power transformers.  Wiring is all point-to point and meticulously done by hand, which is one of the reasons PrimaLuna amps have earned such a high reputation for their reliability.  All this precision comes wrapped in a somewhat compact package that weighs nearly 50 pounds, and has an MSRP of $2,299.
Hassle-Free Tube Power
PrimaLuna amplifiers have long been known for their Adaptive AutoBias circuitry, a PrimaLuna trademark that makes traditional tube biasing a thing of the past.  This design allows a wide range of tubes to be used in the output sockets:  KT88 or EL34 tubes work equally well—every ProLogue Premium Series amplifier comes with either set of tubes installed.  (The KT88s produce 36 watts per channel; the EL34s produce 35 watts per channel.)  The new premium version of the amp adds a switch on the side of the chassis, allowing you to optimize the amplifier to your choice of tubes, in order to achieve the lowest possible levels of noise and distortion.
I'm immediately struck by the lively sonic response that the ProLogue provides, with a quick, organic and natural sound that spans all frequency ranges.  This amplifier always feels ready and able to take on whatever you can throw at it—which is exactly what I did.  The ProLogue Premium eliminates the hassle of owning a vacuum-tube-powered amplifier.  It even has a PTP circuit (for Power Transformer Protection) that will protect the amp's output transformers, should you have an accidental, catastrophic tube failure, which can happen with today's tubes.
PrimaLuna has updated the front-end circuitry for this amp, which now uses 12AU7 tubes instead of the 12AX7s in the company's earlier amplifiers.  The inveterate tweak-geek in me could not resist fooling with those 12AU7s, even though the amp sounds great with stock tubes.  New old stock GE tubes render a smoother top-end response, but offer a different listening perspective, as if I had moved back about five rows in the orchestra.  Next, a set of RCA clear tops (with side getters, for the tubeophiles in the audience) provides a big jump in frequency extension, as well as more transparency and a more palpable midrange.  Best of all, Kevin Deal, the owner of Upscale Audio (and the PrimaLuna importer) has a massive cache of these tubes in stock, so you can experiment at will; the 12AU7s aren't nearly the cost of the 12AX7s. When asked, Deal said that he has "over 10,000 rare and NOS 12AU7s."
Be aware, I achieved these results with my system; so don't take them as an absolute, as results will vary on other systems.  But that's the fun of an amplifier like this:  You can experiment as much or as little as you want—and we haven't even talked about swapping output tubes.  Don't forget to save those stock tubes just in case you find yourself lost in the vacuum-tube jungle.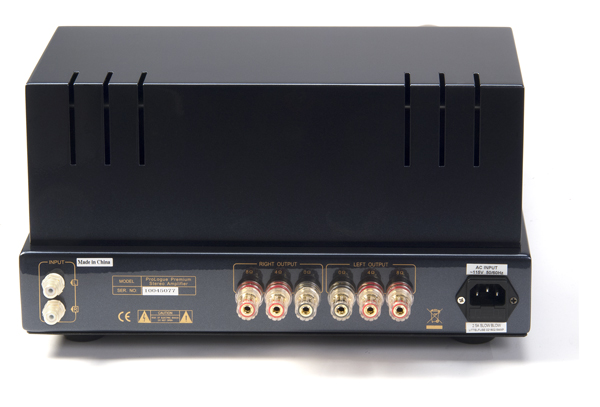 Love at First Listen
Brian Bromberg's closely miked contrabass in "The Saga of Harrison Crabfeathers," from his Wood album, instantly confirms the level of full-bodied bass definition the ProLogue Premium provides.  In addition to the solid low-end response, you can clearly hear the creaking and groaning of the instrument, as well as the strings being plucked and slapped on the fretboard.  I've never heard this kind of resolution from a vintage Dynaco Stereo 70 (or modded variation on the theme).
Muddy Waters' album Folk Singer proves a perfect midrange showcase for this amp, which places Waters' voice firmly at center stage, while simultaneously revealing the ambience in the recording studio present on this intimate performance.  Perhaps the best showcase of any tube amplifier is its ability to convey the sultriness of the female voice, which is another test that the ProLogue Premium passes handily.  I listen to the entire disc of Renée Fleming's Haunted Heart without pause.  The track "When Did You Leave Heaven?" gives Fleming and the accompanying guitar, courtesy of Bill Frisell, plenty of space without missing a lick of subtlety.
And Secondly
It's usually a given that vacuum-tube amplifiers excel at revealing low-level detail and vocal tonality, but the ProLogue Premium performs equally well with larger-scale music.  Nelson Riddle's Nice 'n' Easy: The Music of Nelson Riddle is a classic big-band record full of massed horns, which the ProLogue Premium sails through, keeping the horns sorted without becoming harsh or buried in the mix—impressive.
The acid test comes via the Minutemen's "One Reporter's Opinion," from the Double Nickels on the Dime disc.  D. Boon's AK-47-style guitar playing is present in all its force, Mike Watt's fluid bass is easy to follow and drummer George Hurley's seems to punch a hole in my forehead—the PrimaLuna delivers all of this while giving the track the precision and grit on the scale it deserves.  No matter how complex the musical selections, this amplifier does an excellent job keeping pace.

I'm a Fan!
I'm taken with this little but heavy amplifier, and can see why our publisher has been an advocate of PrimaLuna since day one.  This amp takes everything I throw at it in stride—always musical, always eager and always evenly balanced in overall presentation.  As with the other PrimaLuna products, the Premium stereo amp represents good value.  This is the perfect power amp for a music lover wanting to assemble a high performance system on a tight budget.  The ProLogue Premium is worth every penny.
I will say that one must be realistic when pairing the Premium with his or her speakers and listening environment.  Although the volume levels I'm able to achieve with this amp in my largish room are quite satisfying, 35 watts only go so far—even great watts such as these.  The amp does clip slightly when I get lead-footed with the volume.  To its credit, when the amp does clip, it does so with gentle compression instead of just falling apart.  To this point, speakers that are in the 90-plus-dB category will make for optimum system synergy in most rooms.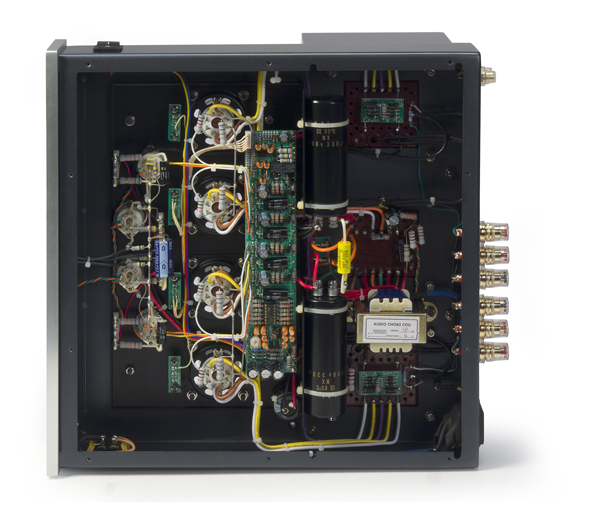 Additional Listening
By Jeff Dorgay
As Jerold mentioned, I've been listening to PrimaLuna amplifiers since the company introduced the original ProLogue One almost 10 years ago.  It's almost like TONEAudio and PrimaLuna have grown up together.  That original amplifier is still in my family and, with a replacement set of power tubes, it keeps playing music on a daily basis without bother.
It's been fun watching the PrimaLuna products evolve over the years into a more fleshed out line, with each model revealing more music than the one before.  Putting the ProLogue Premium stereo power amp through its paces is a joy, with the matching preamplifier and a few other examples I have on hand.  If you don't need a built-in phonostage (and like your garanimals to match), the $2,199 ProLogue Premium Preamplifier makes for killer a setup with the Premium power amp.  The preamp is perfectly matched to the power amp electrically and stylistically, and pairing the two together will easily fool you and your friends into thinking you spent a lot more scratch on your system.  Many of my old-school buddies were having visions of vintage McIntosh in their heads, when I had this PrimaLuna combo connected to a mint pair of JBL L100 speakers.
Cranking up Judas Priest's Screaming for Vengeance (on the matching PrimaLuna CD player we reviewed a few months ago) is a little slice of heavy-metal heaven—for a minute I was worried I might just blow up those JBLs, like I did back in the day.  The smooth sound of this PrimaLuna front-end package does not disappoint.
Another, more modern speaker that is a spectacular match with 35 watts per channel of tube power is Vienna Acoustics' Mozart Grand.  The speakers have a 90-dB-sensitivity rating and a very gentle first-order crossover, but the ProLogue never runs out of gas when powering them.  And at about $3,500 a pair, the Mozart speakers won't put you in the poorhouse.  Those on a tighter budget, consider a pair of Vandersteen 1Cs, which have the same high sensitivity, but are only $1,200 a pair.
Back when Kevin Deal and I sold mid-fi gear in stereo shops reminiscent of the one in the movie Ruthless People (1986), we used to describe gear as being more suited to rock or classical, etc., etc.  But the PrimaLuna electronics are a little bit of magic:  They play everything well, yet they inject just enough of that tubey warmth to make the bulk of your music collection sound much better than you'd expect it to.  This is a godsend for those having a mostly digital music collection, MP3s or CDs.
For this amp, I took the time to swap output tubes.  A set of super high zoot NOS 6550s or a new set of EAT KT88s, both of which will set you back about $1,500, but fear not, there are tons of great new EL-34 tubes in the $25-$50 range that sound fantastic. The extra midrange warmth and liquidity they provide will have you wondering if you ever need another amp.  And should a tube fail at an inopportune moment, the Adaptive AutoBias will even keep the amp purring along with a mixed set of output tubes. You'd be surprised at how many hardcore audiophiles have gone full circle back to the simplicity of an EL-34 amplifier paired with moderately efficient speakers.  This is an amplifier you can either start your tube journey with, or live with happily ever after.
With vintage Luxman, Marantz and McIntosh tube amplifiers fetching crazy money on the used market these days (not to mention their questionable reliability), make your life easy:  Put a PrimaLuna Prologue Premium between your speakers and just dig it.  You'll be glad you did.
PrimaLuna ProLogue Premium Stereo Power Amplifier
MSRP:  $2,299
Peripherals
| | |
| --- | --- |
| Digital Source | PrimaLuna ProLogue Premium CD Player    dCS Debussy |
| Analog Source | Rega RP6w/Exact    Monk Audio Phono Pre |
| Preamplifier | PrimaLuna ProLogue Premium    VTL TL-5.5Mk. II |
| Speakers | Lawrence Audio Violin    Dynaudio Confidence C1 II |
| Cables | AudioQuest King Cobra    Furutech LineFlux and SpeakerFlux |