Nagra MSA Amplifier
A Marvel of Miniaturization
By Jeff Dorgay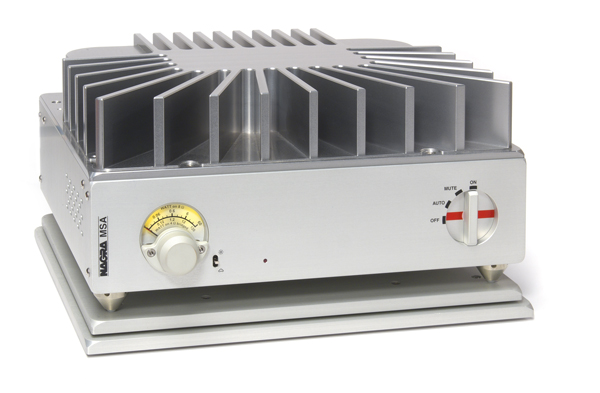 Swiss hi-fi manufacturer Nagra built its reputation on the ability to produce high-quality audio components in very compact casework. The company has continually honed its engineering and design skills, making every speck of space in pro audio gear count. Such expertise has resulted in consumer gear that looks very similar to pro gear.  Indeed, when I visited Nagra's factory last summer, the MSA amplifier was in its final design stage. Prototypes sat on the table, along with another new amplifier that uses 300B vacuum tubes.
Unfortunately, with its "bigger is better" philosophy, the U.S. market has been a bit reluctant to embrace Nagra. Nothing could be more shortsighted: Nagra gear often outperforms the stuff in the large boxes. We've used quite a bit of its gear as reference components over the years, and the sound quality has always been first rate. The MSA power amplifier is yet another example of the firm's engineering prowess.
The current MSA amplifier utilizes a single pair of power MOSFET output transistors and is completely symmetrical from input to output, featuring only a pair of XLR input connectors. Should you need single-ended RCA inputs to accommodate your preamplifier, Nagra supplies a pair of Neutrik adaptors in the boxs. The amplifier also has a pair of switches that adjust input sensitivity to 1V or 2V for maximum output. It's a handy feature, especially if you have an older preamplifier that doesn't have a lot of gain, or if you'd just like to optimize the volume control range of your preamplifier. The MSA is also designed to be used as a bridged monoblock, so listeners requiring more power can easily add a second amplifier and double the power output.
Requiring the same amount of rack space as the Nagra PL-L preamplifier (11 x 9 x 4.6 inches), VPS phonostage, or CDP CD player, the $11,750 MSA takes advantage of Nagra's VFS Vibration Free Support platform to further improve sonics. Unlike the pyramid-shaped PSA amplifier, rated at 100 watts per channel and outfitted with an LED display to indicate power and clipping, the MSA adds the familiar Nagra modulometer power indicator along with a red LED to indicate clipping. These touches prove very useful, especially when playing heavier music, as the MSA does not sound harsh when driven to modest levels of clipping.  An optional cover is available to hide the heat sinks, but they are such a functional piece of modern art, it's a mystery as to why anyone would want to cover them up. A familiar rotary switch used for on, off, mute, and "auto" functions rounds out the styling cues.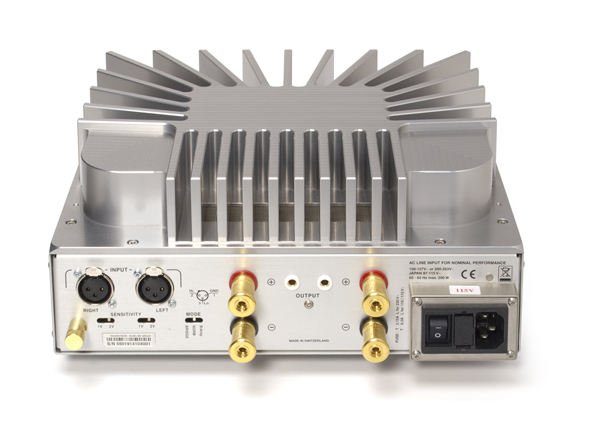 Initial Impressions
At just 21 pounds, the MSA is easy to unpack and set up. Thanks to the gigantic heat sink located on top of the amplifier, it runs cucumber cool. Even when pushed hard with heavy metal favorites, it barely got warm to the touch. The MSA does not require much space to keep it within operating limits.
My review sample already had some hours on the clock, but my experience with past Nagra gear has been that it only requires 50-100 hours of break-in time. Much like any solid-state amplifier, the MSA opens up and sounds its best after being powered up for a few hours, and can be left in the "on" mode all the time, or the "auto" mode where it will slip into standby mode after a few hours. In the interest of being green, the MSA draws only one watt of power in standby mode.
Top, Bottom, and In Between
Having lived with the Nagra PSA power amplifier for a few years, it's fair to describe its "sound" as extremely neutral. The PSA adds or subtracts little, if anything, from the presentation. This characteristic may be good for some. But for anyone looking for a bit of tonal embellishment, it may not serve as a proper fit. I've always preferred the sound of the PSA with the PL-L tube preamplifier, as the latter claims an ever so slight warmth to its presentation, making the two a highly enjoyable and musical combination.
While the MSA stays true to the Nagra philosophy of signal purity, there is an additional dose of signal purity and delicacy to the presentation. It might be due to the single pair of output transistors. Currently under review, the First Watt M2 also uses a single pair of MOSFET output transistors and has a sonic signature that's not unlike the best vacuum tube SET amplifiers I've experienced. The difference with the MSA? It possesses the low-level detail of the world's finest SETs, yet also maintains the grip and control associated with a great solid-state amplifier. An outstanding combination, it underscores my philosophy that, with solid state, you can have it all.
Granted, some users will need the extra bit of power that the PSA brings to the table. My reference GamuT S9 speakers have an 89db sensitivity rating, and unless I played fairly compressed rock music (for example, Def Leppard's Pyromania) I rarely pushed the MSA to its limits. Even when cranking the band's "Rock, Rock (Till You Drop)," I remained impressed at the ease the MSA exhibited, even with its little red LED almost solid in appearance. The Nagra owner's manual does not list the latter as a "clipping indicator," per se, but as a warning that the output stage is passing more than 9 amps of current. I can push the PSA harder, but it was not as composed at the limit as the MSA. For those with more refined musical taste, the MSA should provide more than enough juice.
Balanced in all aspects of performance, the MSA excelled with pace and reproduction of inner detail. When listening to DEVO's "Blockhead" from Duty Now For the Future, the underlying synth riff never got buried in the mix, as it's wont to do with lesser amplifiers—especially during the chorus, when the band members yell "Blockhead!" Should classic DEVO not be your liking, Keith Jarrett basically achieves the same effect as he sings along in a trademark disjointed manner while playing piano.  During one of his improvisational bursts in "No Moon At All" from the 2010 duo album Jasmine, Jarrett's voice floats right above the keys as it does when you hear him live. Since he uses a standard Steinway on the performance, it was easy to compare the tonality between the recorded instrument and my Steinway. The MSA displayed perfect tonal realism with acoustic instruments.
Furthermore, Charlie Haden plays bass on Jasmine, underscoring the MSA's quick transient attack and delicacy. You can hear every move of Haden's fingers sliding up and down the neck of the bass. And while the MSA was long on texture, it did not run out of steam when asked to produce prodigious bass, either. Playing deejay and spinning club-music favorites from Kruder and Dorfmeister, as well as the recent Hotel Costes 14, featuring some great tracks by Tosca, I was stunned at how well the diminutive amplifier controlled the woofers on my reference speakers.
But what takes the MSA into another realm is its ability to resolve subtle spatial cues. No matter what my choice of program material, I always managed to hear those little sonic treats that only come to life on the world's finest amplifiers. An extra layer of guitar here, one more overdub there: These are the things you either forget about when using a lesser amplifier or, your brain attempts to fill in the gap. But when you hear them through your speakers, you know you are indeed listening to something special.
As it did with the other Nagra components with which I've paired it, the VFS platform ($1,925) added more clarity to the MSA's overall presentation, most notably on low-level acoustic passages. Admittedly, the VFS did not make as dramatic of a difference with the MSA as it did with my VPS phono preamplifier, no doubt due to the vacuum tubes in the VPS being more sensitive to outside vibration. I highly recommend first getting intimately familiar with the MSA and auditioning the VFS at a later date.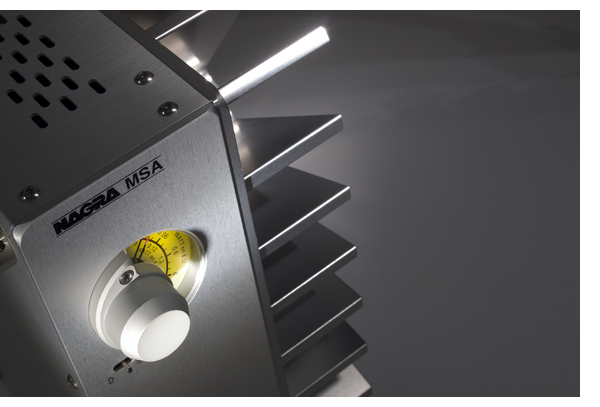 Style and Performance
If you are looking for a high-performance music system that needs to fit in a compact space, I can't suggest the MSA highly enough. This one is a precious jewel, offering a level of refinement only heard from some of the world's best (and most expensive) solid-state power amplifiers. Adding the PL-L preamplifier makes for a genuinely formidable combination. And while 60 watts per channel isn't everything to every audiophile, if you have a pair of speakers with the efficiency to optimally operate with this level of power, you will likely find the MSA an enchanting wonder.
Nagra MSA Power Amplifier
MSRP: $11,750  (VFS Platform, $1,925)
Peripherals
| | |
| --- | --- |
| Analog Source | Rega P9/Shelter 501II    Audio Research REF 2 Phono |
| Digital Source | dCS Paganini Stack    Sooloos Music Server |
| Preamplifier | Burmester 011    McIntosh C500 |
| Speakers | GamuT S9    B&W 805D |
| Cable | Cardas Clear |
| Power | Running Springs Dmitri |