The McIntosh XRT2.1 K Speakers
Lighters in the air!
By Jeff Dorgay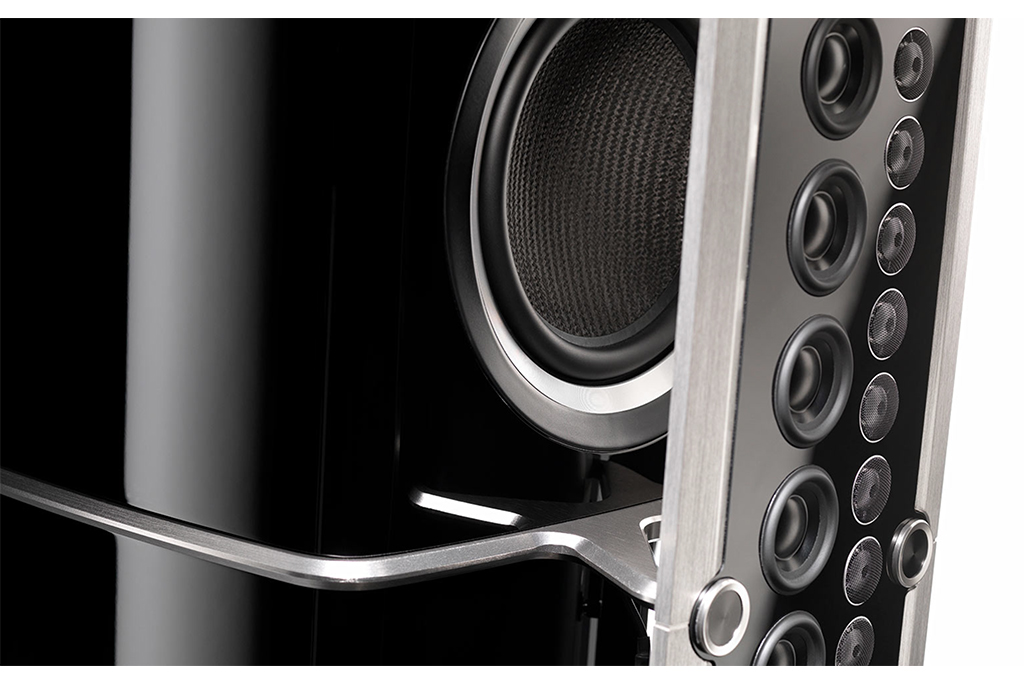 Note:  this review started right before we were all stuck in the middle of the travel restrictions imposed by COVID.
Cleaning up the desktop, I realized the copy hadn't had its final round of editing! Yet, my impressions are as vivid as the day I was sitting on the couch. These are impressive speakers.
If you want to audition a pair of the McIntosh flagship towers, there's only one place to go:
LMC Home Entertainment in Scottsdale, Arizona. Once again, owner Mike Ware is kind enough to make his facility available, so I can give these massive speakers a listen. And a big thanks to his crew for setting a room up on my behalf, a day after they had a big listening event.
What better way to experience McIntosh's top speakers than with a full stack of Mc electronics, consisting of a pair of their latest MC1.25KW power amplifiers, their C1100 tube preamplifier and a Linn Akurate DSM with Katalyst DAC/Streamer, using Qobuz for streaming, cabled together with Transparent XL cables. The speakers tip the scale at $130k/pair and the rest of the system is very reasonably priced, in context of what we've got going on.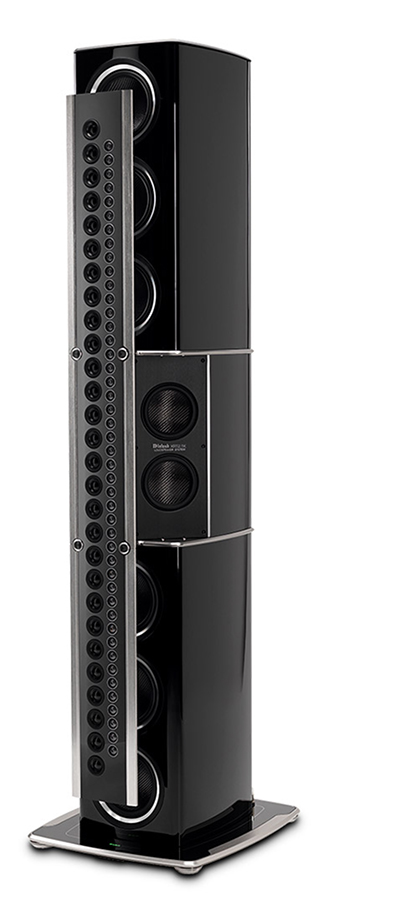 The room designated for my listening is about 17 x 21.6, with the speakers' center about 3 feet from each wall with slight toe in and the couch about 12 feet back. This proves to be a great space for these speakers to open up and breathe – no mistake of "too much speaker in too little room" going on here. This is a lovely music environment. The ten foot ceiling helps add volume too. The XRTs prove easy to set up, with two people of course, and while like any premium speaker will benefit from careful fine tuning (which LMC provides to all of their customers) a quick setup offers great results.
Starting the demo with Keith Richards' "Wicked as it Seems" offers instant gratification. While the XRTs play everything well, these speakers epitomize rock and roll, thanks to a huge dynamic swing, and a solid bass foundation. They do a fantastic job rendering height, sounding like Richards is standing directly between the speakers, with everything else in the mix falling off to the side and behind. The XRTs line array format is impeccable capturing the impact of the drums too. There's a lot of dynamics going on here!
These big speakers capture low-level detail like a pair of mini-monitors, yet expand to the loudest musical passages with ease. Much respect to fans of small speakers, but once you've heard a well-executed big speaker truly move air in the room, there's no going back.  Horsepower does carry the day.
The obvious comparison has to be between the Sonus faber Aida and the XRT 2.1K… Both of these speakers are about the same price, The XRTs paint with broader strokes, yet for the standard rock and jazz that I normally listen to, I might just write the check for these.
Shifting to DJ Krush's "Element" illustrates the bass drive of these speakers. The six 8-inch woofers in each cabinet go deep (Mc claims a LF limit of 12hz), but are fast, fast fast. Electronica lovers will be in heaven with a pair of these and a big amplifier. Taj Wilkenfields bass solo in Jeff Becks live version of "So We've ended as lovers" is equally engaging.
McIntosh claims a sensitivity of 90db/1 watt, but with the 1.25KWs, that really doesn't matter. What I find more important with these or any speaker is the ability to deliver an engaging/involving experience at low volume level. You can tick that box with these speakers. With those big blue meters floating between .12 and 1.2 watts, all of the small bits in the soundscape of XTC's "That Wave" pull me in and out of the mix, discovering nuance I haven't heard in this recording before, or at least not to this extent.
I can't imagine not using these speakers with a big pair of amplifiers, with a lot of headroom and control. For those needing to go beyond 11, the XRTs can be bi amped or even tri amped. I'm sure this would take you beyond concert level SPLS in nearly all rooms. So again, proceed with caution.
Todd Rundgren's "Honest Work" from his A Capella album is another review staple here, Fantastic. Not only do the XRTs clearly delineate the individual harmonies, but again, the sheer scale of a group of people singing a capella is fully conveyed. Having seen Rundgren on this tour with 16 vocalists in tow, I'm immediately transported back to that amazing experience with the Big Mac speakers. This leads me to Rundgren's Back to the Bars disc and a few other live albums, ending with Jeff Beck's Live at Ronnie Scotts.  The incredible dynamic range of the Mc system really adds to the live feel of these recordings.  So often what is missing from a system, no matter how tonally accurate it might be is that extra rhythmic and dynamic drive that lets your brain relax and forget about the system. Dynamics are the fourth dimension.
Trying to run these speakers through as many different genre changes as possible, everything excites and nothing disappoints. These are definitely world class speakers that can play really loud. Louder than you need; be careful you don't hurt yourself. Their effortless nature and lack of distortion will leave your ears ringing, because the normal warning mechanisms that tell you to shut it down aren't here. 30 seconds of the alarm clocks in Pink Floyd's "Time" was all I needed with the needles pegged to convince me that these speakers can hurt you.
Coming back to Earth and turning the volume way down to a very comfortable 80db listening level is equally enjoyable. Tracking though most of Matthew Sweet's Girlfriend album is an engulfing experience. Again, these massive speakers give an excellent recreation of physical space that few speakers can match.
A major leap forward
Where the XRTs really leap ahead of all previous versions is the level of midrange clarity and lack of cloudiness that plagued past Mc line arrays is now gone. The ability of all these drivers to stop and start on cue is breathtaking.
Now that McIntosh shares design duties with the design group in Italy, we can see some influence, both in sound, and in finish. The same team, headed up by Paolo Tezzon and Livio Cucuzzo (the guys that designed the Sonus faber Aida) worked on the XRT2.1K. These are by far the best executed XRTs in terms of look and sound. Where the past model was aluminum, these now are softer, curvier, and made from wood. A massive affair, they sprout up nearly 8 feet tall. Having heard them on numerous occassions in the mighty McIntosh Town House, they can fill a room with cavernous proportions.
In all seriousness, what these large speakers accomplish is a way to distribute the sound so that it completely envelops you. While many audiophiles talk about a perfect point source, in the real world, sound doesn't come at you from a point, it envelopes you from all directions. Perhaps this is why tall speakers (magnetic or panels) have a more realistic feeling, from the sense of reproducing spatial cues.
To this end, finishing my day long listening session with Miles Davis' Bitches Brew leaves me with an even better impression of the XRTs than when I sat down. And I was a pretty happy guy at the beginning of the day.
The XRT2.1k's cement McIntosh as a major player in the flagship speaker arena. They do everything well and on balance. Best of all, they are beautifully crafted, and are extremely user friendly, so should. If you have to have a pair and are on a "budget," bring them home with a MC275 and build your system from there, knowing you have the anchor for a system you can go beyond infinity with as funds allow.
-photos courtesy of McIntosh Labs