Devialet D-Premier
Ooh La La! It Does It All
By Jeff Dorgay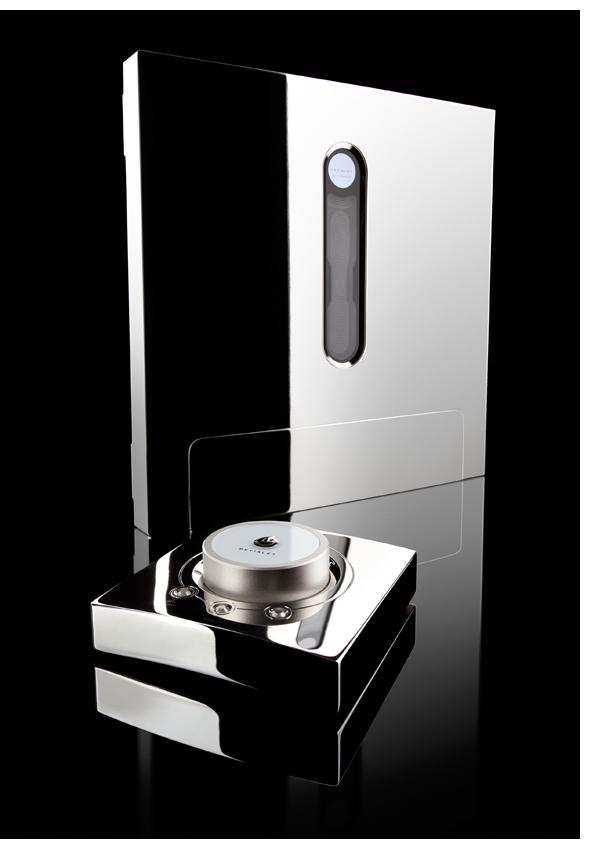 As you look at the gorgeous French polished aluminum box that isn't much larger in size than a medium Dominos pizza container (and probably not much heavier if you order your pizza with extra meat and cheese), forget everything you know about high-end audio. The Devialet D-Premier is anything but cheesy. It belongs in the Louvre—with a great pair of speakers connected, of course. But it will look equally stylish in your listening room. While it appears to be a square box at first glance, when you place it on a countertop or other flat surface, you detect the slight curve of the casework, which adds to the visual complexity.
Much more often than not, associating the word "lifestyle" with an audio component is the kiss of death, as the term usually means "mediocre performance wrapped in a shiny box." What makes the D-Premier so exciting is that it offers world-class performance in an elegant, compact enclosure. If you happen to be someone who has always loved music, but avoided a high-end system because you didn't want all the boxes and cables overwhelming your living space, the D-Premier is the perfect solution.
Peruse the company's website (www.devialet.com), and you might be under the impression that the D-Premier is merely an integrated amplifier. Yet it's quite a bit more. This compact sculpture houses a complete audio system: There's a 240-watt-per-channel power amplifier, full-function preamplifier, 24 bit/192khz DAC, phono preamplifier, and a wireless bridge all tidily packed inside. As of this review, the wireless function and HDMI input were not yet enabled, but when they are ready in the fall, it will only take a quick firmware update via an SD card slot located on the rear panel to gain the additional functionality. You'll be able to painlessly download the software via the Devialet website and make the upgrade just as you would on a camera or laptop, insert the card, reboot, and voila, a new component.
One of my biggest challenges in writing this review was figuring out exactly what to call the D-Premier. With such a wide range of capabilities, for now, let's think of it as an integrated amplifier with benefits. The D-Premier features an analog input that can be configured for MM or MC phono use, and an additional line-level analog input, both via RCA jacks. In addition, four RCA S/PDIF inputs, a pair of TOSLINK optical digital inputs, an XLR AES/EBU digital input, and an HDMI 1.3 input are onboard, so you can connect anything but a balanced line-level source via XLR connectors. One set of speaker outputs is provided, as is a line level RCA output for a subwoofer. Bass level can also be controlled via the remote.
Far Beyond Class D
Devialet takes a different approach to amplifier design with its patented ADH (Analog/Digital Hybrid) technology, which utilizes a pure Class A driver directly connected to the speaker outputs, with the Class D output section doing all the "heavy lifting" as a current provider connected in parallel. More technical information is available on the Devialet website, but to simplify, the Class A section sets the distortion-free sonic signature of the amplifier and the Class D provides high-power output with low heat, allowing for the compact form factor.
The D-Premier utilizes a pair of Class D output modules, yet it is driven by a pair of Class A amplifiers in a unique hybrid module configuration that provides the advantages of both designs and the limitation of neither. First and foremost, the D-Premier does not sound like any Class D amplifier I've ever heard. I admit a slight personal bias against Class D amplifiers even though I keep auditioning every one I can get my hands on. But shortcomings remain. They typically offer a degree of sterility in their presentation, and in my experience, have been highly speaker-dependent, much like an SET or OTL amplifier. Hence, an optimum match yields decent sound, but a less than optimum one makes for a mediocre musical performance. Even the best examples have sounded somewhat flat. That said, it is clear that Devialet's technology represents a quantum leap forward in tonal purity.
Pairing the D-Premier with a wide range of speakers (GamuT S9, B&W 805D, Magnepan 1.6) along with several models I had in-house for review and photography (Zu Soul Superfly, Martin Logan Aerius i, PMC DB2i, Totem Forest) all provided synergistic combinations and a consistency I've never experienced with traditional Class D amplifiers.
While Class D amplifiers often exhibit an impedance mismatch with some speaker/speaker cable combinations, resulting in a sound that is brittle and lifeless at best or seriously rolled off at the HF portion of the frequency spectrum, the Premier-D did not change its character. But remember, it is not a pure Class D amplifier. I did all of my testing with the factory standard settings, yet the amplifier characteristics can be optimized to your speakers to allow for the most advantageous combination. Again, custom tuning is as easy as upgrading the firmware, and makes the D-Premier obsolete-proof.
The most interesting result of my speaker swapping related to how well the D-Premier performed when driving the Magnepan 1.6s, which are notoriously power-hungry. 240 watts-per-channel is usually the place that gets the party started with these speakers, yet the D-Premier not only effortlessly drove them to realistic sound levels, the sound quality was fantastic, offering a three-dimensional soundstage with excellent bass extension and texture. The Magnepan 1.6 speakers remain in my arsenal if for no other reason to torture amplifiers. There are precious few under-400 watts-per-channel amplifiers that I've heard that can really grab hold of the Magnepans and offer the control and sheer current delivery that the speakers really need.
Should the need for even more power arise, the D-Premier can be configured to be part of a multiple amplifier system. So, you could easily multi-amp your Magnepans or any other speaker in such a manner. Multiple D-Premier units can be configured for bi-ampflication or as bridged mono amplifiers. The amplifier section is stable into 2-ohm loads and is rated at 240 watts per channel into a 2-6 ohm load and 190 watts per channel into an 8-ohm load.  Devialet allows two adjustable parameters for the power amplifier section: maximum power and the impedance of the speaker used. According to Devialet's Mathias Moronvalle, "When tuning the amplifier to anticipate high current for a given voltage due to low speaker impedance, the amplifier can deliver more peak current and thus, operate more linearly."
My GamuT S9 speakers, while highly resolving, are ever so slightly on the warm side of neutral, so the D-Premier turned in a brilliant performance here. It's also worth noting that this amplifier was not terribly affected by differences in cable. Switching between Cardas Clear, AudioQuest SKY, and Shunyata's Aurora showed a difference between the three, but not as much as it did with my reference Burmester gear.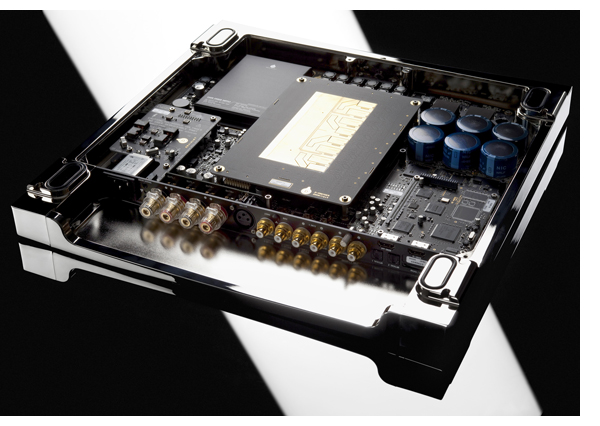 A Balance of Resolution and Musicality
The measured specifications of the D-Premier indicate an amplifier that seems to be completely free of any distortions with a noise floor of over -130db. Even with the volume control at maximum, not a hint of background noise emanates from the speakers.  If I had to describe the D-Premier's presentation in one word, it would indeed be "clean."
D-Premier is one of a small group of components that is highly resolving without being harsh. It will, however, reveal every bit of nuances in the connected source hardware as well as your software, so if your source material is not up to snuff, prepare to be outed. If you want forgiving sound, buy a vintage vacuum tube amplifier with EL-34 tubes.
The depth of the soundstage that the D-Premier presented continually impressed. Devialet's unique method of blending Class A into the mix gives this amplifier its magic. No matter what music I listened to, I experienced a tremendous amount of image depth that resulted in a highly realistic musical experience. On the intro track from the Beatles' LOVE, that mosquito felt as it was buzzing directly in front of my nose.  I had a similar experience with "Equinoxe 1-4" from Jean-Michel Jarre's Equinoxe; I found myself surrounded in synthesizer sounds seemingly coming from all around the room. Zoolook was equally enchanting.
Bass was tight and well controlled, and the highs were extended albeit smooth.  The D-Premier diverged from its standard solid-state and vacuum-tube competitors at the very end of frequency extremes. When I listened to one of my favorite acoustic bass recordings, Charlie Haden's The Private Collection, every bit of Haden's playing came through with the required amount of texture, conveying convincing realism, especially on the 24/96 version. And when I mixed it up with Sly and the Family Stone's "Don't Call Me Nigger, Whitey" the electric bass line had plenty of speed and snap. My reference Burmester 911 mk. 3 monoblocks had a richer presentation, but these amplifiers (and the accompanying preamplifier) have a price tag that's about six times that of the D-Premier. Hence, the performance is way beyond what you would expect at this level.
The D-Premier has an upper register that has to be heard to be believed; it is devoid of a signature sound. I listened to quite a few acoustic recordings to try and define one, but it had none. At least in terms of sound quality, Ginger Baker's drumming on Cream at Royal Albert Hall is sublime, especially when he hits his favorite ride cymbals with the small bolts affixed to them. Once again, no signature was added or subtracted.
It's important to keep in mind that, for $15,999, you are getting essentially four components and really, five if you take into account the music streaming capabilities. Break down the price, and it's impossible to find an amplifier, preamplifier, DAC, and phonostage of this caliber for $16k, not to mention the requisite three additional sets of interconnects, three power cords, and additional rack space needed to accommodate all the gear. If you are going to use all of these features, the D-Premier is an incredible bargain. But even if you just use it as an amplifier, preamplifier, and DAC, it's nearly unthinkable to get such high performance for this price. I certainly haven't heard anything that compares.
Too Cool
For those who love to argue about the validity of Apple's hardware versus everyone else's hardware, a simple swipe of the mouse will tell you the difference. The action of Apple's mouse eclipses anything in PC world; you both notice and appreciate it, or the care spent on the mousing algorithm has gone to waste.
By comparison, the D-Premier's volume control is not only visually compelling but possesses the best control action I've ever felt. In the day of stepped attenuators via remote, the D-Premier's square control module's action is silky smooth. It feels like the throttle in a Bentley Continental R; the sound builds gently and evenly, just like the thrust of the Bentley's V12. Once you experience it, you will be spoiled for anything else. And unlike most components that use an IR sensor—limiting the remote control to a line of sight ranging from about 10 to 15 feet—the D-Premier remote is controlled via RF, so you should be able to control the volume from anywhere in the house.
Another huge plus? The ability to hang the D-Premier on the wall and completely bypass the equipment rack—whether in a design-conscious environment, one where space is at a premium, or both. Thanks to a removable panel that hides the cables and the highly polished surface, the D-Premier all but disappears into the room. A pale blue light that indicates the volume level and input source is the only way you'd ever suspect it's an electronic component. Everything is controlled from the remote. Just like Apple, the packaging is as artfully done and the instruction manual easy to understand—no detail is ignored.
Oh, the smooth, exquisite, polished finish of the D-Premier begs to be caressed. But resist the urge, because you'll mar its perfection with your fingertips. However, if you and your friends can't resist, a microfiber cloth and a gentle cleaner will keep it in top shape. (Use the same cleaner that you use to keep a flat-panel display screen clean. Do not use Windex, 409, or any heavy duty cleaner as it will probably stain and streak the polished aluminum casework.)
DAC
The DAC section has 24/192 capabilities through the S/PDIF and Optical inputs, but there is no USB input. I used the dCS Paganini transport via S/PDIF and balanced connections, and concur with Devialet that even better performance was achieved with the balanced connection. The low noise floor again made such a conclusion apparent, especially when listening to classical recordings recorded digitally. The silence with this combination proved to be uncanny.
When comparing the D-Premier's DAC to a number of standalone DACs in the $2,500 to $5,500 range, the Devialet was the clear champion in terms of dynamics and tonality. Some of this must be attributed to the simple signal path that's involved. Again, much like the phonostage, this DAC should be more than capable for 95% of the most demanding audiophiles. Those wanting more performance will have to spend five figures on a DAC alone, which means more boxes, cables, etc., defeating the purpose of this savvy component.
The D-Premier upsamples everything to 192khz/24-bit resolution from a fixed-frequency, low-phase noise clock source. Devialet feels that this architecture provides extremely low jitter and contributes greatly to the DAC's highly transparent sound. After extended listening to digital files, one walks away from the D-Premier is unfatigued, especially when listening to acoustic instruments. It's one of the rare DACs that I've heard at any price that makes you forget you are listening to digital and allows you to just concentrate on the program material.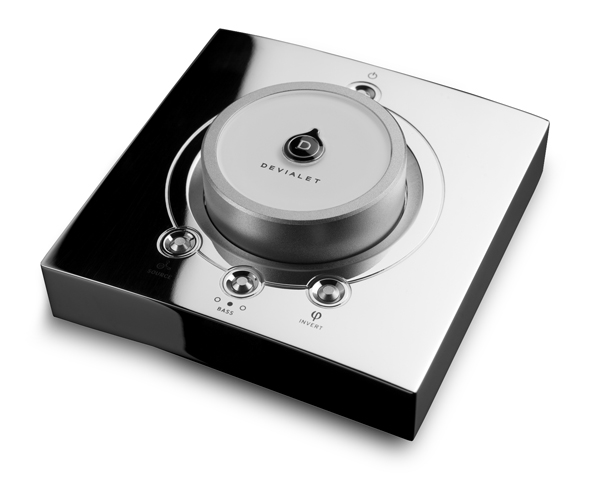 A Fresh Phonostage
Like most other phonostages, impedance and capacitance loading is controlled in the analog domain, with a network of resistors and capacitors switched in and out (but controlled again, by the SD card configuration). That's where any similarity to standard phonostages ends. The default setting of the D-Premier's phonostage is a standard moving magnet arrangement with 47k loading. I began listening with the Grado Statement 1 mounted on the Spiral Groove SG-2/Triplanar combination. While the aforementioned cartridge is a moving iron design, it uses a standard 47k loading and is fairly impervious to capacitance loading. Thanks to the D-Premier's high gain and ultra low noise floor, its lower output of .5mv was no problem. This proved an excellent match for the rest of my system, offering up an eerily silent background.
I've never heard a phono preamp with a -130 db noise specification, which alone makes this configuration interesting on a number of levels. I spent a fair amount of time searching my record collection to find the quietest pressings. After listening to the last year's worth of Music Matters Blue Note releases, I moved on to Speakers Corner's pressing of Santana's Caravanserai. The mellowest Santana album, it features involved percussion that punctuates Santana's guitar tracks. The intro to "Song of the Wind" is particularly quiet. With the D-Premier's ultra-low noise, the track seems to build out of nowhere. The component blends the silence of a digital recording with the warmth of analog: A perfect combination.
How does it happen? The phono signal is sent through a set of Burr Brown analog-to-digital converters (again at 24/192 resolution), and the RIAA equalization is applied in the digital domain. Again, Devialet feels that this approach offers greater linearity and more accurate translation of the RIAA curve than performing the task in the analog domain.  While analog purists may wretch at the idea of taking their beloved analog signal, digitizing it, and processing it digitally, the D-Premier flawlessly functions. Devialet provided a custom profile for the Shelter 501II MC cartridge; it worked perfectly when I made the change. In the future, Devialet will supply "cartridge profiles" for most of the major cartridges in use, and again, it will only require rebooting the D-Premier and uploading the settings.
Again and again, the D-Premier defies comparison. Because the phonostage is so quiet, it offers a different perspective with its low-level detail retrieval. However, when moving to my reference Audio Research REF 2 Phono, the latter still had a more inviting analog presentation. Such a last bit of analog magic comes with a pricetag that's almost twice that of the D-Premier. Those with perfectly clean records, and especially classical music lovers, will really appreciate this phonostage. At the risk of repeating myself, but remaining entirely honest, the onboard phonostage easily meets or exceeds most of the phonostages I've experienced in the $5,000 range. With performance at this level, 99% of D-Premier users will probably be thrilled. It's certainly much better than any other onboard stage I've heard in an integrated, save the one in the darTZeel CTH-8550, another very, very expensive amplifier.
More on the Horizon
As they say on late-night television infomercials, "Wait, there's more." In the future, the D-Premier will have a functioning HDMI 1.3 input, so you will be able to use the amplifier along with your video system or as a high-quality DAC for playing back Blu-ray music discs. There will also be a wireless adaptor, which means you will be able to stream from your favorite computer source, just like you would with a Squeezebox.  Only an extension board needs to be installed at your dealer, the antenna is already in place. (When these additional features become available, the D-Premier will return to TONE this summer for a follow-up review when these additional features are available.)
In the interim, there's no reason not to make the D-Premier the hub of your audio system. The only thing missing is a USB port for the DAC. But considering the number of high-quality USB>S/PDIF converters on the market, I wouldn't consider its absence a deal-breaker. There isn't a wasted square millimeter of space inside the enclosure, so I don't know how Devialet engineers could have squeezed another board under the hood!
Conclusion
The Devialet D-Premier is a top-shelf audio component in every way; it's even better when considered as a complete audio system in one box. Revolutionary engineering combined with short signal paths and minimal need for external cables all adds up to incredible sound that will have very broad appeal. Clichés aside, the D-Premier is more than the sum of its parts, in concept, performance, and value. If you take advantage of all the functions it offers, I don't know how you could possibly acquire an amplifier, preamplifier, DAC, phono preamplifier, and music streamer for the cost of the D-Premier. Of all the components to which we have awarded our Exceptional Value Award, I can't think of one more deserving than the D-Premier.
If all that weren't enough, the component's elegant design makes it blend into any decor with ease, forever banishing the idea of not having a high-performance audio system only because of the ensuing clutter that comes along with a rack and cables.
Whether you are downsizing from a rack full of gear or starting fresh, the Devialet D-Premier offers world-class sound, meticulous attention to detail in both style and construction, and a virtually unlimited upgrade path. What's not to love?
The Devialet D-Premier
MSRP:  $15,999
(North America)  www.audioplusservices.com
Peripherals
| | |
| --- | --- |
| Digital Source | Sooloos Control 10    dCS Paganini transport |
| Analog Source | Spiral Groove SG-2/Triplanar w/Grado Statement 1    Rega P9/RB1000 w/Shelter 501 II    Audio Research REF 2 Phono |
| Speakers | GamuT S9    B&W 805D    Magnepan 1.6    MartinLogan Aerius |
| Cable | Cardas Clear interconnects and speaker cable |
| Power | Running Springs Dmitri    Running Springs Mongoose power cords |