Devialet 110 Amplifier
Très Sleek
By Jeff Dorgay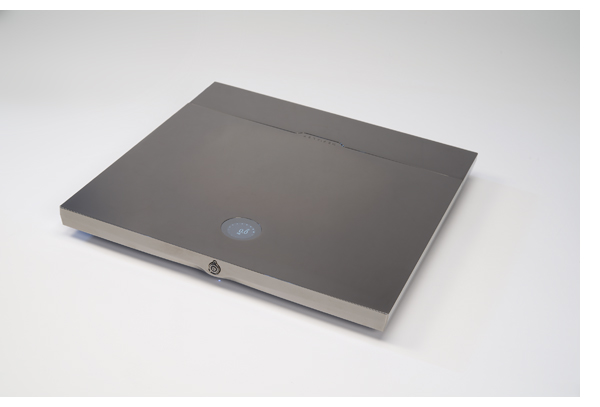 Two years ago, Devialet defined the high-style/high-performance audio category with its D-Premier amplifier, which provides high power and functionality in a single sleek and sexy package—proving that a component worthy of display in the Louvre can also deliver music to appease the most sophisticated of audiophiles. We had one of the world's first review units of the D-Premier, which we reviewed back in issue 35, and we came away highly impressed, as did every other reviewer that had the privilege of living with this French masterpiece. The initial demo at the 2011 Consumer Electronics Show was a knockout, and the D-Premier is one of those rare components that is so visually stunning that it grabs your attention from across the room.
And it does not disappoint when unpackaged. The D-Premier proved it could drive any load with ease, never losing its composure. With 350 watts per channel on tap and with the ability to be bridged for mono configuration and used with multiple units for even more power, it is endlessly scalable.
While we saw the $16,000 purchase price as an incredible bargain, considering that the D-Premier includes a full-function preamplifier, DAC, streamer and MM/MC phonostage in one compact chassis, this is still out of the reach of some audiophiles with more modest needs.
Enter Devialet's 240, 170 and 110 models, each with less power and capability, for those wanting high-quality sound in Devialet's distinctive form factor. John Bevier, director of sales for Audio Plus Services (the North American importer of Devialet), notes that all four Devialet models utilize the same amplification circuitry and that they sound identical, with the difference between the models one of more power, so even the entry-level 110 does not sacrifice anything in terms of quality.
Focusing here on the 110, which is priced at a comparatively reasonable $6,500, I feel that it is an excellent place to begin your journey with Devialet, and a great destination for all but the most power-hungry music lover. For an additional $1,200, you can add the Devialet Air streaming board, adding full wi-fi access to and control of the 110 via your iPhone or Android phone.
Again, keep in mind that you are getting a full-function preamplifier, with tone controls (more about that later), a 110-watt-per-channel power amplifier, a 24-bit/192-kHz DAC, and a MM phonostage built in—not to mention all the cables you don't have to buy or the rack space you'll save. The 110 is easily mounted on wall with an accessory wall bracket that works somewhat like the ones used to mount a flat-screen TV.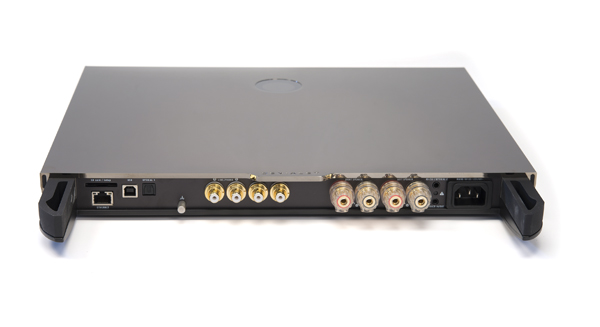 Spinning LPs
The Devialet configurator, found on the company's website, allows you to optimize the 110 to your needs. One of the two analog inputs can be configured as a phonostage and, while the flagship D-Premier is prepared for moving-magnet and moving-coil cartridges, the 110 is limited to MM duty, which should be more than adequate for most users, especially in light of how many great MM cartridges are available these days.
A cursory run-through of MM carts on hand reveals excellent compatibility with the Ortofon 2M Black and Bronze, as well as the NOS Ortofon VMS Mk. II cartridges. The higher-output Grado Master 1 cartridge also proves highly compatible, with an excellent balance of dynamics and high-frequency extension. The only MM cartridge in my stable that is not immediately compatible is the Rega Exact II, mounted to the Rega RP6 turntable. Because maximum phono level can be adjusted down to 1 mV, the Devialet 110 works particularly well with Grado's .5 mV output moving-iron cartridges, as they have a 47k impedance.
Settling in with the Ortofon 2M Black, mounted on the VPI Classic 1 turntable, is a ton of fun. Spinning XTC's classic song "When You're Near Me I Have Difficulty" proves enlightening, with a wonderfully lush three-dimensional soundstage. Even though the Devialet works in the digital domain, upsampling everything to 24/192 first and then applying the RIAA equalization in the digital domain, there is no sacrifice in the analog magic—perhaps this is the future after all?
Cycling through a wide range of musical fare proves as enticing as it is on my all analog systems, and great results are achieved with a MC step-up transformer, with the phono gain set to maximum, this time utilizing a .5 mV Sumiko Palo Santos cartridge and the SME 10 turntable. Dylan's Blood On The Tracks (courtesy of the latest remaster from Mobile Fidelity) is glorious. The acoustic guitar on the intro of "Simple Twist of Fate" has plenty of air and texture, with Dylan's voice gently wafting into the mix—underlining the fact that you can use a turntable costing more than the Devialet 110 and be very, very satisfied with the results.
Controlling Tone
Fortunately, the tone controls in the Devialet 110 are also configurable, and act more like a two-band parametric EQ than just standard bass and treble controls, which is perfect for slightly bumping up a rolled-off phono cartridge or taming a slightly bright or boomy speaker. The bass control can be set from 20 Hz to 500 Hz, and the treble control can be set from 1 kHz to 20 kHz, which works well at taming the slight mid-bass bump that the KEF LS-50s have in my 10-foot-by-13-foot home listening room (aka room three). Room treatments would just not fix this issue, but a slight decrease in the 90 Hz level cleans things up nicely, letting the system play much cleaner than it could before.
The combination of modest room treatments and a slight tonal correction makes the Devialet 110 incredibly adaptable to a wide variety of environments. These are the most effective tone controls I've ever used this side of a Cello Audio Palette, and they add tremendous value to the Devialet 110. Once you become accustomed to using these controls, you will be forever spoiled.
Master of the Digital Domain
In addition to offering a USB and two optical inputs, the Devialet 110 features a pair of line-level inputs that can be configured as analog inputs, a phono input or a pair of S/PDIF inputs, along with the two straight digital inputs, making the Devialet 110 incredibly flexible. Digital files can also be streamed via Ethernet or wirelessly, if the streaming board is installed, as it is in our review sample.
Every option works flawlessly. Streaming files from the Meridian Digital Music Server (formerly Sooloos), via MS200 network bridge and optical connection, passes 16-bit/44.1-kHz files and 24/96 files with notable ability. The Aurender S10 serves up 24/192 files, which sound fantastic through this amp.
Roberta Flack and Donny Hathaway's duet "Where is the Love?" clearly illustrates the Devialet's ability to resolve fine detail, while not crossing the line into overly analytic or fatiguing digital, keeping these two delicate voices in distinct spaces throughout the recording. Discs played through the MSB digital transport reveal an even greater sense of ease, suggesting to this writer that there's still some life in those shiny discs after all.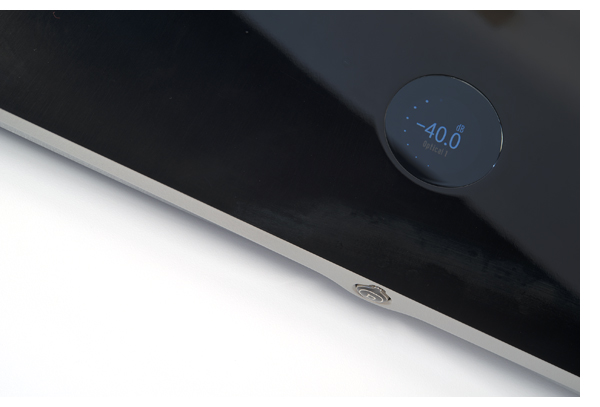 Ample Amplification
The 110 watts per channel, rated into 6 ohms, prove up to the task of driving all of the speakers here, and the Devialet even does an acceptable job with the Magnepan 1.7s, though they do give a more grandiose performance with the more powerful D-Premier. All the other speakers, with sensitivity ratings ranging from 85 dB per watt to 92 dB per watt, sound marvelous.
KEF's small but amazing LS-50 speakers are an incredibly synergistic match for the Devialet 110 in listening room three. This combination, in concert with some modest room treatments from GIK, delivers a huge soundstage that on some music lacking the lowest of bass notes or massive dynamic swings goes a long way toward fooling me that someone snuck the Blades into this small listening room!
A perfect example of this is Seu Jorge's version of David Bowie's "Rebel, Rebel," from the Life Aquatic soundtrack. This gentle vocal rendition, along with acoustic guitar and a bit of surf rolled in the back of the mix, sounds open and spacious, feeling so much bigger than the system suggests.
Thanks to the Devialet's ADH amplifier topology, which uses a Class A stage to set the amplifier's voice in tandem with a Class D stage to do the heavy-duty amplification, results in an extremely neutral character with no embellishment. The 110 always feels natural and dynamic, no matter what the program source, and on the rare occasion that I am able to drive it to clipping, the effect is gentle.
Best of all, you can set the maximum power level of the Devialet 110, so that when you're away, your kids can't destroy your tweeters, even if they choose to have a house party. A quick trip back to the configurator and it's handled.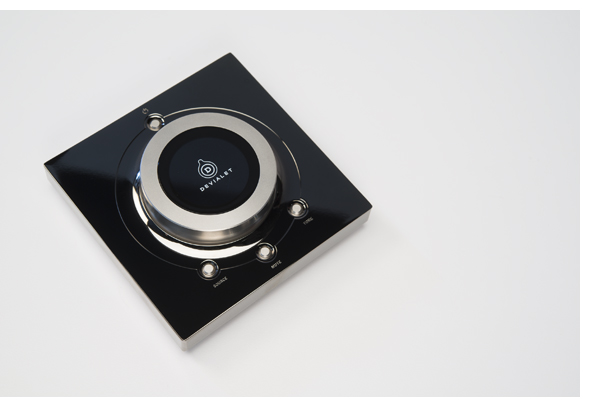 A Brilliant Success
The Devialet 110 succeeds on every level. Aesthetically stunning yet understated, it will easily integrate into any décor scheme, though its beautiful black finish begs to be displayed. The equally attractive remote can be used anywhere in the immediate listening area and is a joy to use, yet the app for Android and iPhone/iPad operating systems makes it easy to control anywhere—perfect for when you'd like to lounge somewhere else in the home and have background music going.
The only disadvantage to using the app is that it is limited to input control, volume level and mute. It would be nice to see an upgrade so that balance and tone controls could be accessed from your phone.
For the music lover that doesn't want to sacrifice sound quality for aesthetics, I can think of no finer choice than the Devialet 110, except maybe one of the higher-powered units, should your speakers require it. The journey doesn't end here, either. The 110 will be easily upgradable via software as the Devialet engineers develop new functionality, so this is an investment you can live with for the long haul. Lifestyle is no longer a dirty word when it comes to hi-fi.
Devialet 110 Amplifier
MSRP: $6,500