Definitive Technology Studio Monitor 45
Start With a Great Pair of Speakers
By Jeff Dorgay
Do you have a pair of speakers that have been with you since college? TONEAudio contributor Jerold O'Brien owns a pair of JBLs that have been through hell and back—moved all the way around the world since our tenure at the University of Wisconsin. But they are like a good luck charm to him. One afternoon when we were struggling to adjust the Kugelfischer injection on his BMW 2002tii, listening to Alice Cooper's School's Out, he laughed and said, "I still love those speakers. Lots of great memories."
Philosophers and self-help gurus like to say that getting started is 80% of the battle, and nowhere is this more true than beginning the daunting task of trying to assemble a hi-fi system for the first time. Sage advice says to pick a pair of speakers you like and build around them. After all, whether or not you agree with the concept that speakers most significantly shape the sound of your system, they certainly have the greatest impact on your decor. Chances are you'll be living with your speakers longer than you will a preamp or a receiver, so getting it right the first time constitutes a bonus.
The inexpensive end of the audio spectrum never ceases to fascinate, only if because every design decision made on a $400 pair of speakers like the Definitive Technology SM45s is so very critical. On many levels, some of the best work in audio is done in this price neighborhood, primarily because it's ultra-competitive. And much of it sounds dreadful if you're the least bit used to the good stuff. Finding a great entry-level component feels like robbing a convenience store and getting away with the crime. It only seemed appropriate to play Jane's Addiction's "Been Caught Stealing" while un-boxing the SM45s.
It Can Be Done
The SM45s were one of the most exciting products I heard at the Consumer Electronics Show last January. Why? It's exactly the kind of product that gets people excited about making a hi-fi system part of their lives. Combined with a decent amplifier, or perhaps a vintage receiver, one need only add an iPod to start rocking out.
These Definitive Technology models are tiny, only about 6 x 8 x 12, and can actually be used on a bookshelf. Yes, the concept got carried away in the 70s, eventually yielding speakers that were way too large to fit on even a library's vast bookshelf. While you can place these small speakers on such a surface, they produce much better results when mounted on 24-30-inch-tall stands, so that the tweeters are near ear level. Your task? Finding a placement option that balances with your decor, and the tradeoff between maximum bass reinforcement and midrange clarity.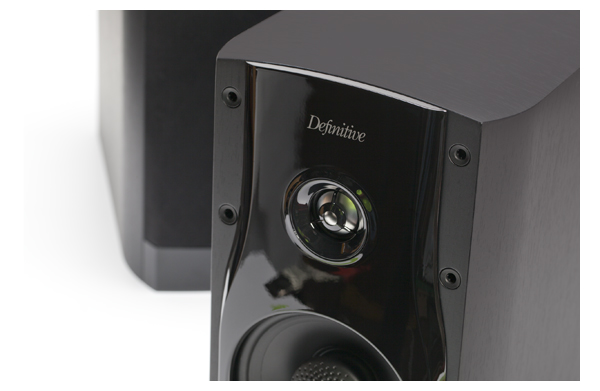 World-Class Budget Speakers—It's Not an Oxymoron
The SM45s present Kathleen Edwards' "House Full of Empty Rooms" from an honest tonal standpoint while capturing the breathiness and nuance the singer brings to the song, all the while doing a marvelous job of following the pace of the backing acoustic guitar. Admittedly, evident compression emerges when switching to Keel's The Right To Rock and dialing the volume way up on some Korn, Metallica, and Tool.
While the SM45s would play really loud without distortion or destruction, they need more bass grunt to really come alive at high volumes with harder stuff. Metalheads are advised to invest in DefTech's ProSub 800 or 1000 subwoofer ($399 and $499, respectively) to flesh out the system. Same thing goes for electronica fans. DJ Krush's Strictly Turntablized could use a bit more boom to get the message across. But remember, these are $400 speakers. A pair, no less. Music with less than subterranean low notes is easily handled, and test tones reveal solid output to about 50hz.  If you can, move the speakers about 18 inches from the wall to take advantage of room gain.
The SM45s possess more than enough resolution to easily discern qualitative differences between Mobile Fidelity's reissue of KC and the Sunshine Band on vinyl and the original CD. The nonexistent bass line in "Shake Your Booty" via CD comes through loud and clear when switching to LP, with the woofer cones really pulsing.
Avoiding the parlor tricks of goosing one part of the audio spectrum really makes the SM45s world-class budget speakers. They have incredible overall tonal balance.  Playing solo female vocals or electronica excites the "wow" neurons in your brain, and most inexpensive speakers really suck when the playlist takes a turn towards acoustic fare.
Sure, it's fun blasting party tracks through the SM45s, and seizing upon the big soundstage they throw. And, you can actually listen to music on these speakers. After hours of torturing them with metal and techno tracks, slowing the pace down to engage Keith Jarrett's Keith Jarrett at the Blue Note: The Complete Recordings proves a fantastic experience. Jarrett's piano is reproduced with an abundance of scale and texture. Along with the applause, his signature grunting hangs in the air, each in a separate layer. Even the stand-up bass is finely depicted, but the lowest overtones are absent.
Mixing it up with Miles, Coltrane, and other jazz legends reveals the same findings. Drums are full of dynamics, never plodding or obtuse. Tonality this good would be highly impressive for a $1,000 pair of speakers. It's out of this world at this price.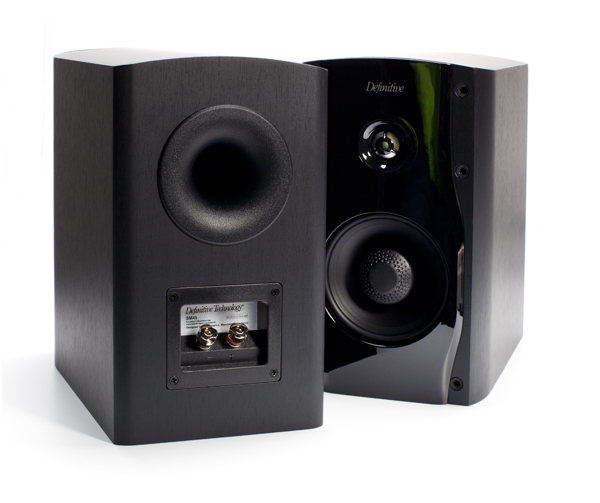 Keeping Pace with 2012
Yes, $400 buys a smaller pair of speakers than it did in 1978. However, the value proposition that Definitive Technology's Studio Monitor 45s offer goes off the chart. A two-way system, the SM45 represents the smallest speaker in Def Tech's newest StudioMonitor series. With the grille off, the glossy front baffle looks smashing, revealing a 5.25-inch woofer and the same 1-inch dome tweeter featured in the SM55 and SM65. The MDF cabinets are covered in a black vinyl rather than a fancy veneer—a necessary albeit completely acceptable compromise. These babies are still highly pleasing, and it's great to see that the extra few bucks that could have been spent on a fancier enclosure were instead put into sound-producing components.
Thanks to a 90db sensitivity rating, the SM45 works well with low-powered amplifiers and is equally at ease with solid-state, class D, or tube amplification. Our cache of vintage budget receivers from Pioneer, Nakamichi, and Sansui all turn in great performances with these speakers, confirming that an iPod owner could assemble a very capable system built around the SM45s for about $600.
Whether you're just entering the world of hi-fi, or building a compact second system, a pair of SM45s is the best $400 investment you'll ever make. These are speakers you'll still enjoy in your garage 30 years from now. And think of the cool memories that will go along with the journey.
I like these speakers so much that I want you to have a pair.  Definitive Technologies has agreed to give us three pairs of SM45s to pass on to our readers, so when you have a moment, head to http://www.tonepublications.com/contest/ and follow the instructions.  Perhaps you'll be one of our three lucky readers that wins a pair!
Definitive Technology Studio Monitor 45 Speakers
MSRP: $399/pair
www.definitivetech.com