B&W's MM-1 Portable Speakers:
Massive Sound, Minimum Footprint
By Jeff Dorgay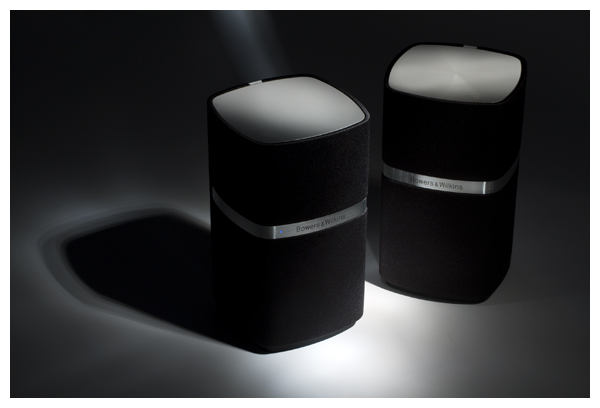 "Where's the sub?" Those were the first words out of my mouth as I entered Danny Haikin's office at B&W in London earlier this year. He just smiled and said, "There isn't one. That's just coming from the two desktop speakers." Then we spent the better part of the next hour talking about music while I got a proper demo of B&W's latest masterpiece, built upon the technology incorporated in its Zeppelin models.
Indeed, a few years ago, B&W wowed the desktop/iPod world with its original Zeppelin and built on that success with the Zeppelin Mini and recently, an upgraded Zeppelin model. My tour of the B&W factory (full article to follow in a future issue of TONE) revealed a substantial amount of brain trust devoted to the Zeppelin line. The forward-thinking mindset has paid off handsomely for B&W, which now sells the Zeppelin and MM-1s through Apple stores as well as its own dealer network.
Like the rest of the B&W range, the MM-1s possess the understated elegance for which the marquee is known. While the $499 price might initially catch you off guard, the first listen proves reassuring. Incorporating a version of the Zeppelin's DSP (digital signal processing) engine, the MM-1s are a two-way active speaker system that uses a tube-loaded tweeter—just like those in the company's higher-end models—and a long-throw bass driver. The brochure claims that the MM-1 "is a true hi-fi speaker, shrunk to fit on your desktop," and is absolutely correct.
Each of the MM-1s only takes up a 3.9 inch (100mm) x 3.9 inch square on your desktop and stands a mere 6.6 inches tall (170mm). The enclosures are wrapped in black textured grille cloth that is similar to B&W's larger speakers, and trimmed with a brushed aluminum band and top plate. Our art director's design sense immediately piqued during the photo shoot.
Quick Setup
The MM-1s looked like so much fun that I resisted the urge to read the instruction manual. I'm happy to report that the average computer user can be rocking in a matter of minutes. Three essential connections need to be made: The 4-pin umbilical from the left speaker to the right, the USB port from the right speaker to your computer, and the power supply to the right speaker.
I had to sneak inside my iMac's sound control panel to direct sound output to the MM-1s via USB, but that was about it. The only glitch in the operation came when using the Control:Mac software with my Sooloos music server. For those accessing a Sooloos, you will have to use the supplied AUX cable to go between your Mac's headphone output and the MM-1's AUX input. The Mac will not send audio output from the Sooloos back out via USB. iTunes and Rhapsody users will have no trouble.
Once connected, volume can be controlled via the chrome band on the right speaker, the control panel on your computer, or with the egg-shaped volume control that is standard issue for the Zeppelin series. This is incredibly handy, should you utilize the MM-1s outside of an immediate desktop region. They actually worked quite well in my kitchen, fed via a nearby Apple Airport Express.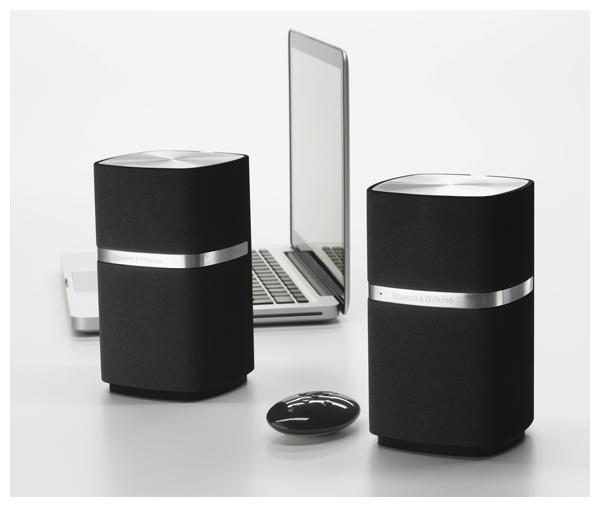 Verifying Initial Observations
To be sure I wasn't brainwashed at B&W's HQ with a tarted-up prototype, I began my listening sessions with tracks containing some bass.  First up, Thomas Dolby's "Pulp Culture" from Aliens Ate My Buick. Then, after auditioning a few quick cuts from Tone Loc's Loc-Ed After Dark, I was firmly convinced that the MM-1s had enough bass on tap. The warm sound I remembered from my London visit confirmed that these are serious desktop loudspeakers.
The B&W DSP engine works wonders, allowing the MM-1s to disappear on your desktop in an almost uncanny way. Prince's One Nite Alone perfectly played to this strength, creating a soundfield that went well beyond the desktop's borders. While not always convenient in an office environment, spend 30 minutes with the MM-1s, and you'll never want to listen to headphones again.
With rock, rap, and funk checked off, time spent with acoustic music confirmed the speakers' versatility and shared heritage with top-line B&W models. The Sooloos made it incredibly easy to switch between the desktop system with the MM-1s and my reference system built around B&W 805Ds. Both pairs of speakers had a similar, airy character, especially with piano and violin. Listening to Keith Jarrett's Shostakovich: 24 Preludes and Fugues, Op. 87 equated to a spectacular experience on the desktop; with my eyes closed, it seemed like a piano was floating on my desk.
Serious Resolution
An uncanny level of resolution sets the MM-1s apart from many of the other powered computer speakers I've experienced. They reproduce spatial cues and create a three-dimensional soundfield in a way I've yet to experience with this type of product.
Even the most inexperienced listeners are easily able to hear the difference between low-res MP3 files and standard 16bit/44.1khz files of the Rolling Stones' Through the Past Darkly. Yet the variation became more stunning when playing back the HD Tracks' 24 bit/176khz versions. My friends were not only amazed by how much more information surfaced, but how effortless it was to discern such detail on a pair of $500 desktop speakers. For example, the texture in Mick Jagger's voice on "Ruby Tuesday" proved staggering.  The only way I could get my desk back was to blast Steel Dragon's "Death to All But Metal." And while this deejaying change helped me regain my personal space, the MM-1s were still clearly up to task.
No Need to Fear High-End Sound
If you've been on the sidelines or fearing the complex world of high-end sound, jump in with a pair of B&W MM-1s. You won't need any special cables or know how. And the speakers won't leave a huge dent in your wallet.  Just plug them in and enjoy your music in a much more immersive way than you did before. Who knows, you might even be tempted to head to your B&W dealer for a pair of 800s one day. Good sound is contagious. This is truly a product you will wonder how you ever lived without.