Blumenstein Audio 2.2-Channel Speaker Package
The Orca Mini speakers paired with Dual Dungeness Max subwoofers
By Rob Johnson
The modest-looking speakers from Blumenstein Audio belie the capabilities contained therein.
We've reviewed the Seattle company's Thrashers, speakers light on looks but heavy on ready-to-rock, garage-grade power. The somewhat more refined single-driver Orca Classic monitors, paired with one of Blumenstein's Dungeness Classic subwoofers, impressed our staff.
Combining the new Orca Mini monitors with two of Blumenstein's new powered Dungeness Max subwoofers takes the system to the next level. Having two subs in the 2.2-channel system—which starts at $1,800—augments the Orcas with greatly improved low frequencies. Though matching Orca stands are available, each subwoofer begs you to set an Orca on top of it (placing vibration-dampening material between the units, of course). And with separate enclosures, the subwoofers and monitors can be independently toed-in, and there's plenty of room atop each subwoofer cabinet to slide the monitors forward or backward.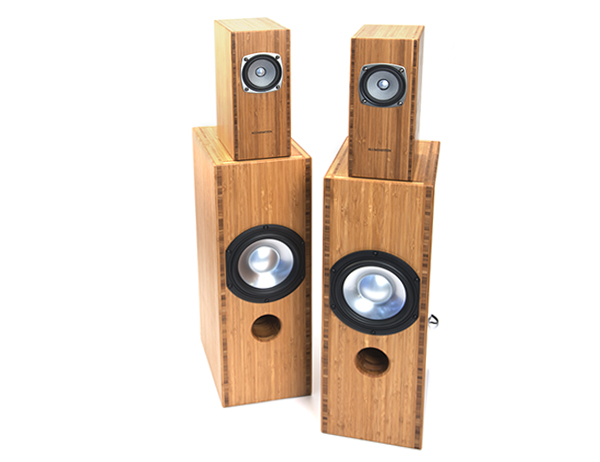 Hull and Rigging
Blumenstein offers its cabinets—made from nothing but wood, glue and finish—in either birch wood or bamboo. The latter option is available with natural, caramelized, or two-tone finishes. Blumenstein uses non-toxic linseed oil instead of varnish to give the wood a delicate sheen.
The front-ported Dungeness Max has a rectangular footprint of 7.75 by 11.25 inches, which makes it easy to slide in between furniture, and with a height of 22.5 inches, it can fit easily under a desk or table. The Max features a 25-watt built-in amplifier and Blumenstein says it will reproduce frequencies as low as 27 Hz.
The Orcas sport a single pair of binding posts on the back for banana plugs, spades or bare speaker wire. As a powered subwoofer, the Dungeness Max has a knob on the back that controls power and volume. A second knob below that adjusts the crossover point from 60 to 180 Hz. Then comes the wiring…
Blumenstein offers a few ways to connect the subs into an audio system; the easiest requires simply running parallel split sets of speaker wires from a single amp terminal directly to the Dungeness and the Orca;my biggest complaint is that the subwoofer binding posts are tiny, spring-loaded connectors, like those on my old NAD 3020 integrated amp. While easy to use, they're so small that they limit the gauge of wire you can use.
If you have a preamp with line-outs and a standalone power amp, the amp will drive the Orcas directly, while you connect the Dungeness to the preamp using RCA cables. When using two subs, the left one connects to the left preamp line-out and the right one connects to the right line-out.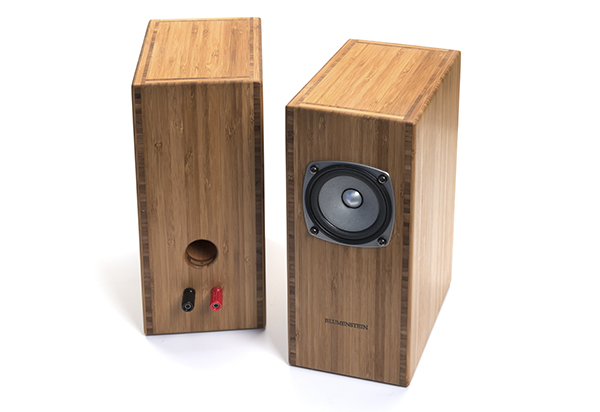 Diving In
With two standalone Orcas used as desktop monitors placed about two feet away, the sound is mighty impressive. The lone driver does a very good job with imaging, projecting convincing audio into the soundstage. During the Zero7 song "Destiny," the Orcas present Sia Furler's voice fatigue-free and with nuances that reflect the emotion of her performance. Other instruments panned far right and left float into the periphery, beyond the plane of the speakers.
Of course, a speaker this size does have bass limitations. With the subwoofer pair connected, low notes join the acoustic presentation. The ability to adjust the toe-in of the subs independently and the crossover point allows you to tailor bass response to your preference without affecting the Orcas.
With an Orca atop each Dungeness Max and the resulting columns about 10 feet from my listening seat, the Orcas deliver a convincing sonic image, with vocals remaining slightly warm yet highly believable. Compared to near-field listening, the experience is akin to moving back several rows in an auditorium. There's a bigger overall picture, but with broader dispersion, the density and tangibility of the musical elements decreases. The Dungeness Max subs create solid and tuneful bass, but larger listening rooms—like mine, at 17 by 20 feet—might be a bit too much for them to tackle. In a bedroom, den or smaller-sized living room, they offer very satisfying bass, room-filling sound and a highly enjoyable overall musical presentation.
With a wide-dispersion driver, the Orcas are not too fussy with placement, and because they're small, the speakers are easy to adjust. For the subs, you can employ simple tweaks of placement and volume to generate just the right amount of low-end augmentation for your needs. The combined system proves incredibly versatile and fulfilling. With hours of listening, I need to keep reminding myself that the Orcas start at just $500 per pair.
Yes, there are better and more resolving speakers out there. However, the efficient Blumensteins offer a very high performance-to-price ratio. By selling unnecessary components like speaker grilles and stands as optional accessories, Blumenstein is able to offer the Orca speakers at a very reasonable cost, allowing those on a tight budget to start with a stereo pair and then add subwoofers later.
For those with $1,800 on hand, the discounted 2.2-channel package is an especially good choice. While this system doesn't offer the refined look some buyers may be after, the simple beauty of the wood finish will appeal to many, and the sound quality you're getting for the price makes the entire system a major consideration.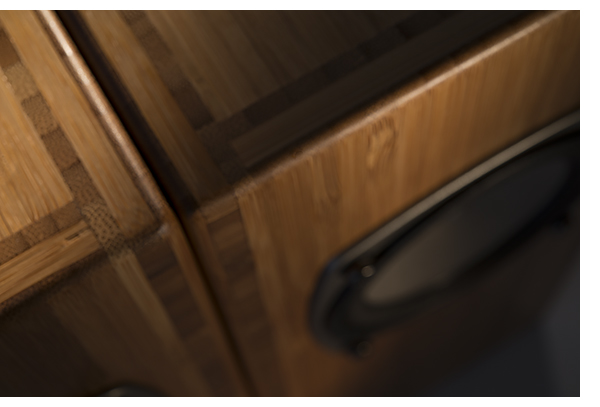 Additional Listening
By Jeff Dorgay
As an advocate of single-driver speakers—longtime TONE readers might remember that I started out with a pair of Lowthers as my reference speakers—I find something totally beguiling about them, though they are often misunderstood, perhaps because of their deceptive simplicity.
You might think that the appeal of single-driver speakers is a complete no brainer, because they don't have crossovers for the audio signal to contend with, but in my experience with single-driver speakers, the power you feed them is everything. Because these speakers have such a delicacy about them—and the Orcas are no different—picking the wrong amplifier will give you dreadful results. Much like with OTL amplifiers, the result is usually either magical or somewhat flat. And if you've had the latter experience, you didn't do it right.
Interestingly, both sets of Blumenstein speakers I've heard here at the TONE studio have sounded incredibly good with the $90,000-per-pair Pass Labs Xs300 monoblocks I use as my main reference. They also sound spectacular with a vintage Harman Kardon A-500 integrated tube amplifier. Oddly, the 300B-based push-pull amplifier from Nagra does not produce magic with the Orcas, though the 845 SET monoblocks I have on hand do. And so it goes, my personal favorite amplifier for driving these exquisite little speakers is the SIT-2 First Watt amplifier (also by Pass Labs), which produces 10 watts per channel from a single gain device. (Look out for our upcoming long-term review for more details.)
When you get it right and you don't tax the Orcas with Audioslave at maximum volume, you will be shocked at just how deep into the music these little speakers let you hear. If you aren't going desktop/near field, I suggest a room about 11 by 14 feet or thereabouts.  Music that is more vocally focused, without massive dynamic swings, proves enveloping. The first Crosby, Stills and Nash album is absolutely dreamy, as is Yim Yames' Tribute To. For that matter, anything mostly acoustic or with sparse vocals will truly blow you away through this system, which reveals just how much music is lurking in your favorite recordings.
Just as you wouldn't drag race a 400-cc sport bike against a liter bike, don't expect the Orcas—even with the subwoofers—to blast AC/DC at concert-hall levels. But with the right recording, these speakers will not only shine but also make you appreciate the journey more than you ever thought possible, especially for the price. If you've never had the single-driver experience, I can think of no better place to begin your journey than with the Blumenstein Orcas. You may never want to leave.
Blumenstein Audio 2.2-Channel Speaker Package
Starting at $1,800