RMAF 2017 Part Two: My Six Favorite Rooms at RMAF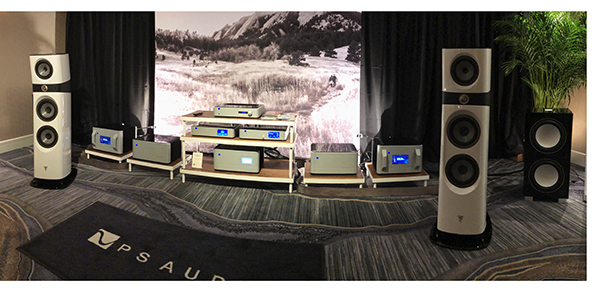 Having attended a dozen RMAF's now, this year's show had the best sound overall that I've ever encountered – at any show. While some manufacturers were not happy with the reconfigured hotel rooms, they did a damn good job at wringing good sound from them. The level of consistent great sound was definitely at an all-time high this year.
And while I think it's unfair to draw a "best sound at the show,"line in the sand, here are my five favorites below. Speaking of unfair, I really liked the PS Audio room too, but this was a teachers pet favorite, because they were showing off a number of components I own! (The Focal Sopra no.3s along with REL 212SE subwoofers and a full compliment of PS Audio electronics, with their new Power Plant power conditioners that we should see for review sooner or later)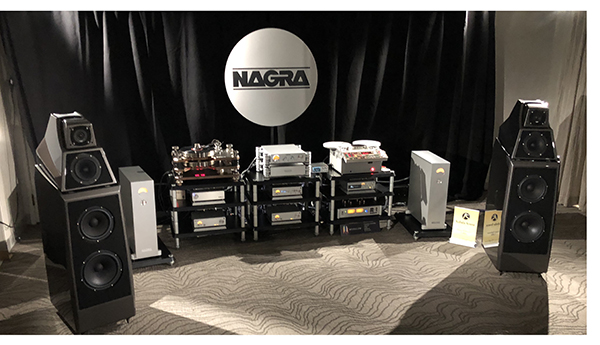 Rene Laflamme and crew have been getting spectacular feedback all over the world this year, and it is well deserved. Basing a system around their new Classic DAC, Classic Preamplifier and HD Power Amplifier, with time tested speakers from Wilson and analog playback via their own reel to reel deck and the Kronos turntable, the Nagra components gave their best. Though this writer is not a Wilson fan, this was one of the most coherent and musical presentation I've ever heard them deliver. This room was a triumph of system synergy.
However, what made this system shine the brightest for me, was the high level of quality and consistency between sources. Great as the reel to reel playback was, digital and vinyl was so incredibly close, it didn't matter what they were playing. This is what makes a truly high end system magical, when you can just get into the music and forget about the tech.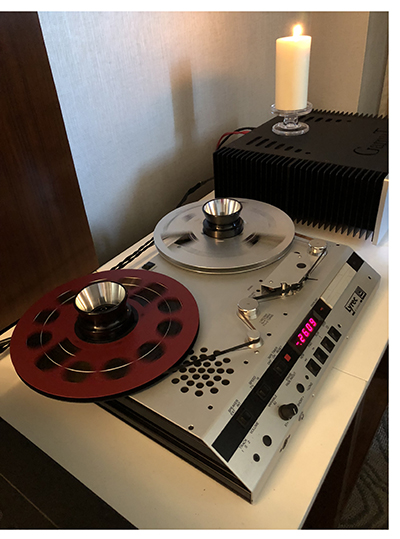 GamuT
Another group leaning heavily on the reel to reel, (While GamuT designer Benno Baun Meldgaard is a massive RTR enthusiast, they too provided equally stunning playback with all sources, from an all-GamuT system, anchored by their flagship Zodiac speakers. US Importer Michael Vamos had the tunes flowing from morning till night.
The Zodiacs have an amazing way of disappearing in the room, even more incredible considering how big they are. And the sound they produce is one of the most coherent, friendly sounds going. Having used GamuT speakers as reference components for years, they can be listened to forever without fatigue.
Featuring their latest XT-5 floorstanding speakers, the Raidho's provide a vastly different presentation that GamuT or Wilson, yet on one level offer some of the strengths of each. Very dynamic, yet resolving, (without being fatiguing) the XT-5s paint an incredibly detailed and dimensional look at the music. Scary good.
We've just received their entry level X-1 and they are fantastic. Expect to hear a lot more about Raidho from us in the months to come – we have a factory visit scheduled for January, to get the story behind the speakers.
MartinLogan/Audio Research
Many long-term ESL lovers wax poetic about the marriage of an electrostatic speaker and tube amplifiers. ML went for broke this year, using the massive ARC REF 750SEs. Nothing beats the Audio Research REF 750SE monoblocks when it comes to sheer power delivery and control, yet these monstrous amplifiers have the same level of finesse that you'd expect out of a small tube amplifier.
Paired up with the equally gargantuan MartinLogan Neolith, the sound presented was big, bold, and stunning. If you ever thought panels couldn't rock, this was the system to shatter your beliefs.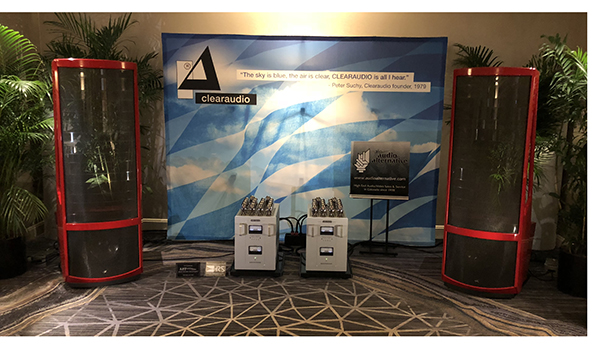 Pure Audio Project/Whammerdyne
Last year the $15k Whammerdyne "Truth" 2A3 amp re-defined what I thought a low power SET amp could do, but Pat Hickman has been hard at work, designing a killer low power amp for those not having that kind of budget. While the flagship Truth amp was in rotation and delivering amazing sound with the massive Pure Audio Project Quintet speakers, the real buzz for me was mating these speakers to his new DGA (Damn Good Amp 3) amp that barely tips the scales at $2,500.
Mated to the $3,500 Exogal Comet DAC, this whole system with your choice of reasonably priced cable is still only around $15k. This system was the bang for the buck king of the show. If you want six figure sound on a modest budget and have the room for the speakers, this is the way to roll.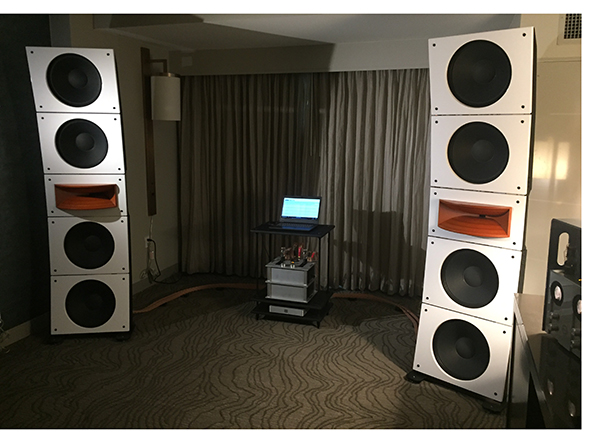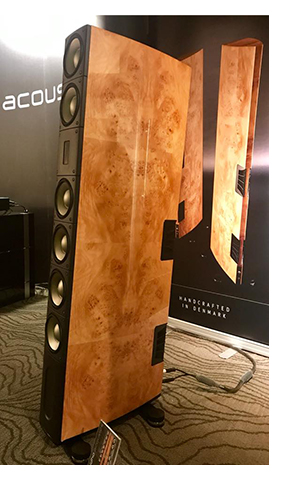 Raidho
Featuring their $42,000/pair XT-5s, the Raidho room offered stunning resolution and the best implementation of a ribbon tweeter I've ever experienced. An in-depth, and lively presentation by Rune Skov, with a wide range of musical material had us all on the edge of our chairs. And, as you would expect from Danish craftspeople, the cabinets are just as gorgeous as the sound.
You will be hearing more about Raidho in the months to come in our pages!