A Visit To Starpower Audio/Video in Dallas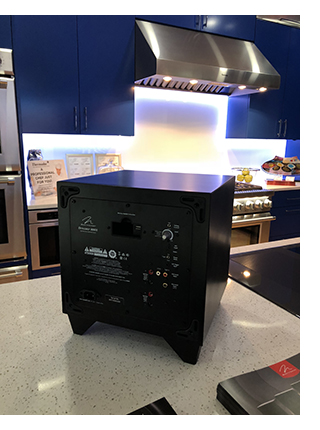 The minute you walk into the door of Starpower Audio/Video, in Dallas, Texas you realize that "audio/video" is a major understatement.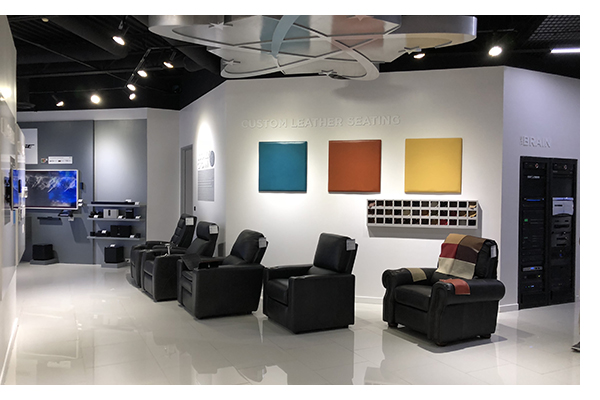 In addition to the stuff you do expect (big TVs', cool couches, and a plethora of custom automation goodies), there's a lot you don't. Like kitchen stuff. Yeah. In addition to a killer 2channel or theater system, Starpower does custom kitchens, appliances and flooring. And not the mediocre stuff you see at Best Buy – they offer all top-shelf appliances from Jenn-Air and the like. In addition to kitchens, they are fully equipped to put together an incredible outdoor system too.
What could be better than getting it all done one place, with a crew that can help all of your needs? When discussing this radical approach with owner David Pidgeon and Brandi Thompson, head of VIP services, they both made it clear that the crossover aspect of buying at Starpower is strong. Pidgeon smiles as he tells me "it's not at all uncommon for someone to come in looking for a range and buying a subwoofer too."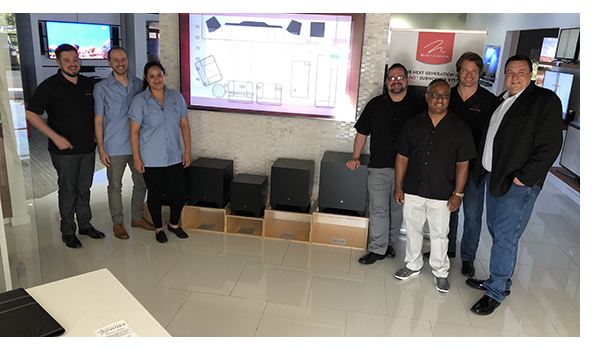 Which leads to today's adventure.
MartinLogan chose to launch their new line of Dynamo subwoofers here at Starpower for good reason. ML's Marketing Manager Devin Zell makes no bones about what a great location this is, and that their depth of product knowledge along with a deep customer base is a perfect fit. "All these flat screens with our message on it is pretty cool too." Can't argue with that.
After the crowd has had some time to nosh and fully investigate the premises, the black boxes are unveiled to the standing room only crowd. The new Dynamo series starts with the Dynamo 400, ($399) and a single, powered, 8-inch woofer. Going up the range from the ($599) Dynamo 600X all the way to the ($1,699) Dynamo 1600x, we see more power, larger drivers, and more low frequency oomph. To keep costs in line and value high, MartinLogan only offers the Dynamo subwoofers in a matte black finish, and the three larger models can be used in downward or front firing configurations. They can be connected via Bluetooth and wireless connection is also an option. These are versatile subs, indeed.
That X is important, because all of the "X" models offer the option of built in Anthem Room Correction (ARC™) that can be configured from a PC, iOS, or Android device. If you've ever struggled with integrating your subwoofer and main speakers, this is a major blessing. Even if you're room is fairly easy to work with, having ARC™ at your disposal gives you a few more placement options.
Keeping everyone in the loop
Part of the promotion at Starpower was a big product giveaway. The MartinLogan team made it easy for everyone, including those not able to attend. By tuning in to their broadcast at Starpower, live on Facebook, those in the audience were already in the mix for this and subsequent Dynamo giveaways.
Before and after the demo, Zell and staff were on hand to answer a lot of questions from eager customers. He was having a great chat with a young couple about subwoofer choices and said, "get in the drawing, you might win one." It was great to see so many people at a well-staffed hifi event. The food was pretty good too!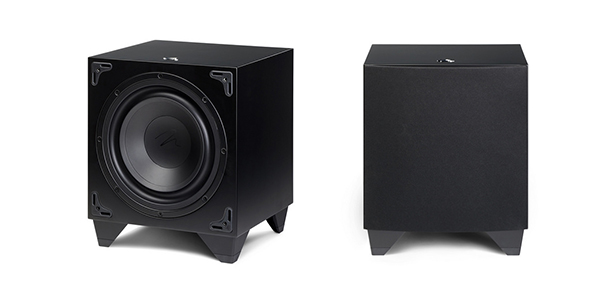 Watch for a future test drive
Thanks to a full line of ESL main speakers, MartinLogan has always made subwoofers offering dynamic, articulate bass. You have to make a punchy subwoofer to keep up with an electrostatic panel. We can't wait to get a few of these in for review to give you a full report, so stay tuned.
Whether you need new flooring, a theater room or just a subwoofer, Starpower Audio/Video truly does have everything including the kitchen sink. And what about that couple looking at subwoofers? As I saw them loading one in their trunk, Zell quipped, "yeah, they won one in the drawing, how about that?"
For more information on MartinLogan Dynamo subwoofers, please click here
For more information on Starpower Audio/Video, please click here
(and tell em we sent you…)