Onkyo's AirPlay Dock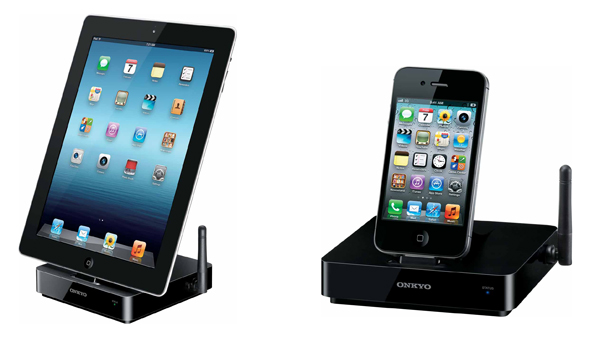 Onkyo has introduced the DS-A5 iPod/iPhone/iPad Docking station, which adds AirPlay wireless streaming capabilities to Onkyo A/V receivers and many other audio products.
The Onkyo DS-A5 allows owners of recent Onkyo A/V receivers – as well as older models lacking a USB port or an Ethernet connection – to enjoy all the benefits of AirPlay wireless streaming for iOS devices, including the new iPhone 5.  The DS-A5 includes a secure digital-to-digital docking and charging connection for most iPod, iPad, and for iPhone up to model 4S.  The DS-A5 is Wi-Fi certified and also has an Ethernet port for connection to a home network. In addition to streaming from portable iOS devices, AirPlay also enables high fidelity wireless audio streaming of audio files from iTunes-equipped personal computers.
When the device is docked, a digital audio output can be employed to deliver signals directly to a receiver's DACs for clearer, more expansive sound. Analog stereo audio outputs are also provided to provide compatibility with virtually any component that has analog stereo inputs. A composite video output on the DS-A5 makes it easier than ever to view photos and video on the big screen with room-filling cinema sound. Furthermore, the user can control playback with the supplied remote as their iOS device is recharged.
When the DS-A5 is linked to an Onkyo A/V or stereo receiver via the supplied RI (Remote Interactive) cable, the user may power up the system simply by selecting content on their iOS device, and tapping the AirPlay icon. RI has the added advantage of incorporating DS-A5 functionality into the main system remote controller.
The DS-A5 can also be used to add AirPlay capability to non-Onkyo hi-fi and AV systems, standalone DACs, etc., minus, of course, the above stated benefits of RI connectivity.
The introduction of the DS-A5 demonstrates that Onkyo is committed to providing its customers with greater levels of performance, convenience and value – whether by extending the life of a legacy product or looking to add the finishing touch to their stunning new Onkyo entertainment system.
The Onkyo DS-A5 iPod/iPhone/iPad Dock will be available in October with a suggested retail price of $199.
Watch for a full review as soon as we can get our hands on one of these!