Red Dawn Power Cord from Nordost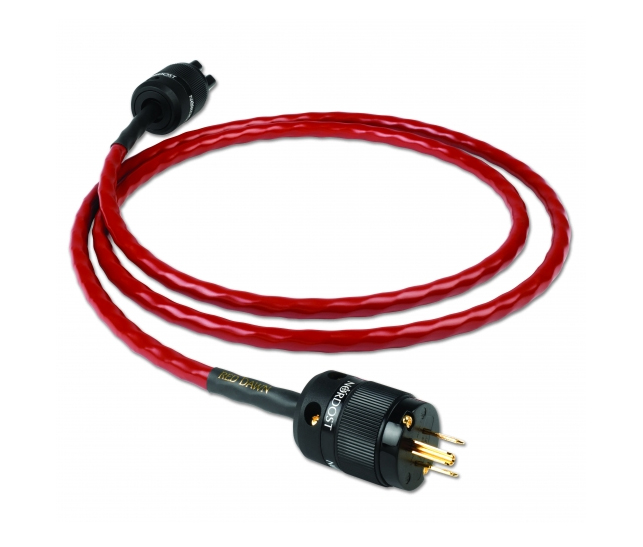 Nordost is now shipping the Red Dawn™ power cord as part of its premier line of Leif Series cables for audio and video components.
Its heavier gauge (14 AWG) stranded construction uses our proprietary Micro Mono-Filament FEP technology and has a power handling rating of 10 amps.
Nordost redefines alternating current power cable performance with the use of their Extruded FEP manufacturing techniques. By drawing a twisted FEP Mono-filament thread around the conductor in a helix pattern, insulation contact with the conductors is reduced by more than 80%. Extruded FEPinsulation is superior to all other materials in that it has very low signal loss and a high thermal efficiency- meaning it will dissipate heat very quickly. This allows greater power to be transferred more efficiently. In addition the use of precise mechanical construction improves all aspects of its performance and lowers power loss.
The Red Dawn power cord uses three Flexible, Multi-Strand 99.9999 oxygen free, copper 14 AWG conductors to ensure increased power transfer and optimum performance. Sonically, you are left with a precision that gives a real sense of three-dimensional space to the soundstage.
Each power cord is handcrafted at the Nordost factory in Holliston Massachusetts using high quality gold plated connectors. Wrapped in a red, medical grade jacket, the power cables use high-grade IEC connectors with triple gold plated Oxygen Free Copper for improved conductivity. The design of the connector eliminates stress so that heat cycling and vibration will not loosen the contact points.
The Red Dawn™ power cord is shipping now and is priced at $349.99/1 meter length (additional half meter increments are $75.00.)
For further information, or to request product to review, please contact Paul Ritchotte at 508-893-0100 or[email protected]