New F8 From First Watt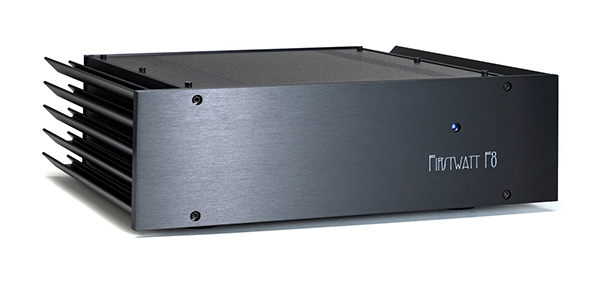 There's a new amplifier from the First Watt division of Pass Laboratories, and it looks exactly like all the other First Watt amps. However, every First Watt amplifier has different characteristics and is optimized for a different kind of speaker.
If you've ever met Nelson Pass, you know that in addition to being a creative genius, he's also got a great sense of humor and practicality. Using the same case keeps the cost down, and that's a good thing. According to the recent press release, the F8 is an improved version of their J2, the most popular amplifier in the First Watt lineup. Pass says, "I enjoy amplifiers with a little personality. They don't have to measure perfectly, they just have to sound good. This is a simple little Class A amplifier with a very nice personality and I hope you like it."
Producing 25 watts per channel into an 8-ohm load, but only 13 into 4-ohms, the F8 will not be for everyone. But like all of the other First Watt amplifiers we've experienced, those of you that will enjoy the F8, will enjoy it like no other. And you won't get this sound anywhere else. Sound like a compelling challenge? We think so.
If you've got fairly sensitive speakers that can work with a 25 watt per channel amplifier, this is a piece of audio art you won't want to miss. Mr. Pass usually makes these in limited quantities, and when they're gone, they're gone.
The F8 is available now, at a cost of $4,000