Audience Introduces Their New Auricap XO Capacitors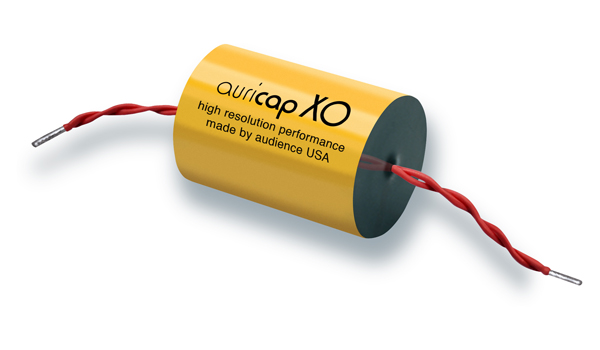 Audience announces their latest Auricap XO capacitors, premium-quality high-resolution components that are designed to provide superior sound quality.
Ideal for high-end audio components, musical instruments and professional audio equipment, Auricap XO capacitors are the result of rigorous evaluation and testing of every aspect of capacitor design.
"In creating our new Auricap XO capacitors, we reconsidered all of the factors involved in capacitor manufacturing and determined where we could make improvements to create a capacitor with greater sonic transparency," noted John McDonald, president of Audience. "When used in audio components, XO caps allow listeners to hear farther into the music, and in musical instrument applications like electric guitars, they provide greater clarity and detail and allow more of the inherent sound of the instrument to come through."
Audience Auricap XO capacitors are made using the highest quality polypropylene film available. The leads are made from Audience Auric OHNO high-purity continuous cast copper wire. Factors such as the amount of tension on the internal windings, baking times, cryogenic treatment and other proprietary procedures have all been optimized through empirical testing and listening evaluations.
These and other proprietary design elements result in a capacitor that acts capacitive to a higher frequency (for a greater effective bandwidth) and provides a lower impedance with lower losses than competitive products. The audible benefits include improved retrieval of low-level musical detail and greatly reduced sonic colorations, noise and microphonics.
More info at the Audience website:
And, stay tuned for a DIY project with the Auricap XO's.  Staff member Jerold O'Brien and our publisher will be firing up the soldering iron soon…