The Devil Music Ensemble
September 20, 2008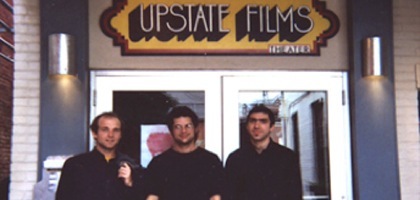 Dragged Marc Phillips and our lovely art director down to the Portland Art Museum to see the Devil Music Ensemble tonight.
In the best silent film tradition, these three guys who are all Berklee graduates have composed and perform a soundtrack while the acieent Chinese KungFu movie Red Heroine plays in the background.
Because the film is the only one left of the series remaining and was pretty badly deteriorated, there was probably only about five shades of grey in the movie! The talent of the DME carried through and was very imaginative, however by the end I was ready to call it a night.
I would definitely check them out again though, especially if they can get their hands on a bit better movie. While it was admirable that they picked this classic, I don't think the movie was up to their level of talent.
They are about half way through a 45 city tour, so if you are in the mood for the ultimate art school experience, check them out. You can get their tour information and more information about the DME here.