Stopping By ZU
May 13, 2008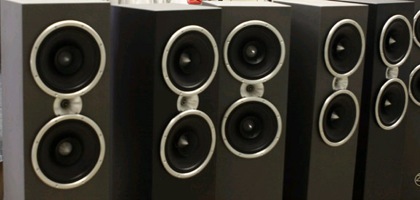 Next on the list, while in the Salt Lake City area was a trip over to the guys at ZU Audio.
While their approach is a bit different than the folks at Wilson, their passion for music and commitment to quality is just as strong.  Adam Decaria and Sean Casey were in the middle of expansion and remodling, but had enough time to give me a full tour, grab some lunch and give me a great demo of their flagship speakers, The Definition at Adam's house.  Playing through some 300B amplifiers from Melody, the sound was killer and Adam sent me home with a list of cool records that I need to pick up.
Interestingly, Zu has updated their smallest speaker named "TONE" which we will be getting shortly for review.
Sounds like fun.  Stay tuned.
For more info, go to www.zuaudio.com
They make a great line of cables too!