Sooloos project complete…
March 9, 2009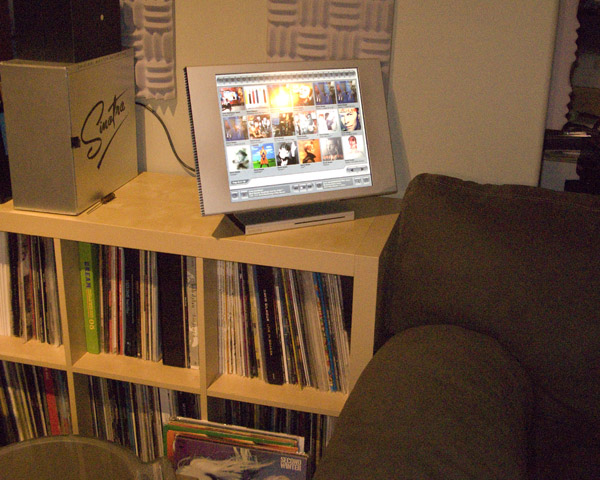 Well almost.
After a few days of wiring and moving a few things around, the Sooloos is completely hardwired into my music room.  The pair of Store 2's that hold 2TB each, are neatly tucked away in the record and CD room with plenty of ventilation.  Most of all, when you close the door, the whole thing is SILENT…
The Sooloos Control 5 now feeds to my main system via the digital input of the outstanding Wadia 781i SE (review forthcoming) and to our art directors desktop system via line level outputs on zone 2 and my desktop system via zone 3.  The Sooloos can run all three zones simultaneously and thanks to their Control PC software can be accessed from either of our Mac's via Parallels on the desktop or via iPhone to cover basic start, stop and pause functionality.
This is the most fun you can have with music with your pants on. 6500 CD's right next to the listening chair with room for about 3500 more!
If you are not familiar with the Sooloos, you can read our full review in issue 11.  Watch for our long term test report on the web soon.  If you sign up for our mailing list, you will be the first to hear about it….