Return to Forever Back on Tour
June 7, 2008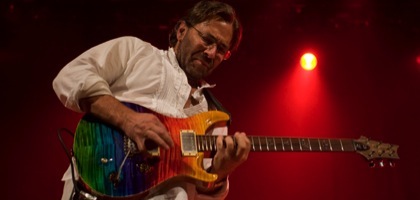 If you are a fusion fan, Return to Forever was probably at the top of your playlist in the 70's. I know it was for me. Al DiMeola, Chick Corea, Stanley Clarke and Lenny White not only redefined the genre, but after RTF disbanded, they all went on to successful solo careers.
In a move that you rarely see with older acts today, Return to Forever is back in action with all the original members. Nothing is worse than going to see one of your favorite bands from a while ago and it's only half (or even a fifth) of the guys you remembered and a bunch of new, no-name guys in their place.
This is the real deal folks and these guys haven't lost an ounce of virtuosity. Matter of fact, they are like that really expensive bottle of wine that you bought before it's proper serve date and is now perfect.
Check out the official website at www.return2forever.com to get tour dates and see a few clips of the guys rehearsing, you will see what I mean. You rarely get to see four jazz greats at the top of their game on the same stage. This is as good as it gets!