New Elbow Album
May 6, 2008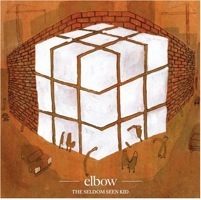 I bought the new Elbow album, The Seldom Seen Kid, a couple of days ago, but I didn't get a review done in time for Issue 15.  Needless to say, I'm really hooked on this album.  Elbow is one of those bands that releases an album every 3 or 4 years, enough time to almost forget they exist.  And then when a new album does arrive, you get excited about them all over again.
Elbow has always offered a lush, melancholy and HUGE sound, as if Peter Gabriel had replaced Chris Martin in Coldplay, and the band took a few 'Ludes while waiting for him to warm up.  With Kid, in fact, it's harder to pin down what Elbow the band is about, since many of the songs are jam-packed with serene synthesizers and full orchestral arrangements rather than guitars and drums and the like.  More than ever, Elbow IS lead singer Guy Garvey, who does sound like a younger an even sadder Peter Gabriel.  That's one of the mesmerizing things about Kid…all of the barely-contained heartbreak that seems to be simmering just below the surface.
In other words, this isn't happy music.  But it can be sly and witty, especially with cabaret-like piano playing that drives "An Audience With the Pope" or the Yma Sumac-inspired "The Fix," which features the vocals of Richard Hawley of Pulp.  I'm still crawling inside this album a bit and exploring, but it's already become one of my favorite albums in what's turning out to be a very promising year in alternative music.
-MP