Discover Mutlu
May 7, 2008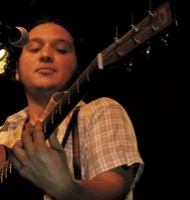 After waiting for the doors to open at the Aladdin Theater for 5 hours, (yep, I was FIRST in line) I got the pleasure of seeing Mutlu, the opening act for Joe Jackson.  Think a big dose of originality along with a few parts Hall and Oates (Abandoned Luncheonette period), and perhaps a bit of early James Taylor as well.
But make no mistake Mutlu has his own sound.
A great singer-songwriter in the Philly tradition, he played a short acoustic set and announced that his new CD would be out in June.
I invite you to peruse his website at: www.mutlusounds.com
This guy is awesome!
-JD