Estelon Speakers have arrived – update!
October 26, 2010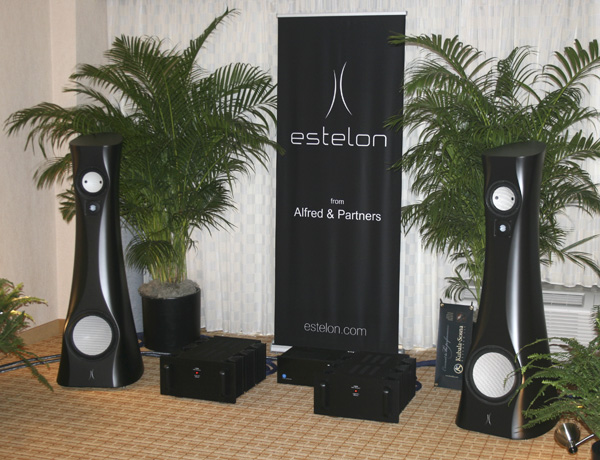 While there were a lot of familiar faces at this year's Rocky Mountain Audio Fest, these gorgeous matte black speakers from Estelon took me by surprise. Haven't heard of them? Don't feel bad, no one has, but company founder Alfred Vassilkov has been the brain trust behind numerous other loudspeaker and crossover designs in Europe for over 25 years. Now he brings this wealth of knowledge to a fresh design of his own.
As you can see from the shape, this is definitely a new twist on speaker design. A scientist, first and foremost, Vassilkov has addressed many of the issues that have plagued past designs and has even started with a proprietary crushed marble based composite material for the enclosures you see here.
And the sound? We'll know more next week when Alfred arrives to fine tune the speakers in my listening room, but he was getting great sound at the show, and that's no small feat. In the relatively small rooms of the RMAF, partnered with Lamm gear, Kubala-Sosna cable and Running Springs power conditioning, their setup had a very open feel, with plenty of weight on the bottom and a clarity that I've never heard with ceramic drivers before.
So stay tuned, there will be a full review in the December 23 issue of TONEAudio…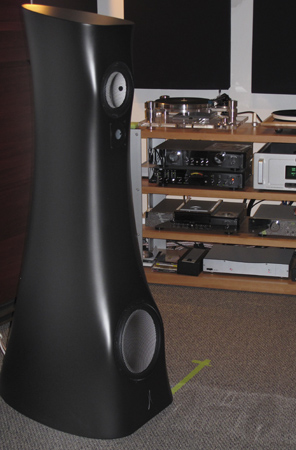 UPDATE: Nov. 31
While everyone else in the neighborhood was out hunting for Halloween candy, I had a treat of my own. Alfred and Bill from Estelon were here optimizing speaker placement here in our studio. I'll buy my own chocolate bars. The hard work paid off; after removing a bit of room treatments, and some careful positioning the speakers disappear in the room perfectly. Now that they have been playing continuously for the last five days all is well. I look forward to spending the next two months listening intently.