Eastwind Imports now featuring vinyl!
April 14, 2009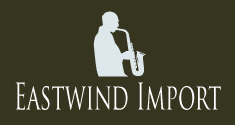 If you are a jazz lover and haven't heard of Eastwind Imports, that's reason number one to head over to their website.  The proprietor Hajime Sato is one of the friendliest guys in the business and he specializes in nearly impossible to find Japanese import CD's that were originally recorded in Japan.  We've reviewed a few of their discs over the last year and every one I've had the pleasure to listen to has been of exquisite quality.
Reason number two to zip over to Eastwind Imports, they are now starting to carry LP's!  When Hajime first opened his shop, I asked him if he would be carrying vinyl and he told me, "as my business improves, I will do my best to stock some vinyl; I love it!"
Keep your eyes on our music reviews, as we have about ten new titles from Eastwind that we will review shortly.  In the meantime, head over to Eastwind Imports and grab a few LP's!