Could this be the future of the SL-1200?
April 20, 2009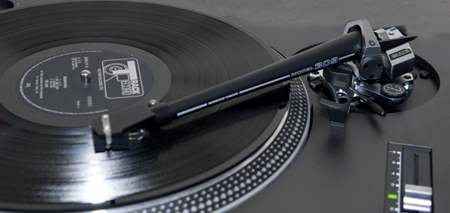 Well, we've been bashing it on and off for years, but I've got a feeling that we are on to something good after all.
The kind folks at Sound HiFi in the UK (www.soundhifi.com) have sent us their power supply upgrade and adaptor plate to mount an SME tonearm to the workhorse SL-1200.  I've always felt the arm (and its dreadfully dark wiring) was the weak link in this table, combined with the relatively primitive power supply.  The Sound HiFi mods promise to fix this, and from looking at the goodies in the box, I'm confident.  The armboard is a work of beauty!
Most importantly, the directions for installing the power supply upgrade are concise, well photographed and in color!  Impressive.
Proprietor Dave Cawley is a cool cat that did not make outlandish claims either.  When we spoke, he said, "Look, it's not a world beater, but I think you will find the Technics deck with the SME arm very interesting.  I made the first one for a customer that had an older SME arm.  I had no idea he would mount a current 309 on the 1200, but it works very well."
Stay tuned and we'll keep you posted. (Photo courtesy of Sound HiFi)