CEDIA 2009: Burmester steals the show!
September 14, 2009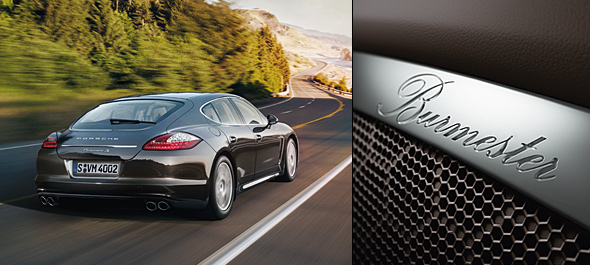 As always, there was a lot of excitement to be found at the 2009 CEDIA expo in Atlanta.
Even though CEDIA is considered by most to be an AV and multichannel show, the 2
channel vendors were out in full force. But the most exciting thing I experienced at the
show was the Burmester audio system for the new Porsche Panamera.
The Burmester sound system has to be the audio bargain of the 21st century.
Burmester had a gorgeous blue metallic test sample of the Panamera on hand for everyone
to sample and it was effortless, no matter what music was being played. With a total system
output of 1000 watts, you can rock to your hearts content in the Panamera.
The system is a $5,690 upgrade in the standard and 4S model Panamera and only
a $3,990 upgrade in the Turbo model.
We also had the opportunity for a second helping of the Panamera later Friday evening
at Audio, Automation & Theater, in Atlanta. In collaboration with Porsche Cars North
America and Burmester, they brought another test car to their event (along with a few other
choice cars from their fleet) for their customers to audition. This is a dealer that knows
how to do it right, so watch for a feature on AA&T in our December issue.
Burmester has promised a test car, so that we can have a full review as soon as the Panamera
becomes available, but if you are in the process of ordering one, the Burmester system
is a MUST. As much as I love the sound of a Porsche engine revving through it's range, this
mobile stereo system could easily make me forget about the engine!
Now you can take the enjoyment of your Burmester system on the road. Here's to Burmester's
success and my hopes that they will soon engineer a system for the 911 and Boxster!