And Just When You Couldn't Get More Beatles…
September 8, 2009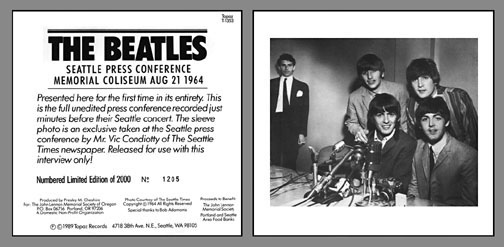 Picked up my Beatles' Mono box tonight as my local record shop was closing and as part of the deal, got one of the rare 7″ singles of their Seattle interview in 1964.
While poorly recorded, it's a fun look back into the history of the Fab Four. The interview is typical Beatles, with the press asking stupid questions, "do you ever get tired of performing?", "are you disappointed with the low concert turnout here in Seattle?", etc, etc.
But the guys handle it with typical aplomb, and make fun of the interviewers in such great form, that they don't even know they are being messed with. If you can find one of these, it's definitely worth a spin.