AudioVision SF: Join Us!
April 27, 2011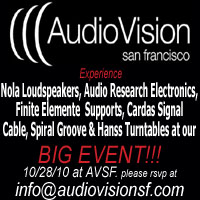 If you are in the San Francisco area, join us tomorrow, Thursday evening (April 28) at AudioVision San Francisco.
They will be hosting their 4th installment of their "Fiscally Sound Event," which will be featuring two moderately priced systems with gear from Simaudio Moon, Triangle Loudspeakers and Nordost, to name a few.  The event takes place from 7:30 – 9:30 and refreshments will be served.  Of course, they've got a few surprise goodies to hand out and manufacturers reps will be on hand to answer your questions.  I'll be there to chat with the crowd and talk to you about all things audio too, so if you're nearby, stop on in!