140 decibels and D-Cups galore
August 10, 2008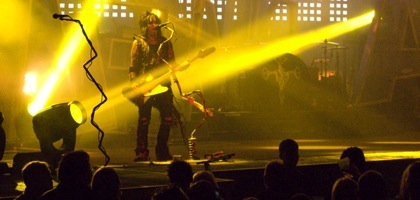 Where else do you get maximum rock and roll combined with mostly naked women?
At CrueFest, of course.
Trapt, Sixx-AM, Papa Roach and Buckcherry got the party started for the legendary glam rockers, but when Motley Crue hit the stage, the fireworks went off and the sound level went up dramatically.
A good time was had by all. The Crue rocked the house, playing a good combination of their hits mixed in with most of the tunes from their newest album Saints Of Los Angeles. And it just wouldn't be a Crue concert without Tommy Lee getting out the boob cam. Cool as this is in theory, I get the feeling that this plays a lot better in Los Angeles. Not that the Portland crowd was any less willing to take their top off for Tommy, it wasn't necessarily in the best interest for many of them.
But hey, that's rock and roll.