Viola Labs Bravo Power Amplifier
Bravo Indeed! Viola's Double-Box Delight
By Jeff Dorgay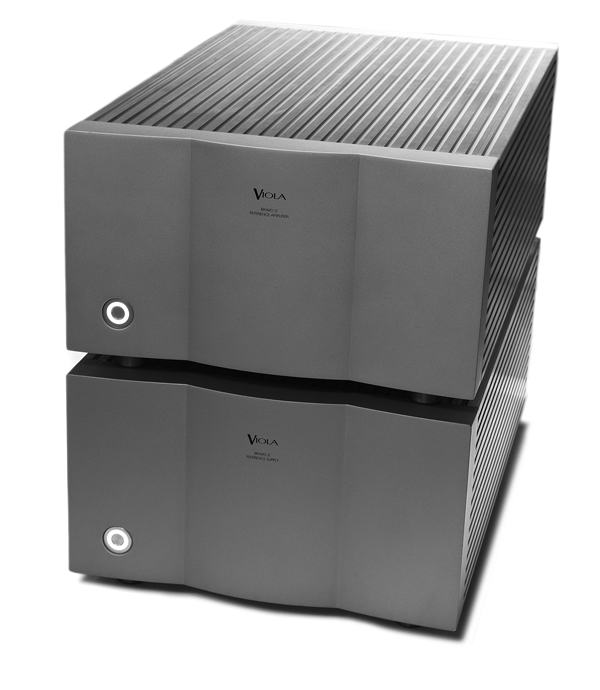 As I tear through some of my favorite reference tracks, I'm not only taken by the Viola Bravo stereo power amplifier, which I've heard sound fantastic at a number of recent hi-fi shows, but I'm also amazed at how much it shares with the best solid-state amplifiers I've heard, particularly the big Boulders.  We have here a new contender for the top of the mountain, complete with glowing green power indicators.
Rather than opt for a monoblock design, Viola takes a different tack by going with a dual-chassis configuration.  One of the boxes holds the majority of the power supply, including a 2-kV power transformer, and the other contains the amplification circuitry, with strategically placed 80,000-uF capacitors located near the output-stage nodes to keep power close at hand.  This setup works brilliantly; the Bravo produces a fast, clean sound, without sounding harsh or grainy.
This approach also makes for a sound not unlike that provided by a pair of monoblocks: a huge soundstage combined with amazing stereo imaging and precise placement.  As Prince walks between the channels on "Shy," the speakers momentarily melt as the volume of the guitars gently increases and the other instruments join in.  This is a special amplifier indeed.
Viola Labs' principals Paul Jayson and Tom Colangelo spent part of their early careers at Levinson, and the Bravo definitely has the trademark solid bass response of the best Levinson designs of yore, but with a much more palpable midrange and even more natural highs.  The bass line in the title track of George Michael's Older goes straight to the gut, controlling my KEF Blades as few amplifiers in recent memory have.  Only the massive Pass monos have more grip in my system, but it's really a close call.  Viola claims that the Bravo needs a 25-amp line to deliver the absolute maximum power, but we only have dedicated 20-amp circuits here, so we'll take them on faith.  It is worth noting that the Bravo never feels strained in the least, even on a dedicated 20-amp line.
Put On Your Kidney Belt
With the power supply weighing in at about 125 pounds and the amplifier weighing about 90 pounds, you'll need a friend to help you unpack and place these fairly large enclosures (17 inches wide by 9.6 inched high by 26 inches deep).  The duo also tips the price scale at $58,000, so if you are paying in small coins, you'll need strong biceps there, as well.
These tidy enclosures eschew exposed heat sinks in favor of fan-cooled operation, with a massive umbilical cord joining the two boxes.  These two elements are the only shortcomings of the design.  The umbilical cord, which is connected via spade links on each box, can present a problem, especially if you're among the 8 percent of people with some form of color blindness.  Either way, attach the umbilical carefully, one wire at a time, to avoid a loud (and costly) boom at turn on.  As far as the fan goes, it's not completely silent.  Those living on a steady diet of rock, jazz and hip-hop (like yours truly) will never notice it, but if your taste turns more towards string quartets at low volume, the fan will be invasive.  The Bravo's fan is not as quiet as the one in my ARC REF 150, so I'd say it could use some improvement.
The Bravo delivers 350 watts per channel into 8 ohms.  If that's not enough juice for you, the power easily doubles as the load is halved, thanks to the Bravo's true-voltage-source design.  Taking things a step further, the amp's fully balanced design allows it to be configured in bridged or parallel mode for higher power.  The bridged mode is better for situations requiring higher voltage output (i.e. higher impedance speakers), while the parallel mode is better for speakers with higher current demands.  You can even link four pairs of amplifiers together to get 3,600 watts per channel into one ohm!  Viola certainly gets big points for being infinitely flexible with this amp's configuration options.
Because it is a fully balanced amplifier, the Bravo offers only XLR inputs, which do not present a problem for the reference preamplifiers at my disposal from Simaudio, Nagra, Burmester, Robert Koda and Audio Research.  Whether running through a short length of Cardas Clear cables or a 20-foot pair, the Bravo works flawlessly.
The manual could use some photos to better describe the differences in operation, but it is well written.  One would think that paying almost 60 large for the amp would warrant a little more thought in this area (à la Sonus faber), but Viola is no more guilty on this front than most.  However, a well-written and well-illustrated manual is an essential part of the ownership experience at this level.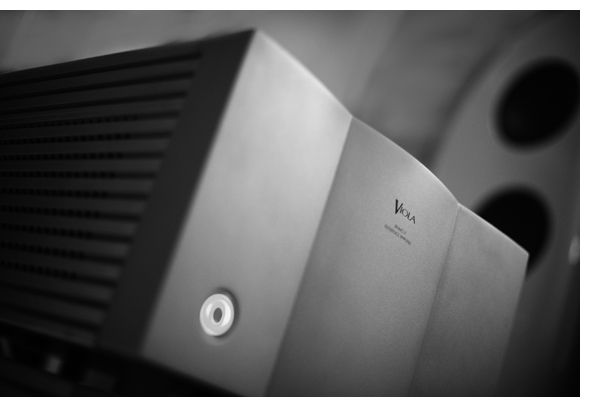 Nits Aside
You'll forget about these minor points the minute you begin listening.  And while you'll forget about the 40 matched output devices, you won't be able to lose track of the control this amplifier brings to bear on your favorite music.  From the first track, you can tell this one is very special.  Where my Pass Xs amplifiers take on an almost tubey sound, the Bravo is extremely neutral, with no detectable sonic signature.  It is part of a miniscule subset of solid-state power amplifiers having no character, no grain and no coloration whatsoever.
All of the large speakers at my disposal (GamuT S9, Dynaudio Evidence Platinum, KEF Blade, and Sonus faber Aida) are phenomenal matches for the Bravo, and thanks to its highly resolving nature, it easily showcases the differences in character between said speakers—making it a true reference-quality component.  The S9s and the Aidas in particular both have potent low-frequency reach and they both play to the Bravo's strong points of extension and control.
A quick trip down memory lane to Pink Floyd's Dark Side of the Moon and Wish You Were Here proves highly illuminating.  The heartbeat at the beginning of DSOM bores into my soul at high volume; the elevator at the beginning of "Wish You Were Here" is equally overwhelming as it blasts across the soundstage, reminding me just how great these recordings still sound, even after all these years.  I had an equally fun experience listening to the Bravo in January at the Consumer Electronics Show, when Genesis speaker designer Gary Koh was playing Infected Mushroom at discotheque levels.  Awesome!
We can go on and on about the complete lack of background noise present with the Bravo, but that's selling it short.  What you really notice instantly is the tremendous dynamic swing that it is capable of producing.  Several major Music Matters Blue Note listening sessions keep me coming back for more.  The explosive nature of these records, not held back in the least by the Bravo, makes drums, percussion and horn blasts all the more exciting and all the more real.  I'll even go as far as to say that it sounds better than when I was listening to a few of these albums via the master tape at Kevin Gray's studio.
This astonishing level of dynamic clarity is even more persuasive with music that is limited in this area.  Records that you thought were somewhat limited (like the recent Slayer box set) still are, but with this much range at your disposal, they do come more alive than ever before.  And thanks to the Bravo's effortless delivery of high power, you can really blast these tracks without fatigue.
Of course, lovers of big orchestral music will be in heaven playing their favorite large-scale masterpieces through the Bravo.  Make sure your speakers are capable, though!  While it is not an audiophile classic by any means, the Chicago Symphony Orchestra's rendition of Pictures at an Exhibition on DG is still a fun test track, with the end of the first movement coming to a major crescendo that almost always has the extreme dynamic peaks compromised.  Here, the Bravo sails through effortlessly.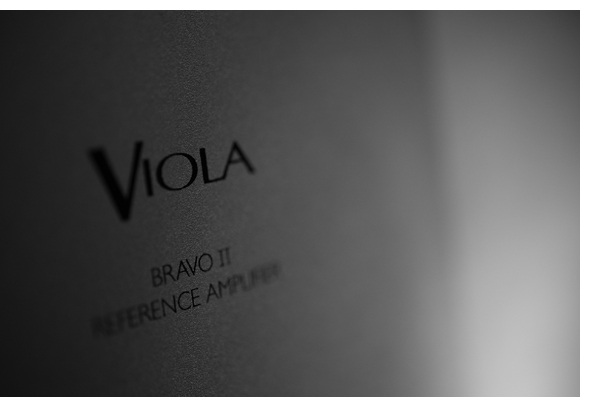 All About Power
Again, thanks to the amp's complete lack of grain, the level of timbral accuracy that the Bravo provides is incredible; yet, its ability to resolve the minutest details gives the last bit of realism to recorded music, doing so in a way that few amplifiers can match.  I firmly believe that this is what allows your brain to stop thinking about the gear, the system and the presentation, and just get further into the music and the performance.
Whether listening to Van Halen or Vivaldi through the Bravo, I never find myself entering the analytical reviewer mode.  This is something only the world's finest components can do, and it is a rare treat.
Having spent a lot of time with great amplifiers large and small, I still prefer large—just as I'd rather drive a car with massive horsepower than one without.  Big power done right tends to eliminate many of the shortcomings of various speakers, because of the control it provides.
It's also worth mentioning that the Bravo is one of very few amplifiers we've tested that does not respond to any kind of power-line conditioning whatsoever.  Its massive choke-based supply has a power-factor correction of .96 (very close to the ideal PF of 1), providing plenty of current on musical peaks.  Connecting the amp to a dedicated 20-amp line is more than sufficient, and adding the Running Springs Maxim line conditioner or IsoTek Super Titan offers no improvement—a major testament to the Bravo's power-supply design.
Top of the Heap
The Viola Labs Bravo power amplifier is, in every way, one of the finest we've had the opportunity to audition; it is definitely a destination product.  If your mindset is in sync with the Viola design ethos of the amplification being dead neutral, neither adding nor subtracting anything, this is a droid you should audition.  Build quality is equally superb and the amp carries a prestigious design pedigree, brought to life by two of high-end audios most respected men.  Just get a good workout in before you unbox it!
Viola Labs Bravo Power Amplifier
MSRP:  $58,000
Peripherals
| | |
| --- | --- |
| Analog Source | AVID Acutus Reference SP turntable     TriPlanar tonearm    Lyra Atlas cartridge |
| Phono Preamplifier | Indigo Qualia |
| Digital Source | dCS Vivaldi stack |
| Preamplifiers | Audio Research REF 5SE    Burmester 011    Robert Koda K-10    Nagra Jazz    Simaudio 850P |
| Speakers | Dynaudio Evidence Platinum    GamuT S9    KEF Blade    Sonus faber Aida |