The Vitus Audio SIA-25 Integrated
The 25 Biggest Watts of All
By Jeff Dorgay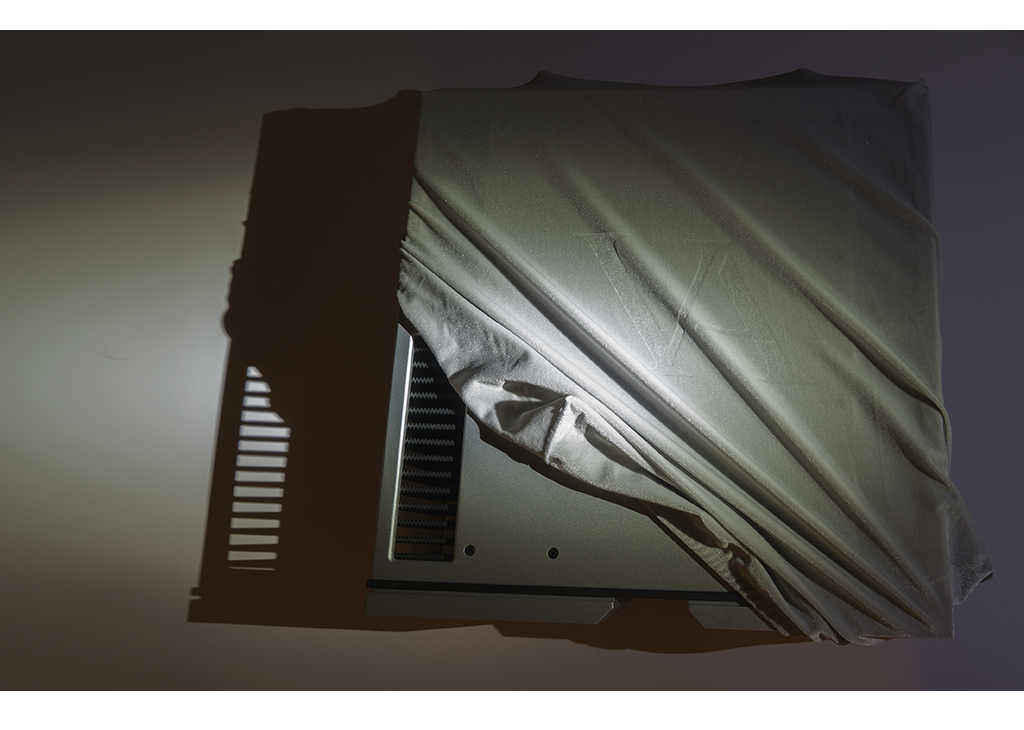 Listening to John Hiatt's Little Village collaboration, the delicacy presented is otherworldly good. The bass line in "Inside Job" is tight, controlled, defined and powerful. The treble range is equally scrumptious and the mids glorious. One might think a much more powerful set of monoblock amplifiers were at work, but it's the compact (yet heavy) Vitus Audio SIA-25 integrated amplifier. Some might even think there were some vacuum tubes somewhere, but I assure you, there are not. This is a solid-state amplifier that transcends its topology.
Driving the Sonus faber Stradiveris which have a sensitivity of 92db/1 Watt, the SIA-25 offers up enough power to play as loud as I need to listen to music. If you have speakers in the 88db/1 Watt and up category, I suspect this amplifier will be enough for you as well. Should you be in the market for an extremely resolving audio system with a minimal box compliment, this amplifier delivers a level of refinement you'd expect to pay six-figures for. If you have power hungry speakers, a huge room, and you really like to listen loud, you'll need a full stack of Vitus components to achieve that goal.
Yet in a medium-ish room, with somewhat efficient speakers, at realistic levels, the SIA-25 does not disappoint. It's always worth mentioning the difference between the $75k-$100k system person and the $350k-$500k system person. Most of the people I've met over the years in the former category (feel free to adjust this up or down for inflation and whatever decade you like) crave the same level of performance as the latter, they just have to watch their bitcoins a little more. No shame in that. Rolex sells a lot of $4,000 Tudor watches to enthusiasts that would love a $28,000 Yacht-Master. It's all good.
Hundreds of hours later, the affection for the SIA-25 only grows stronger. For those not familiar with Vitus Audio, the "signature" series (of which the SIA-25 is the smallest amplifier) is actually the middle of their product lineup. The Masterpiece series is bigger, heavier, more powerful and even more refined. And more expensive. If you can get by with this much power, you might even call the SIA-25 a "sweet spot" in the lineup.
The SIA-25 is a very understated amplifier, with a front panel power switch, and a symmetrical panel layout featuring six push buttons, controlling input functions and volume. This can also be controlled by a Vitus supplied remote, which we didn't have on hand for the review. I've used Vitus remotes in the past and they are excellent. As a friend of mine from the UK likes to say, "You Yanks all need some extra steps."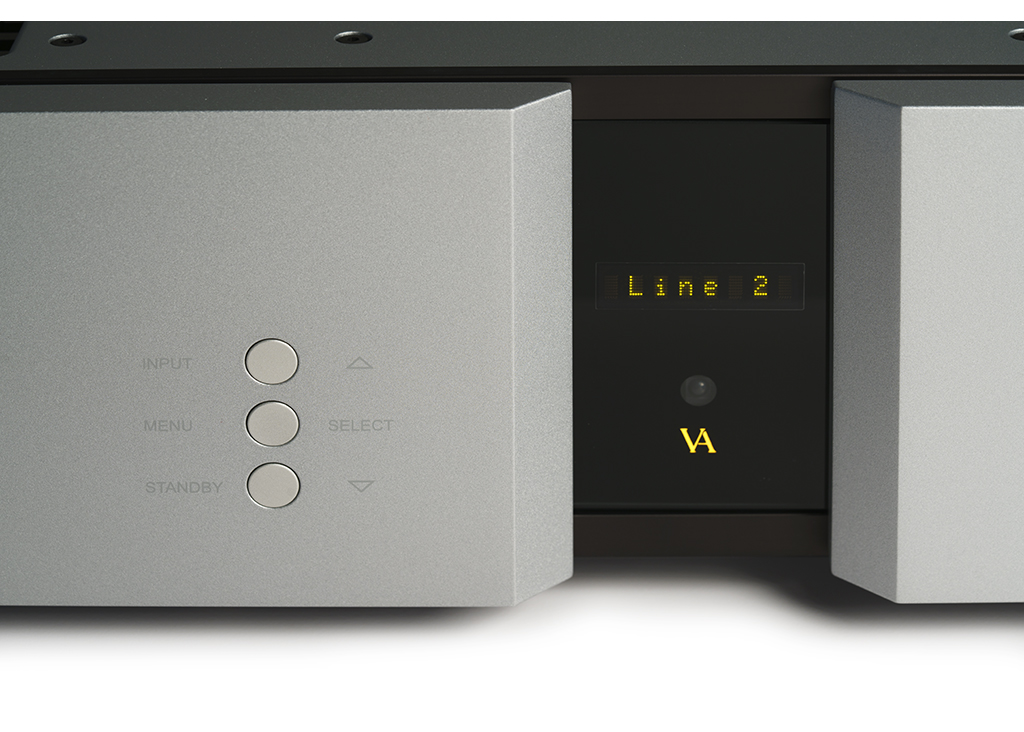 I was not the least bit inconvenienced by NOT having the remote. The SIA-25, like all Vitus products is finished to such a high quality level, you might just want to do the same. Walk up and touch it, stare at it. Our review sample was in the standard silver, but Vitus does offer some cool colors as an option – perhaps you've seen their orange amplifiers over the last couple years at hifi shows (or pictures of hifi shows…). Regardless of the color you choose, you'll notice the level of quality in the final finish and anodizing.
Around back, there are single-ended RCA and balanced XLR inputs. All of our listening used the dCS Vivaldi ONE digital player and the Pass Labs XS Phono, both balanced. Cardas Clear Beyond interconnects along with Cardas Clear speaker cables and Cardas Clear power cords took care of the rest. Even though the SIA-25 only draws about 200 watts, it was given a dedicated 20A AC line for power – as we do with every power amplifier we evaluate.
From the beginning
Many years ago a pair of 25-Watt, Class-A monoblock amplifiers from Mark Levinson convinced me that a well-designed amplifier with a massive power supply could provide a more involving, more musical experience than many amplifiers claiming to produce a lot more power. Current delivery and headroom mean a lot when we're talking about the dynamic, ever changing musical signal.
Confessing my bias, if we're talking solid-state amplifiers, class A power amplifiers are still the ones I find most engaging, because of the natural, nearly tube-like presentation (with none of the drawbacks) they offer. The very first time I heard the Vitus SIA-25 it was as much of an a-ha moment, driving a pair of Peak Consult speakers at the Rocky Mountain Audio Fest years ago. Some experiences you never forget.
Today, the SIA-25 still impresses. If you are someone that wants to brag to your audiophile friends about your zillion watt per channel amplifier, this is not going to be your amplifier. Yet, if you want something wonderfully musical and aren't going to freak out over spending $26,400 on a 25-Watt per channel amplifier, party on. But don't play catch with it.
First, the SIA-25 weighs more than a lot of hundred-something watt per channel amplifiers, at nearly 85 pounds. Inside the meticulously crafted billet aluminum chassis lurks an incredibly densely packed circuit flanked by a massive power supply – the heart of all big amplifiers. It is a fully balanced amplifier circuit. While I did not remove the top panel, I've seen enough pictures of the SIA-25, and have visited the Vitus factory to watch these amplifiers be built. This is not an amplifier made of fancy casework full of air. It is densely packed to be sure.
Forget all the above and listen
What matters most about the SIA-25 is how beautiful it sounds. Tracks that I'm infinitely familiar with come to life using the SIA-25 as a conduit, in a way few amplifiers at any price do. In my perfect world, as the price on gear goes up, more music is revealed. It's that easy. Vitus amplification always passes this test.
Even doing a loose comparison with a few favorites on hand from Luxman, Pass, and Boulder integrateds (all in the $8k – $14k range), the Vitus amplifier still renders the music through a lens that is more resolving.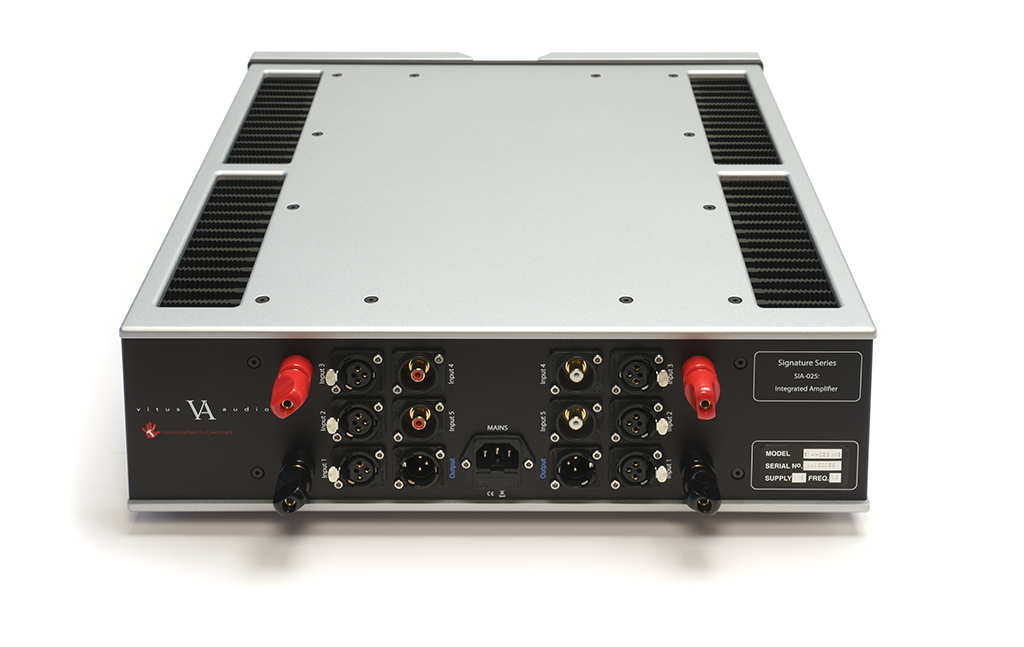 Granted, the Class-A design of the Vitus amplifier is ever so slightly on the warm side of the tonal scale, it is not quite as saturated as the Luxman or Pass, but more so than the Boulder, if that makes sense. The last bit of voicing will depend on your sources, cables, and speakers. What really stands out with the Vitus (and what makes it worth the higher pricetag) is this level of fluidity, and lack of electronic artifacts present when listening to any kind of music. You don't realize how awesome a set of Michelin Pilot Cup 2s are until you drive the same car with regular Pilot Sports. Or even the difference between a budget cashmere sweater and a bespoke one.
Vocals have more tonal variation, gradation and texture. Dynamics are greater, and without overhang on leading or trailing transients. Play any tune you like, but if you have a favorite jazz album with some great drumming, listen to the way the cymbals fade into complete nothingness. Listen to your favorite guitarist play an acoustic guitar, observing the sound of their fingers sliding up the fretboard and all the artifacts that go along with that. Ditto for a great vocalist or vocal solo. Now you hear even more breathy stuff and more vocal gymnastics than before.
If you can, try some tracks that you've played hundreds of times. The more you listen, the more you'll hear. It may be old, but I always go back to the title track from Michael Hedges Aerial Boundaries (if you have this on vinyl, even better) or Al DiMeola's Friday Night in San Francisco. There are plenty of great others, yet these are burned into my memory, not only because I've used them to evaluate so many components, I've heard them both live more than once.
Another area the SIA-25 really excels in in its ability to render size and scale. Some amplifiers just sound big, others just sound small. Not all amplifiers have the ability to expand and contract with the source fed. I consider this another aspect of resolution. If you love chamber music, listen to selections that feature violin and viola together. On lesser quality playback gear, a string quartet just sounds like four of the same stringed instruments. I really enjoy Luigi Gatti's Six Sonatas for Violin and Viola, to illustrate this. The viola, being about 20% larger than a violin and plays a bit lower, and more mellow than a violin, so this is a great test of resolution and behavior on the top end of the frequency scale.
Even if your taste in music falls to the completely electronic, I suspect you'll get excited (or really freak out) about when the SIA-25 is in your system. First, the level of bass extension and control is incredible, and feels like a much larger amplifier. Jean-Michel Jarre's Zoolook is usually the go to here, but his latest release, Amazonia, serves up a massive soundscape, full of guttural sounds, deep bass tracks, and plenty of signature Jarre tinkly bits all over the room. While none of this music has a "real" component to it, there is again a degree of liveliness that mega components bring to this kind of music. Again, the SIA-25 aces the test.
All of these aspects together – dynamics, resolution, tonal scale, and tonal saturation are what combine to feel like you are listening to real music and not a reproduction. Few components are capable of this level of excitement on the level that the SIA-25 is.
What else can I tell you?
To recap, the Vitus SIA-25 looks fantastic, and sounds even better. It's level of visual, mechanical, and audible refinement are at the top of what you can expect from the world's finest gear.
The only questions to answer is whether you want an integrated solution, and does this amplifier have enough power to suit your needs.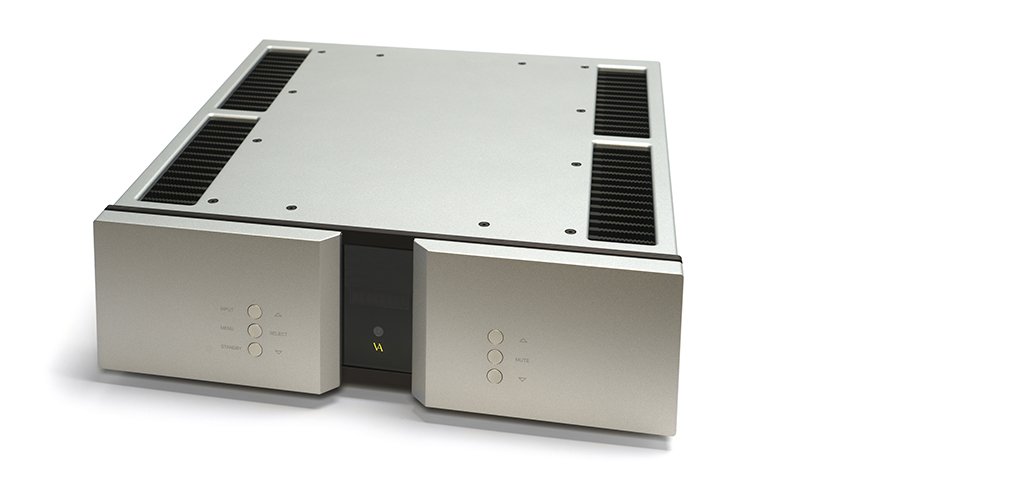 The Vitus SIA-25
www.vitusaudio.com (mfr)
www.highendbyoz.com (NA distributor)
Peripherals
Analog Source AVID Volvere SP/SME 309/Lyra Etna, Rega P10/Apheta
Phono Preamp Pass XS Phono
Speakers Sonus faber Stradivari, Fink Team Kim, Dynaudio Contour 20
Cables Cardas Clear, Cardas Clear Ultra