The McIntosh MAC7200 Receiver
99.99% Perfect
By Jeff Dorgay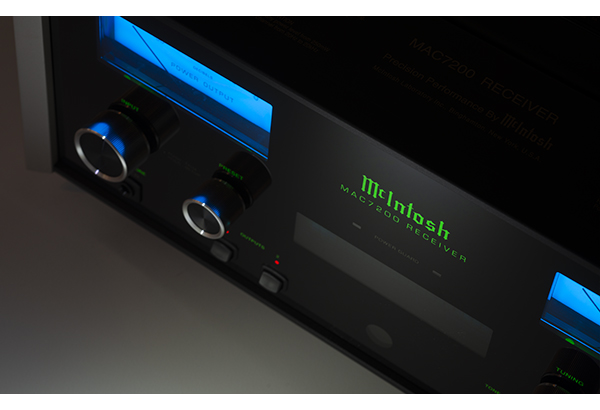 In today's world, and its accelerated pace, so few things are constant anymore. For this audio enthusiast, there is something soothing, about the big, blue meters that adorn nearly every component from McIntosh Laboratory, Inc.
They are an assurance of a number of things: quality – made in America quality, by a group of great people that have been doing this for decades. If you're 40 or older, chances are some of these people made your parents McIntosh. If you're my age, chances are some of these people made your Grandparent's McIntosh. That's longevity.
This generational thing with McIntosh also perpetuates a consistency in sound and aesthetic. The Mac you buy today will fit right in with the Mac gear you already own and work well, whether just recently purchased, or decades old. Finally, the sound. McIntosh has always stood for great sound, and over the years, their engineering team continues to refine their products for better sound and even better reliability. Other than a few exceptional legacy products (the MC30s immediately come to mind) today's Mac sounds better than ever.
Our younger readers may remember their parents having a receiver. That ubiquitous audio box that did everything, handling all the formats back then; a turntable, a tape deck (or two) and a glorious FM tuning dial. Keeping with ongoing march of progress, McIntosh has replaced the tuning dial on their receivers of years past with a pair of those big, blue, awesome meters, adding a digital to analog converter that handles everything up to DSD 256.
They've also added a moving coil phono section to the phono stage, with its own separate input, so that you can actually run two turntables with your MAC7200 if you're so inclined, along with an FM tuner for those of you that still have decent radio stations. And the MAC7200s built in tuner sounds lovely, just like vintage tuners from Mac's past.
Is there anything the MAC7200 doesn't do?
Not really, and now, it's even a Roon tested device, so you can use it in the Roon streaming environment.
Where the MAC7200 shines, is it's engaging, but ever so slightly relaxed tonal rendition. The MAC7200 has more than enough audiophile cred, yet those craving the last molecules of fine detail will probably go elsewhere. That's not the point, and that's never been the McIntosh ethos. What really makes the MAC7200 standout is the magic it brings to every recording you own. And for the other 99.99% of us that aren't fussy audiophiles, this is what it's all about.
Plenty of power
200 watts per channel assures you can drive anything with the MAC7200. This was the stuff of dreams back in the 70s when the war of the massive receivers reached its peak. Just to make sure I wasn't just an old guy reminiscing, I managed to borrow a perfect vintage Pioneer SX-1980 (rated at 270 watts per channel) from a collector for an impromptu shootout. While the Mac did not have the tuning dial and tuning meters, it blew the vintage receiver out of the water in every way imaginable.
For those wondering why we might make this comparison, vintage Japanese receivers like the SX-1980 and the Marantz 2325 are starting to pass the $5,000 – $10,000 mark these days and they are 40 years old. Unless you absolutely have to have that cool 70s receiver, the $7,500 MAC7200 is a killer value and has a five-year warranty. Considering McIntosh's reputation for build quality, and the fact that they still repair 40 – year old components at the factory, this is a major bargain. Not to mention, you'll be able to hand the MAC7200 down to your kids in a couple of decades.
Utilizing the Autoformer technology that McIntosh has hung their hat on forever, the MAC7200 can drive even two-ohm speaker loads with ease. The output transformer keeps a constant load on the output stage, and the amplifier within comfortable parameters at all times. The result – consistent sound and better durability long term.
Most speakers will work well with the 4 or 8 ohm tap. We found the recent Sonus faber Guareris achieved optimum power transfer with the 4-ohm tap, while the Focal Sopra no.3s and Graham LS5/9s gave their best performance with the 8-ohm tap. Magnepan fans are going to appreciate that 2-ohm tap, making these speakers a lot easier to drive. Again, the MAC7200 offers crazy versatility.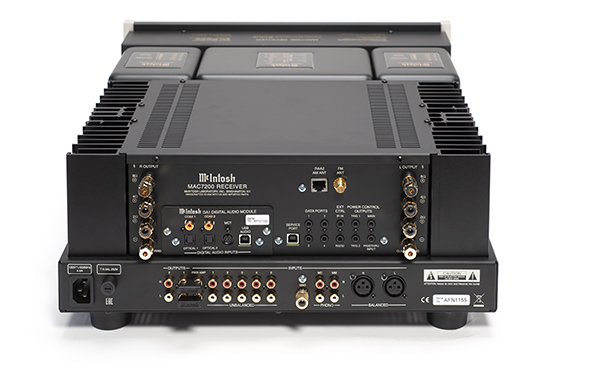 Digital diversity, and no static at all
In addition to the plethora of digital inputs, the MAC7200 also features their proprietary MCT input, so those owning one of their current transports can hear their SACDs in full glory. Rather than converting to PCM, the direct DSD bitstream comes through. We didn't have one of these for our review, but a few readers that own both pieces have reported it's a pretty sweet combination.
Here in Portland we still have a few radio stations with decent programming and sound quality. If you are equally blessed, you're going to appreciate the FM tuner section. Moving through the stations brings back great memories. Taking into account what a vintage Mac tuner hails these days, again you can have an entire system, that won't need a refurb.
Should you need it, the MAC7200 even receives AM signals. Curiosity got the best of me, since I haven't listened to AM in decades, going back to WOKY in Milwaukee, Wisconsin as a kid. The pickings are sparse these days (at least in Portland) but again, the fidelity is exceptional, considering the limited bandwidth and frequency response the AM band allows.
Lacking the multiple band graphic equalizer of a few of the McIntosh preamplifiers, the bass and treble controls offered on the MAC7200 are still more than welcome, with recordings new and old. Some recordings just sound flat, and if you can get out of the audiophile box, it's amazing what goosing the bass or treble a touch does for your listening session. Again, McIntosh is the master of flexibility.
Satisfies your inner DJ
Whether you have a turntable with two tonearms, or are rocking a pair of Technics 1200s, the ability to connect more than one table is a major bonus for hard core vinyl lovers. Having the new Technics SL1200G (with Ortofon Cadenza Bronze MC mounted) and a 1200GR sporting a classic Shure M44, I was able to put the MAC7200s phonostage through all of its paces.
The phono section in the MAC7200 is top notch, which led to stepping up the phono game somewhat. Sticking with a known American classic just felt right, so A VPI Prime with with Kieseki Purple Heart cartridge proves the MAC7200's phonostage is of serious quality. It possesses more than enough resolution to discern a major difference between budget and serious cartridges, so you can grow with it as your vinyl enthusiasm increases. Its super quiet output along with 50, 100, 200, 400, and 1k Ohm loading on the MC side, with 60db of gain puts all but the lowest output cartridges at your disposal.
If you want a single box solution that does nearly everything, the McIntosh MAC7200 is certainly one of our favorite choices. Whether this is your first Mac, or one in a line of many, you're going to dig this one. McIntosh has produced a new classic.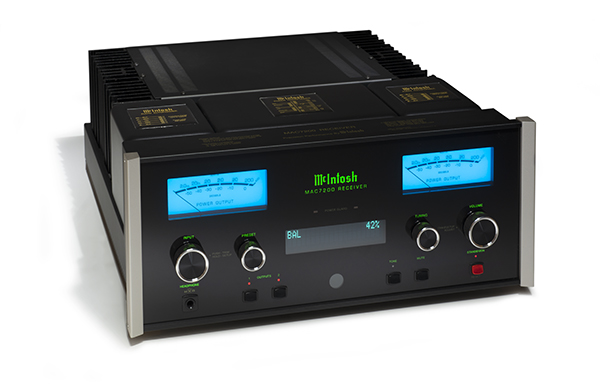 The McIntosh MAC7200 Reciever
$7,500
www.mcintoshlabs.com