The GamuT Zodiac Speakers:
Massive yet Subtle
By Jeff Dorgay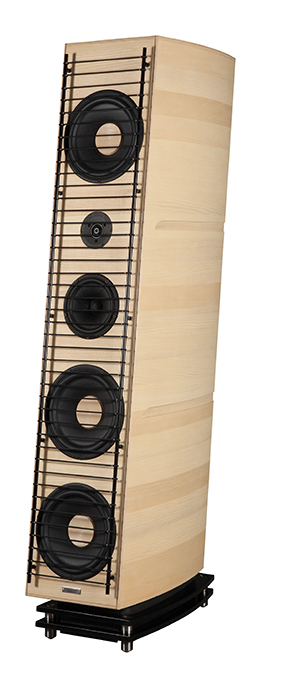 Letting the audition of the GamuT Zodiac speakers begin with the Beastie Boys "Groove Holmes" is so much fun, I don't even need the weed. The massive, all-encompassing, psychedelic picture that these speakers paint is outstanding.
Keeping the disco groove going with a long playlist of classic Bee Gees tracks has me searching Amazon for a twinkly, glass ball for the ceiling. The bass line in "Nights on Broadway" has those super cool, see-through power meters in the Audio Research REF160M amplifiers bouncing in between the glowing KT150s and it's all good.
$179,000 is a lot of money to spend on a pair of speakers, but if you've got that kind of cash, it's not. Kind of a weird paradox. As it is with super high-end cars, motorcycles, watches, and the like, the uninitiated might think that once you step up to this level, said product does everything. Yet it only takes a quick ride around the block in a few mega cars to realize that while a Bentley is a truly amazing vehicle, it's a completely different ride than a Ferrari, a Porsche 911 GT3RS, or an Aston Martin. All excellent to be sure, but still different, and very special. They will all get you to 200mph, but in their own way. Make no mistake, the GamuT Zodiacs are very special speakers and worth the price asked. And if you just want the sound, you can get em in black for $159,000/pair. Such a deal.
So it goes with mega speakers. Should you dig the GamuT Zodiac, you probably will not enjoy a similarly priced pair of Wilsons, the Focal Grande Utopias or a pair of Sonus faber Aidas quite as much. All four of these speakers are excellent and definitely have the same density of thought in their design and construction, but all approach how sound is produced in a different way, with different design choices made in their execution. If you're looking for me to tell you that the GamuTs rule and the others suck, or vice versa, you'll have to go elsewhere.
But I willsay that the Zodiac is my personal favorite for top speaker at this moment. Having spent plenty of time with the other contenders, these are the ones I'd happily write the check for. The priorities that designer Benno Maun Meldgaard has chosen appeals to what I love in a speaker most. First, and most importantly, they pass my main crazy expensive component requirement – they reveal so much music, that they will take you to a level of musical involvement that you won't get with lesser speakers. And they do it with any kind of music.
Equally, if you've got nearly 200 big ones to spend on speakers, you've probably been at the hifi game long enough to know what you don't like. And I'm guessing you already have the room, system, and software to wring the most performance from these speakers. The Zodiacs are up to the task of partnering with the world's finest components, revealing everything they have to offer. They will never be the weak link in your audio chain, regardless of how much you've invested in the rest of your components.
What's your sign?
One of the biggest audio mistakes so many people make is to put big speakers in a small room and expect good sound. The Zodiacs also deliver their most compelling performance in a medium to large space, but they deliver a better performance in a modest size room than any other big speaker I've used. This might be a plus if your Zodiacs arrive before your main listening room is done being built, or you're anticipating a move in the near future. The only limit you will have in placing the Zodiacs in a small room, is that they will overdrive the room fairly quickly because they can move so much air.
GamuT only builds 12 of these yearly, one per month to go with the individual signs of the zodiac. Horoscope.com says that Capricorns (me) and Taurus (the Zodiacs) are a good match most of the time, so I guess it just makes sense that I've been enjoying these speakers so much. Though the signs of the zodiac are all very different, each of the 12 pairs of GamuT Zodiac's are hand assembled with extreme care, and then fine-tuned by Mr. Meldgaard. Within a year of your purchase, you will also receive a personal visit by him to fine tune the speaker's setup in your listening room, no matter where in the world you might be. That's part of what you write the big check for. If you want an off the rack suit, this might be excess, but if you want something bespoke, and optimized by its creator, this is the way to go – and you don't get this with any of the other mega speakers.
While I'm certain that I'm compatible with the Zodiacs, after pairing them with about a dozen different amplifiers (tube and solid-state) from a wide range of manufacturers, these are very equipment friendly speakers. Everything from the 20-watt per channel Nagra 300 amplifier up to the big Pass XA200.8 monos worked well, yet at the same time offering a different perspective on the music.
Because the Zodiac goes all the way down to 16hz, they will deliver the most convincing performance with an amplifier of the highest quality and best bass control. The trio of 10-inch woofers sailed through every bass heavy track in my collection, providing a level of detail and dynamics that most speakers need external subwoofers to achieve. Whether I was grinding through Aphex Twin, or gliding through Stanley Clark, the level of bass detail the Zodiac delivers is first class.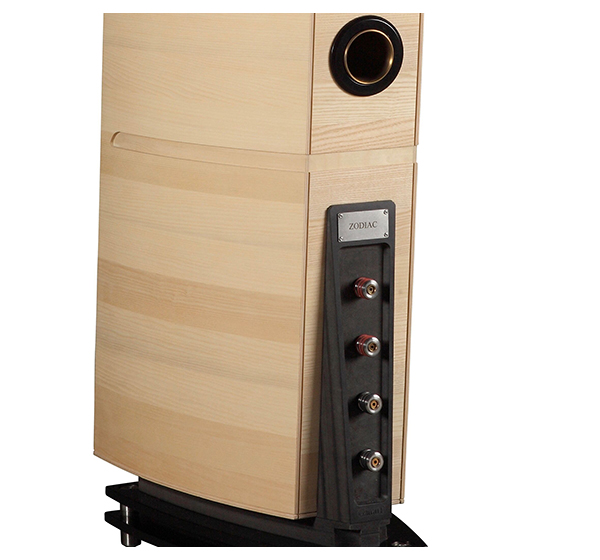 Let's get serious
The Zodiac's greatest strengths is their ability to walk a fine line between resolving a high level of detail without being harsh, sterile or fatiguing. Like every other GamuT speaker I've owned or reviewed, the Zodiac is a speaker you can listen to all day and never want to leave the listening chair.
Most big speakers with this kind of footprint feelbig and overbearing, and in some instances only play big. My Magnepan Tympanis are famous for this effect, and while it can be fun, not all music is meant to be presented at the same size. Listening to Eddie Van Halen play solo acoustic guitar on "316" through my Maggies sounds as if EVH is 14 feet wide. Cool, but not realistic. Playing the same track on the Zodiacs feels like he's sitting between the speakers on a footstool, as it would if he were. But the second I mix it up and go with "Atomic Punk," the living room walls fall down and there is a wall of speaker cabinets on a big stage behind me.
While the Zodiacs are fantastic with tonality and coherence, they also excel in terms of dynamics. They do not lose their ability to engage at the lowest of volume levels – often an area of contention with large speakers. Playing well below conversation level, the Zodiacs reveal minute musical details, and were able to draw more than one guest into the mix, requesting "to turn it up a bit more please…"
At the other end of the spectrum, the sheer dynamic punch the Zodiacs deliver will be limited by how much clean amplifier power you have at your disposal. Those wanting to achieve concert hall levels will have no problem doing so, with plenty of amplifier power. My Pass XA200.8s clipped and ears started to buzz before the Zodiacs reveal distortion of any kind. And that's way louder than you should be listening to music without ear damage. This ability to play well between loud and soft reveals a degree of linearity that is seldom experienced at any price, and another one of the Zodiac's strengths.
What you get at this price is a healthy dose of magic along with technological and manufacturing excellence. This combination of art and science is what fools you into believing the music is unfolding in front of you. This doesn't happen at $10k or $20k, and you don't realize it until you experience these. As I mentioned earlier, it's almost hallucinogenic. Absolute power does indeed corrupt.
How do you describe what does not exist?
While other hifi writers have written volumes on the Zodiac, both in their listening rooms, and at various hifi shows around the world, I keep returning to my first experience with GamuT. Current designer Benno Meldgaard has built on the foundation of their original designer, Lars Goller, yet the magic is still there.
After days of listening to speakers at CES, I went offsite to where GamuT had (then) the S7 and S9 set up in separate rooms and my perception of speakers was re-defined. The Zodiac is capable of this achievement, with even more refinement and resolution.
What you don't get with the GamuT Zodiac is distraction. All of the distractions that come from distortion, phase anomalies, and tonal inequities simply doesn't exist with these speakers. They require no excuses whatsoever. When listening to many other speakers, my inner voice often says "if only they had less of this, or more of that." I've never had this conversation with myself, when listening to the Zodiacs, no matter what music is playing. It's so much easier to ramble on about speakers with shortcomings, but these really have none.
Looking the part
If you've had the pleasure of visiting Denmark, you know that they are masters of understated design, both elegant and functional at the same time. Where many of the other six-figure speakers sport rich automotive paint finishes to command attention, the Zodiac's wood cabinet is specifically curved to achieve the desired acoustic effect, but GamuT takes a different approach. They use nearly 30 layers of fine wood, glued together and formed under over a ton of pressure to achieve their shape. (It's worth noting that they used to make the cabinets for the B&W 800's and developed this process)
The result is a beautiful cabinet that only needs an occasional oiling to look it's best. And with no paper-thin veneer or highly polished paint, a slight bump to the cabinet will not mar the finish of your speakers. Intelligent design at its finest. These speakers just look more handsome as the years go by.
Simple setup.
The intelligent design of the Zodiac goes beyond the speaker itself. These are by far the easiest large speakers to set up – period. Their wheeled crates allow nearly anyone to get them in the vicinity of where they need to be. Tip the crate up, and remove two braces holding the speakers in place. Slide the crates back and you're almost there. These crates are fairly large, so you will need storage space!
The Zodiacs weigh about 420 pounds each, so get a friend to help you, two if you can, for fine tuning. A quick trip to Home Depot for a custom pair of ¾-inch particle board sub platforms made fine tuning the front to rear and side to side alignment a breeze.
The two-part, five-layer steel bases are coated with an anti-vibration compound and the finely threaded feet allow precise tuning of the Zodiac's rake. Easy as these speakers are to set up, this is the critical bit – much like achieving perfect VTA when setting up a phono cartridge. This is the most critical part of setting up any GamuT speaker. Once the rake is correct, the time alignment is assured, and everything falls properly into place.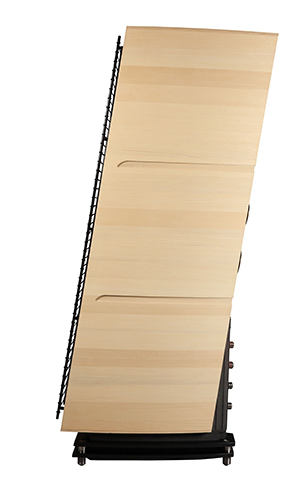 Beyond big
Having owned the prior flagship S9 for a number of years, as well as the smaller RS5i (Our managing editor, Rob Johnson also uses the RS3i as his reference) has given a lot of insight into the refinement that goes into the Zodiacs. These speakers are so much more than just a "big speakers play big" experience.
As hinted at earlier, the Zodiacs can not only play big, but they can play at whatever scale the recording dictates – expanding and contracting as necessary. They not only follow the music, but mange to be mere conduits of the music – no small feat. Where the GamuT comes out a winner, is in its ability to perform all the necessary audiophile tasks at an equally high and balanced level. Yes, the Grande Utopia is a touch more resolving, perhaps the big Wilsons have a few molecules more bass grunt, and so on, but for my money the Zodiac does more at integrating all musical aspects at a tremendously high level than any other I've yet experienced. That is their strength to me. I never feel like I'm listening to speakers when they are on.
If you are buying speakers at this level, you need to hear the GamuT Zodiacs. I have to confess a true bias for the presentation that they deliver – guilty as charged. But that's why I'd buy an Aston Martin instead of a Ferrari. That part of the argument is immaterial, I applaud your choice, whatever it might be at this level – you are obviously an obsessed music lover.
But, you don't want to spend 180 big ones and not test drive these. Your biggest questions will be "can my floor support them," and "what color should I get?"
The GamuT Zodiac Speakers
MSRP: $159,000/pair and up, depending on finish
Peripherals
Analog Source Luxman PD 171 w/Kiseki Purple Heart
Digital Source dCS Vivaldi One
Preamplifier Pass Labs INT-60 integrated
Power Amplifier Pass Labs XA200.8 mono blocks, Audio Research REF160 mono blocks
Cable Cardas Clear Beyond, Tellurium Q Black Diamond
Rack Grand Prix Audio Monaco