Rotel's Michi P5 Preamplifier and S5 Power Amplifier
Michi to the Max
By Jeff Dorgay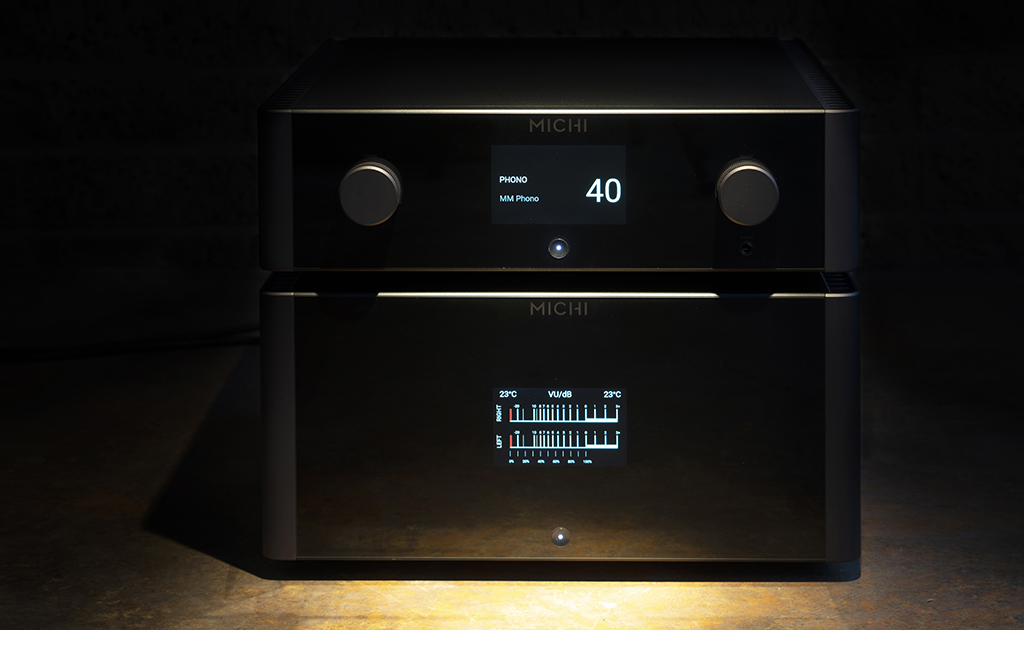 Rotel is a company that's gone about their business making high performance gear that is reasonably priced, in a relatively understated way. On one level, Rotel products have always been somewhat of a gateway product for some, and a great destination for others.
If you've started your hifi journey with NAD, Cambridge, or Music Hall, (or maybe something else along those lines) and would like to step up a few notches, but perhaps not ready to commit to vacuum tubes – Rotel is always a solid choice.
The launch of their new Michi line is something completely different. With the P5 preamplifier at $4,000 and the S5 stereo power amplifier at $7,000 (and there are a pair of monoblocks at $7k each, if you just have to have more power), this pair offers a serious insight into mega high end sound at an approachable price indeed.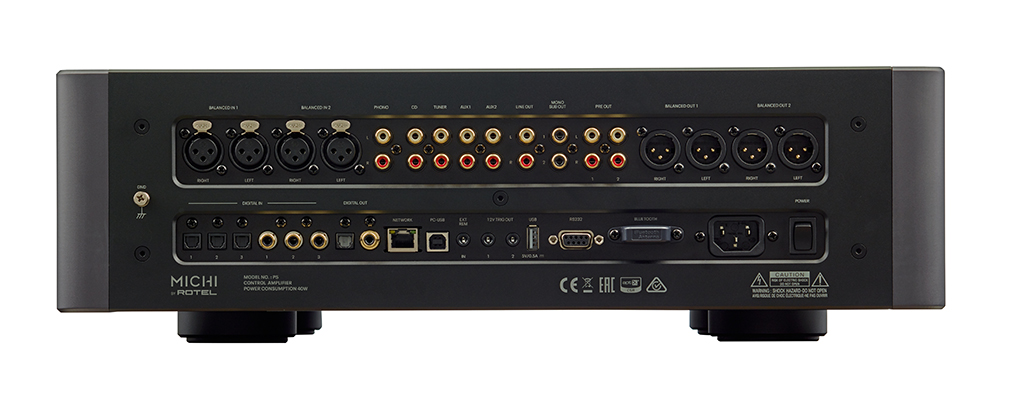 Let's begin at the source
Unboxing the P5 preamp hints at what to expect. It's heavy. 50 pounds heavy. Power amplifier heavy. Peeking at the internal view on the Rotel website confirms this is not just some fancy casework filled with air. The massive power supply capacitors are flanked by a fully populated circuit board, (with a lot of discrete components) and all the switching relays at the back of the chassis, to minimize noise. It's as beautiful on the inside as it is on the outside.
Speaking of sources, the P5 is a true control center in every sense of the word. It features a DAC with the ability to decode DSD, MQA, and PCM files up to 32/384, so it is more than reasonably future proof. While there is no balanced XLR digital in, there are three optical and three RCA S/Pdif inputs as well as an Ethernet port and a USB input. As a bonus, it also features an aptX/Bluetooth input, so you can stream from your mobile device. (and so can your guests)
Vinyl enthusiasts will appreciate the option of MM or MC cartridge compatibility, selectable from the front panel, though there is only one phono input around back. As versatile as the P5 is, it's a shame that Rotel did not provide separate MM and MC inputs. Not a deal breaker.
With two more balanced XLR inputs and four more RCA inputs, even those of you with an FM tuner, and a couple of tape decks won't run out of input jacks. Rotel also includes two pairs of balanced XLR outputs, three RCA outputs and a pair of mono subwoofer outputs. In short, they've got you covered.
Around front, it's clean, crisp and concise. The front panel display is an off white that goes easy on the eyes and is very easy to read. Both controls (selector on left, and volume on right) turn smoothly should you feel the need to engage manually, but the multi-function remote is the way to roll, especially if you have a lot of sources plugged in. Bonus points – there's a headphone jack just below the volume control, and it worked well with everything we had on hand, from original Koss Pro –AAAs to the latest from Focal. The Utopia phones cost more than the P5, yet this preamplifier does a great job with personal listening duties. The sweet spot here is probably phones in the $200 – $1,000 range, which covers a lot of ground.
Spinning a few records
Another slightly anomalous behavior is the MC phono input, with loading fixed at 100 ohms. We can't call the engineers at Rotel bad Smurfs, as a few other manufacturers (Luxman comes to mind) does this as well. And there are a number of great MC cartridges you can work with, so this isn't the end of the world. We did all of our analog listening with the Technics SL-1200GAE and a Denon DL-103r – a nearly perfect combination. However, this is a preamplifier that you will chose a cartridge for, because variable loading is not an option.
That said, working within given parameters, the Technics/Denon combination is a superb match for the P5. While specs don't tell the whole story, the phono stage is claimed to have a S/N ratio of 80dB, and suffice to say, it is quiet. Putting the P5 to the immediate test and breaking out the classical LPs shows off just how quiet this combination is.
Putting this in context, think of the P5 as a $2,000 linestage, a $1,000 DAC, and a $1,000 phonostage, with a bonus headphone amp thrown in. Not to mention, there are three three extra power cords and sets of interconnects you don't have to buy. And the satisfaction of knowing it all works together perfectly. That's value. Comparing the on board phono in the P5 to anything we've listened to in the last few years, it's safe to say it's as good or better than any outboard phono stage in the $600 – $800 range. Remember, you're still going to need even a modest pair of interconnects…  The only advantage to an outboard phono is possibly a wider range of MC loading options, but for convenience and high performance all on one chassis, the P5 can't be beat.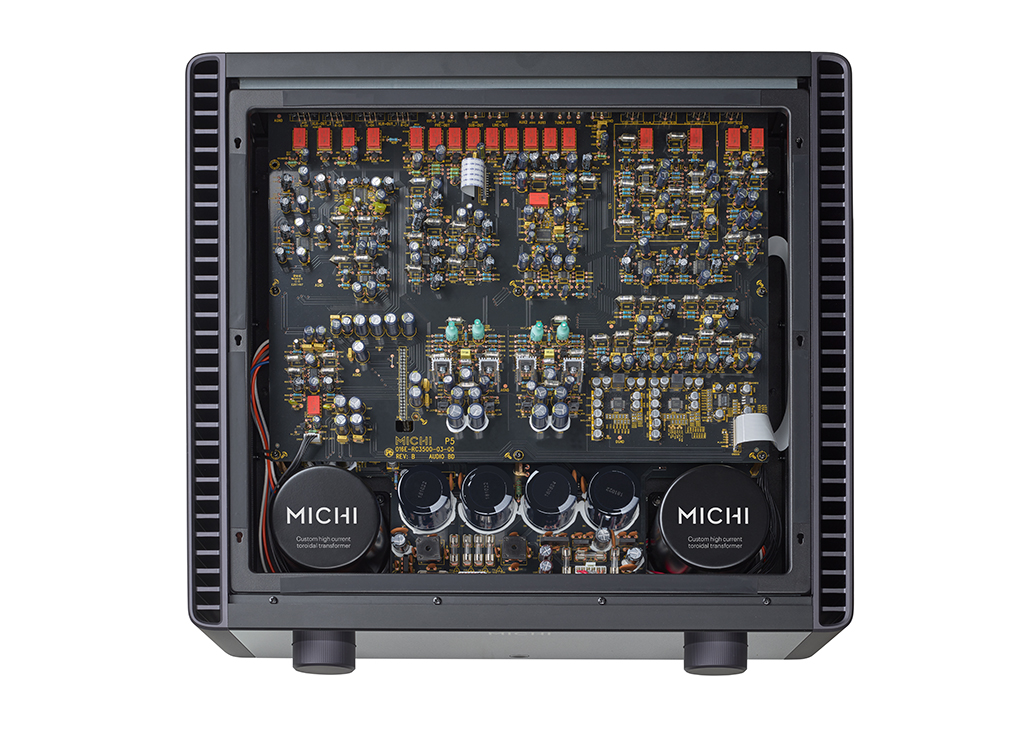 Digital delights
Working with a MacBook Pro, a current Cambridge Audio transport and a vintage SONY CD ES player (via optical output), the P5 handles every file, from MP3/Spotify up to DSD without a glitch.
s with the phono section, putting what the P5 accomplishes in context of comparably priced outboard DAC, it's fantastic. It resolves more than enough information to tell the difference between source quality in your files, along with a high level of musicality in its class. It does an excellent job with compressed, less than awesome 16/44 material. Zipping through a Kiss playlist, a Monkees playlist and Queen's Greatest Hits are all decoded with dignity. These tracks all sounded better than they had a right to, with an ample amount of airiness and dynamic range.
Moving on to better quality material, the P5 reveals even better performance. An old standby, Lyle Lovett's "North Dakota" begins with some very gentle bongos, and they manage to float out in space a bit, and offers enough resolution to distinctly hear Rickie Lee Jones singing backup clearly.
Now for the power
Unless you're extremely buff, get a friend to help you move the 132 pound S5 power amplifier to your equipment rack. If you don't have a friend handy, a box of nicotine patches and a good protein shake might get you through. Seriously, get a friend. This is an amplifier that belies its weight. Utilizing a similar design motif as the P5, its rounded corners and gloss black front panel (with super cool power output meters) will look great in your listening room.
With 500 watts per channel into 8 ohms and 800 into 4, there shouldn't be any speakers on your no fly list. Hint, hint, even if you aren't going to buy both Michi pieces, this is an excellent amplifier to drive Magnepans with. Staffer Jerold O'Brien and I faced a major dilemma: he helps me moose the S5 out of my listening room and up the 2nd story at his place where the Magnepan 3.7s are, or we rent a UHaul and bring the Maggies to me.
Avoiding as many people as we both can in this age of quarantine, we decided we'd both be exposed to fewer cooties, bringing the S5 to his place. Besides, now that I also have a little orange BMW 2002 stored in his barn, plenty of time to be car geeks after we get done listening.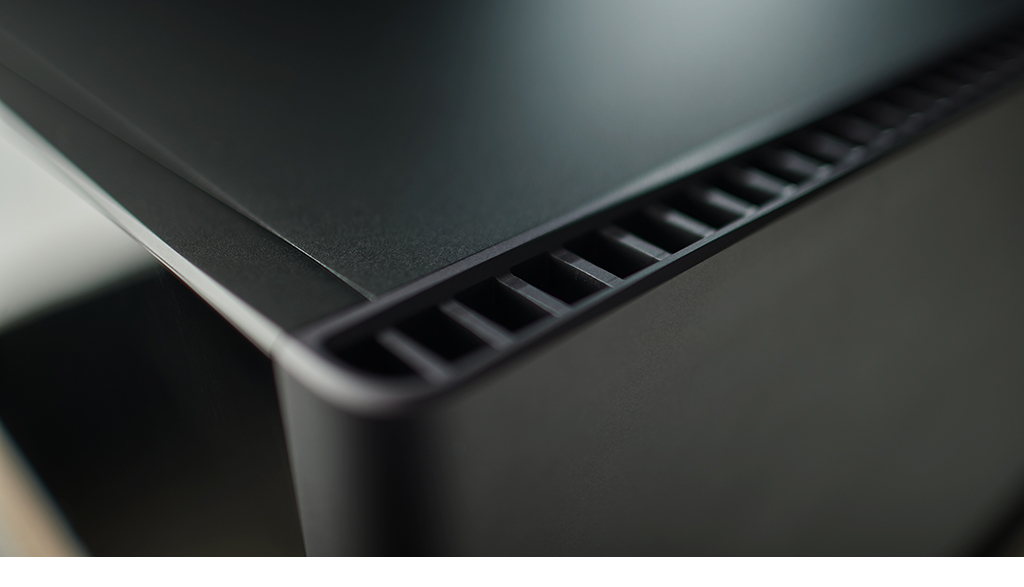 Most Magnepans need a lot of power to really strut their stuff, and the Michi S5 is one of the nicest combinations for these speakers. 20.1 and 30.1 owners that need even more power, can buy the M8s (1080 watts each, into 8 ohms, 1800 watts into 4 – booyah) which should be enough to power a small outdoor music festival.
Everything from the Maggies, to ESLs from MartinLogan and vintage Acoustats (i.e. all the "really hard to drive" speakers) presented no issues to the Michi. Regardless of what speakers you have, this is an unassuming, yet highly capable and powerful amplifier that merely does the job it's asked to do without issue. It's a testament to the amplifiers enormous power reserves and excellent design that it is not particularly sensitive to speaker cables either. It has enough resolving power to hear the difference between brands, but isn't touchy about cables in a way that some small amplifiers can be.
Power without finesse is nothing though, and again the Michi scores big points. If this amp had no logo on the front panel and you told your audiophile pals that you paid 10k for the S5, they'd probably believe you. Even at low volumes, the effortlessness that the S5 presents adds to the musical presentation. I must admit to being biased towards big amplifiers for this reason.
Overall, the big Michi amp has a neutral tonal rendition. To try and put it in a little bit of perspective, we've always held Boulder amplifiers up as the ultimate in "just the facts" amplification, however these are some pretty expensive amplifiers, even at entry level. Comparing to past solid-state designs we've listened to, the Michi has more tonal body/saturation that something from Simaudio, Krell, or current Levinson products, but less than our reference Pass amplifiers, or any other great Class A amplifier from Luxman, Sudgen, or the Riviera monos we've just reviewed.
You can stay with the Michi preamplifier and keep things extremely accurate, or for those craving a little bit of additional warmth, without sacrificing the control and dynamic power of a solid-state amp, add a tube preamplifier on the front end, to tune to your taste. An amplifier this neutral makes that easy.
A system approach that works
At $11,000 for the pair, the Michi P5 and S5 are a logical step up for the music lover that needs more power than an integrated can provide, and has a lot of flexibility as well. This pair is the perfect anchor for a $20k – $50k system, and only needs a turntable and a pair of speakers to enjoy every format available. Should you be a digital only listener, add your favorite speakers and roll. Should the vinyl bug hit, you're ready if and when you want to take the plunge.
While you'll need a stout shelf for the 132 pound P5, a system built around these two components will have a minimal footprint. Thanks to their timeless visual design, they will integrate well into a design conscious environment – a final bonus.