New From Channel Islands…
The Transient MK II
By Andre Marc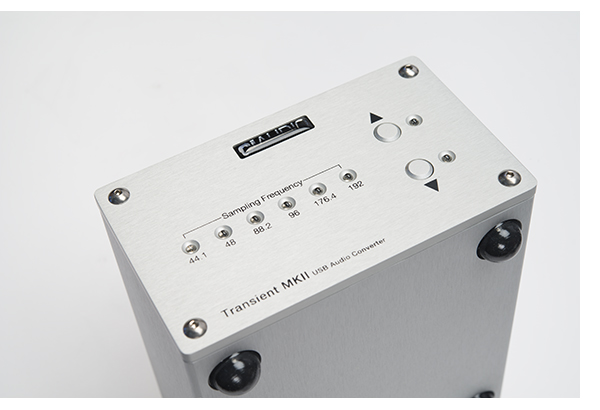 Channels Islands Audio, headed by industry veteran Dusty Vawter, has been making cutting edge products since 1997.
The company is known to many as early purveyors of Class D amplifiers, upgradeable DACs, headphone amps, add on outboard power supplies, and passive linestages. The CIAudio VDA-2 DAC is a staff favorite. CIAudio provides quality products at sane prices, and they are built in the U.S.A. to boot.  The company sells direct and through hand chosen catalogers and retailers.
In for review is one of CIAudio's newest products, the $699 Transient MkII USB to S/PDIF converter and DAC. Essentially it takes the USB audio from your Mac or Windows PC, and converts it to 75 Ohm BNC (supplied with an RCA adaptor), S/PDIF for use with legacy DACs without a suitable USB input. But that is not the end of the story. The Transient MkII is an interesting take on USB to S/PDIF interfaces. It also features two I2S outputs for connection to compatible gear, like those made by Wyred4Sound and PS Audio. A pair of RCA analog outputs completes the picture  so it can be used as a stand alone USB DAC with no conversion.  Topping that off is a built in volume control, with volume level attenuated via arrow shaped buttons on the front panel.
The Transient MkII uses an XMOS based USB solution, high precision clocks, and a Wolfson chip. Channel Islands says "highest quality parts are used throughout: Nichicon Muse & 2% tolerance polypropylene power supply capacitors, Takman resistors and WIMA polypropylene capacitors for signal circuits, and Canare BNC connector. The shielded anti-resonant chassis is 1/8 thick T6061 aluminum with 3/16" thick front panel, and all hardware is non-magnetic stainless steel."
The appearance and build quality of the Transient MkII is first rate. When examined closely it inspires confidence. Installation is a snap. Source components in the review system are connected via a DH Labs USB cable to a Windows 7 laptop running Jriver Media Center 19, and a Logitech Squeezebox with the Enhanced Digital Output applet installed. The DAC is hub powered, via the host device.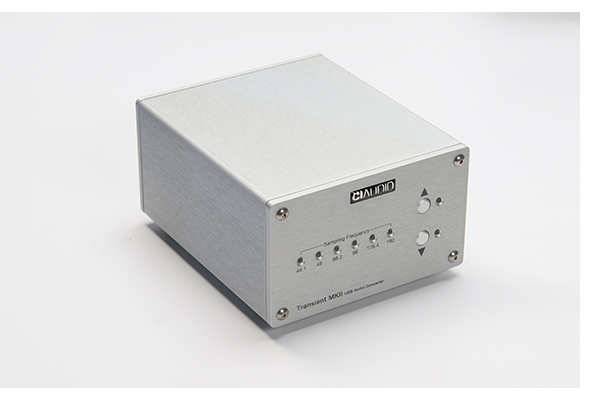 All that is required for use with a Windows computer is to download and install the driver from the CIAudio.website.  By the way, Vawter suggests selecting the"CIAudio ASIO" output in the Jriver options menu. MAC users, it must be noted, require no drivers.  Also of note is that Dusty Vawter mentioned that no up-sampling is performed by the Transient MkII, so one can experiment with doing so in the software domain.
The Transient MkII immediately shows itself  to be a superb USB to S/PDIF converter into a Bryston BDA-1 DAC, via a DH Labs BNC cable.  The BDA-1 does not have a high fidelity, "asynchronous" USB input, so the Transient MkII is a shoe in solution when using a computer. Compared to other converters used in house, the Transient MkII is as neutral, engaging, and transparent as we have heard.
The 2011 debut album from U.K. singer songwriter Ben Howard, Every Kingdom, is wonderfully recorded and is filled with great folky tunes. The Transient Mkii as a converter is impressively dimensional and dynamic on this record. An even handed tonality rules the day. Howard's voice and guitar playing are rendered with great focus and clarity. Especially notable is the deep soundstage.
Using the Transient MKII as a stand alone DAC, via it's analog outputs is equally rewarding, and maybe even more so.  Compared to the Bryston BDA-1, the Transient MkII offers up a view one or two rows back, yet just as resolving.  The CIAudio draws you into the music, in the best possible way, in the similar manner that really good analog does.  Perhaps the best way to describe the Transient MKII's sonic personality is that is in no rush, and lets the music flow gracefully.
During the evaluation as a stand alone DAC, a wide variety of music is streamed, across  many genres. The Transient MKII never trips up, or seems to favor one type of recording over another. From classic 60's rock like Donovan's Hurdy Gurdy Man, and Van Morrison's Astral Weeks right on up to brand new high resolution jazz recordings from Terence Blanchard, Joe Lovano, and Joshua Redman, the Transient MkII is never stumbles.  There is excellent grip on the bass, and nicely fleshed out midrange.
Using the Transient MkII with the Squeezebox Touch via USB brought the diminutive streamer to a new level of performance in my experience. This may be because it allows one to by pass the S/PDIF outputs completely, with the clocking being handled by the DAC. Calling up the Eagles studio discography in 192 Khz reveals new layers of transparency and precision.  Bernie Grundman's mastering is first rate, and classic tracks like "Take It Easy" and "Desperado" take on new life.
The Transient MKII's built in volume control proves to be well engineered. Using it directly connected to a  power amp yields very good results.  Connected to the Audio Research VS55 or or Burson Timekeeper, a preamp is not missed. The only caveat here is there is no volume level indicator, so careful attention to level is recommended.  When using with a preamp or integrated amp, line level is set at max. The Transient MkII successfully locks onto every sample rate from 44.1 to 192 Khz. The sample rate indicator lights on the front are most welcomed by those with digital music collections in various resolutions, and it is a feature rarely seen at this price point.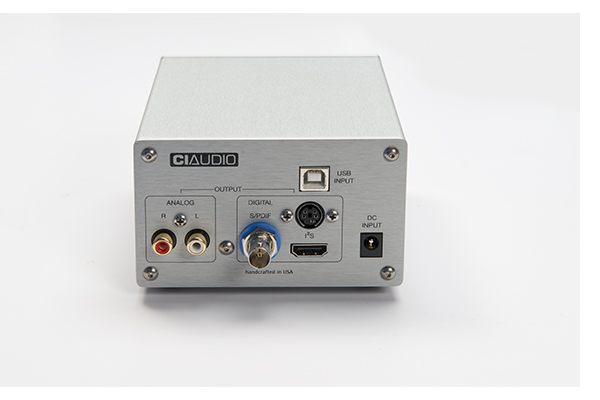 Conclusion:
Time spent with the Channel Islands Audio Transient MKII USB converter and DAC is time spent enjoying music. As a converter, it is beyond reproach. As a stand alone DAC, it easily dazzles and defies expectations, and especially so considering its affordability. The fact that is is made in California is a nice bonus, and it is compatible with virtually any platform.
The Transient MkII also has a secret weapon up its sleeve. It is upgradeable with the CIAudio's own $329 VDC-5 MKII High Current Power Supply, as it enhances its performance by taking it off hub power. Prior experiences with C.I.A's power supplies in our system with various components like the Squeezebox Touch are very positive. To be clear, during the review period, hub power was used exclusively.
As a nice bonus, the Transient MKII is a risk free purchase, with Channel Islands Audio offering generous in home trials. Dusty Vawter welcomes customer inquiries, and is great about providing advice based on your system's parameters.  The Transient MKII, and the other Channel Islands Audio products we have spent time with have proved themselves to be exceptionally high value, and sonically first rate.  Good engineering, solid build, and great prices rule the day. The Transient MKII is highly recommended for those with legacy DACs, or for those looking to jump into computer audio with a stand alone DAC.
The CI Audio Transient MK II
MSRP:  $699
Peripherals:
Sources: HP Windows 7 laptop w/ Jriver 19, Squeezebox Touch
Amplifiers: Audio Research VS55, Burson Timekeeper, McIntosh MA6600
DAC: Bryston BDA-1
Speakers: Thiel CS2.4, Harbeth Compact 7ES3
Cables: Transparent, DH Labs, Kimber, Furutech: